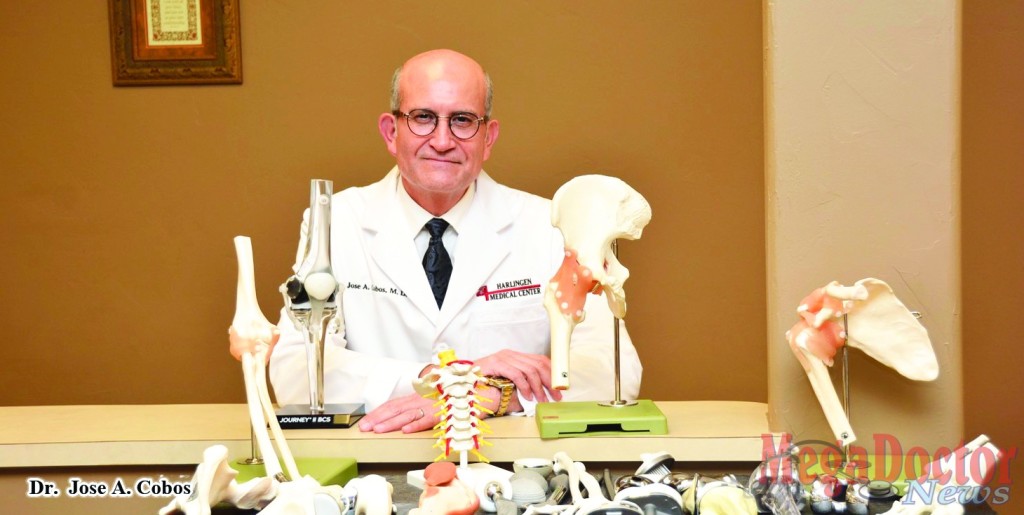 - Advertisement -

By Roberto Hugo Gonzalez,
Publisher of Mega Doctor News,
Dr. Jose A. Cobos, an orthopedic surgeon, is one that acknowledges God and prays asking for guidance when he is about to start a surgical procedure. Mega Doctor News is featuring Dr. Cobos' exclusive story in this month's issue.
He told Mega Doctor News that since he was in high school, he planned to be a doctor. Today, he is a renown orthopedic surgeon practicing in Harlingen, Texas.
A few years ago he started his own practice and built a facility that houses OrthoCare, a professional practice which focuses on a specialty that deals with bone and joint disorders. It also includes muscle disorders, degenerative changes, and accidents or injuries also known as trauma and any other injury associated with activities such as work or sports.
Dr. Cobos pointed out that he has optimized OrthoCare with a state-of-the-art digital X-Ray system, an Extremity MRI, and Ultrasound equipment, which is vital to precisely pinpointing and diagnosing each patient's situation and to treat their condition," he said.
Also you will learn about the unique technique that he uses in surgery to give his patients as comfortable an experience as possible and how he credits God and his wife Wendy for his success.
- Advertisement -

Additionally, this December issue is without a doubt one of the most important because we have included a compilation of all stories of the Mega Doctors of 2015.
In this issue, you are able to get to know Dr. Humberto Nuñez. He is a family physician however he is also a Sexual Medicine Specialist who offers a solution for impotence. Dr. Nuñez is a board certified in family medicine providing important health services for men and women.
This issue also includes Dr. Daniel Martinez' featured story. He is a Harlingen Thoracic Surgeon that works in Coronary Artery Bypass Grafting.
This year, Mega Doctor News also brought to you another medical doctor with outstanding credentials. He is Dr. Rajeev K. Mathavan, an Obesity Medicine Physician with multiple specialties. He has dedicated most of his life to training and preparing to be part of the demanding healthcare industry. Dr. Mathavan is Board Certified in Internal Medicine, Obesity Medicine, Geriatric Medicine, and most recently Hospice and Palliative Medicine.
You also get to know Dr. Jason Phillips, a Gastroenterologist. He focuses on the digestive system and its disorders and diseases affecting the gastrointestinal tract, which include the organs from the mouth to the anus, along the alimentary canal. This also includes diseases of the liver and pancreas.
Another interesting story is about Dr. Vijian Dhevan. He is a general surgeon and board certified; recently recruited by Valley Baptist Hospital in Harlingen, Texas.
Also, read and get to know Dr. Jimmi Rios, a doctor specializing in obstetrics and gynecology who ventured from Cuba to the United States. He is the perfect example of how migrants from other countries make America the best.
This issue also shares with you the interesting story of Dr. Dona Cooper-Dockery, a Board-certified physician in Internal Medicine who currently serves as the Medical Director for Cooper Internal Medicine. She is a most amazing doctor.
This year we also had the pleasure of meeting Dr. Vincent F. Honrubia. He is an Otolaryngologist that modified surgical tools that help sinusitis patients.
Get to read about the father and son physicians, Dr. Ruben D. Pechero and his son, Dr. Guillermo R. Pechero, working as Orthopedic Surgeons. As you know, it is not often that a father and son get to work together in the same specialized field of medicine.
Read about a doctor that is always on the move and looking for ways to better serve his patients. He is Dr. José Fernando Peña who also heads an Accountable Care Organization (ACO) created by him and a group of distinguished doctors that have one goal in mind, to keep their patients healthy. The ACO is a separate organization from their respective practices.
We know you will enjoy this issue and we wish you Happy Holidays and the Best of Success for 2016. MDN