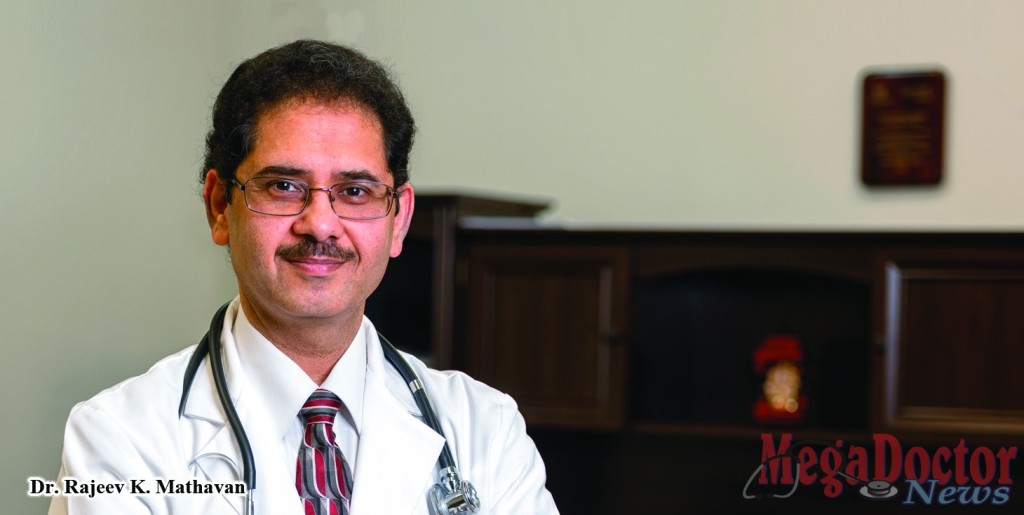 Mega Doctor News – 
By Roberto Hugo Gonzalez,
Dr. Rajeev K. Mathavan of Sunrise Medical Clinic is one of the few medical doctors in the Rio Grande Valley that has multiple specialties. He is one that has dedicated most of his life to training and preparing to be part of a demanding healthcare industry.
His medical career is unique in different ways; one of them is because he has become a respected physician in his field that has brought recognition to specialties that are greatly needed in the Rio Grande Valley.
Dr. Mathavan is Board Certified in Internal Medicine, Obesity Medicine, Geriatric Medicine, and Hospice and Palliative Medicine. In February of this year, he became board certified in a highly needed specialty in the Rio Grande Valley— the specialty of Obesity Medicine by the American Board of Obesity Medicine.
He came to the Rio Grande Valley in 2008, and has worked as a Hospital Medicine doctor for almost 7 years. He states that the biggest killer diseases are heart attacks and strokes, with the main risk factors being high blood pressure, diabetes, high cholesterol and smoking. Being a keen observer, he soon realized that unfortunately, with the growing epidemic of obesity in the valley, more and more people are being afflicted with these diseases and risk factors at a much younger age. Obesity is now a leading cause of many medical diseases and early death as well as young heart attacks and strokes. His latest passion naturally is to curb and control this epidemic of obesity, and to promote physical and mental health and well-being. He strongly believes in the holistic concept of medicine, and has a special interest in preventing acquired diseases. He is a very compassionate, well-trained physician, and believes in multidisciplinary approach to treat and take care of patients with obesity. His main focus is to promote quality of life, and increase longevity, and prevent and treat any complications in these patients.
Dr. Mathavan was born in the state of Jammu and Kashmir in the northern part of India. His father, Kartar Chand Mathavan and his mother, Rajkumari had a lot to do with his upbringing and his dedication to education. His father had to live like a refugee after the partition of India from Pakistan, and had to struggle a lot to make a living.
"My father always wanted us to excel academically. He was always motivating us to focus on studies, and not spend time, even on sports. He wanted us to go for higher education, and be excellent masters, in whichever profession we chose." He continued, "His wishes were that we should pursue a profession in medicine and become a doctor."
Dr. Mathavan said that his father was very clear to say that he expected all his children to study and not participate in any other activities. "My mother instilled in me mostly discipline, to have a disciplined life, and also focus on education."
Another interesting aspect of Dr. Mathavan's life is that he and his family are part of the old marriage arrangement tradition. He said that in India, even today, the families arrange marriages. He said, "My parents and my wife's parents have known each other for many years, and they arranged a meeting between me and my wife." He said, "It is still a practice in India where the parents arrange a meeting between the prospective bride and groom; if they like each other they proceed. If they do not like each other, then there is no obligation."
He explained that, even though, a marriage arrangement is an ancient tradition there's freedom to decline.  "My father wanted me to get married before I came to the United States but I did not want to get married until I had established myself and my career."
"I think his concern was that if I was married then I would be more dedicated towards my goal." He said, "That I would have responsibilities, and I would be focusing more on my career and my education rather spending time in other activities."
Dr. Mathavan married Jyoti Gupta, who is also a very well respected physician in Rio Grande Valley, and they have two wonderful children, Arushi, their 13-year old daughter who is in Med High School and Aryan their 4-year old son.
"I owe my professional success to my wife, Dr. Jyoti Gupta, who has supported me in every aspect of my life. She has encouraged me to pursue my passion in different areas of the medical profession and has been very supportive of me during my training. Without my wife's support, I wouldn't have accomplished my achievements."
"My daughter Arushi is very interested in pursuing a career to become a doctor but we are not forcing her to follow in our footsteps." He said, "We are giving her the freedom to choose the career that she wants. She will have the independence, and we will guide her in whatever profession she chooses."
But what is Dr. Mathavan doing in Texas? First he came from India to the United States, he stayed in Florida. He has since worked in many states including Florida, Ohio, and Georgia and is now living happily in Texas, in the Rio Grande Valley.  How did you end up in the Valley? "It was my wife, she brought me to the Rio Grande Valley." According to him, she was doing her fellowship training in pediatric cardiology at Emory University in Atlanta, Georgia, and was approached by Driscoll Children's Hospital from Corpus Christi. The invitation included a visit to McAllen. When she visited, she became aware of the great need that the area had for a pediatric cardiologist in McAllen.
Dr. Mathavan explained that it was in 2007 when she came for an interview and she started working in 2008. He said, "She felt the need for a well- trained pediatric cardiologist and decided to accept that opportunity. I followed her, and we moved along with our daughter in 2008 to McAllen, Texas." Dr. Gupta has been practicing independently since 2012 under Kids Heart Clinic.
In addition, they decided to stay because of the people of the region. "They really need help, and are very nice to work with; the area has a huge need for physicians. We wanted to serve the community especially because it is an underserved community." Furthermore he said, "We noticed that there were many good things about the Valley including the weather and our Indian community."
Dr. Mathavan said, "My concerns about the future of my field in medicine are that the healthcare industry is one of the most regulated industries, probably, other than the stock market."  He continued, "There are lots of regulations by the government and insurance agencies. There is a considerable decrease in the reimbursements, and an increase in the need for the use of technology for patient care including e-prescription, electronic health records, and to follow all the patient privacy rules." He also said it is challenging staying on top of other regulations by different medical boards like the Texas Medical Board, Centers for Medicare & Medicaid Services (CMS) and other regulatory agencies.  There is also getting your reappointment in every hospital every 2 years, going thru the recertification process for the boards, and working with different insurance companies, these are all challenging tasks. "We physicians feel that we do not get the freedom to practice medicine the way we want to practice and feel sometimes that our decisions are directed by different medical, governmental organizations, and insurance agencies. That is my biggest concern, and in the process the person who suffers the most is the patient."  Dr. Mathavan actively strives to provide the most compassionate care to improve the quality of life of his patients.
Aside from his busy medical profession, Dr. Mathavan is actively involved with national organizations but has the desire to get involved in local organizations like the McAllen and Edinburg chapters of the Boys and Girls Clubs, and the area school districts. He said, "Currently I am involved with the American College of Physicians, The Obesity Society, American Geriatrics Society, and the Society of Hospital Medicine. I'm also a lifetime member of the American Association of Physicians of Indian Origin."
He pointed out it is his desire to be able to work with school districts in the McAllen, Edinburg, and Mission areas to educate the residents and children about the risks of obesity. He said, "The McAllen/Edinburg area and Hidalgo County are number two in the epidemic of obesity in the nation."
Dr. Mathavan's immediate plans are to expand his weight management clinic in this area where he can help patients of all ages. "I want to help children, adults, and older people to manage their weight with multi-dimensional and multi-disciplinary approaches. This includes focus on life style modifications, dietary changes and recommendations, increase in physical activity, psychological evaluation, evaluation for underlying medical and genetic disorders contributing to Obesity and weight problems, medications for weight management and if possible without any surgery." He continued, "Studies have shown that in any person who is obese or morbidly obese, if they lose 5 to 10 percent of their body weight, that reduces significant health risks and improves quality of life and self esteem." He pointed out that those risks include high blood pressure, diabetes, high cholesterol, heart attack, stroke, sleep apnea, premature death, arthritis, and many cancers.
His long-term plans are to increase the education and awareness among the communities in South Texas and also educate the doctors about the Obesity epidemic in our area, and the consequences of not treating Obesity so they can help their patients.
Dr. Rajeev K. Mathavan is a board-certified physician practicing Obesity Medicine in Edinburg/ McAllen, Texas. His affiliations are with multiple local hospitals.
To make an appointment, please call Dr. Rajeev K Mathavan at (956) 627-2414 or visit with him at 5017 South McColl Road, in Edinburg, TX 78539.
We are very proud to have Dr. Mathavan as our Mega Doctor for the month of March 2015 because of his compassionate dedication to improving the quality of life of his patients. MDN
Dr. Rajeev K. Mathavan graduated from the University of Mysore, J.J.M. Medical College, in India in 1995. He worked as House Staff in ENT, Anesthesiology, and Orthopedics in India. He was appointed as House Physician at Memorial Regional Hospital in Florida from 1997-1998. He completed an Internal Medicine Residency at Case Western Reserve University in Cleveland, Ohio from 1998-2001 and a Geriatric Medicine Fellowship from 2001-2002. He subsequently joined the Department of Medicine, Division of Geriatric Medicine at Case Western Reserve University and MetroHealth Medical Center in Cleveland, Ohio as an academic faculty member in 2002.
He moved to Atlanta in 2005 and joined Emory University School of Medicine as an academic faculty member and Grady Memorial Hospitalist group in July 2005. He was promoted to the rank of Assistant Professor of Medicine at Emory University. He was honored as Doctor of the Day at Georgia State Legislative Assembly.
In 2006, Dr. Mathavan established a Palliative Care program at Emory University and was the Director of the program until he moved to McAllen.
In June 2007, he became certified as an Education in Palliative and End of Life Care (EPEC) trainer.  He moved to McAllen in 2008 and started working as a Hospitalist. He established Sunrise Medical Clinic in 2009 and has since then been practicing Hospital Medicine, Geriatrics, Hospice and Palliative Medicine, and Obesity Medicine in the Rio Grande Valley.
Dr. Mathavan has worked on many National, Regional, State and Local committees. He has received many awards and honors by many societies and is currently a Fellow of the American College of Physicians and the Society of Geriatric Cardiology.
He achieved certification as Obesity Medicine Physician in Feb 2015 by the American Board of Obesity Medicine. He is dedicated to improving the quality of life for patients with Obesity and complications associated with Obesity/Morbid Obesity.
Written by Roberto Hugo Gonzalez, the 2009 SBA Journalist of the Year award winner and the 2009 and 2012 Paul Harris Fellow award recipient.