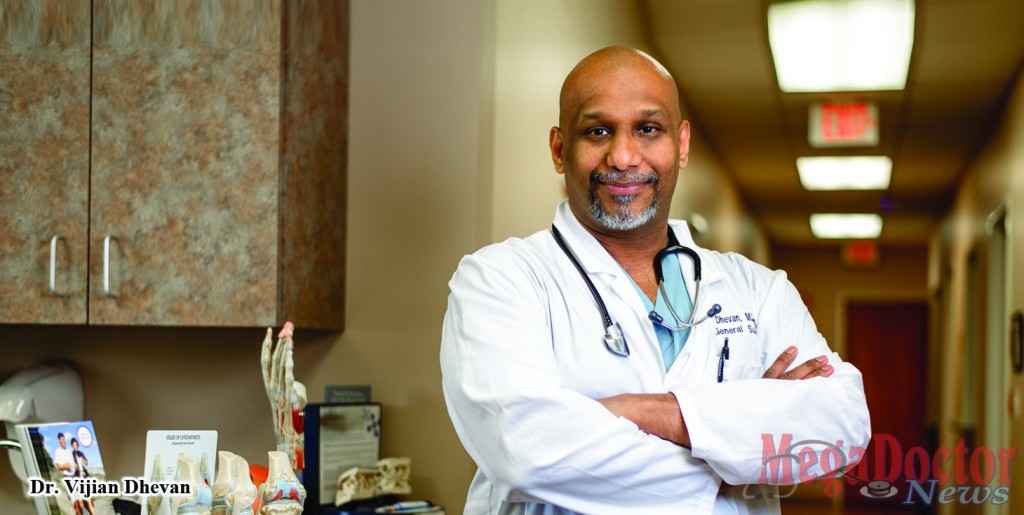 Mega Doctor News – 
By Roberto Hugo Gonzalez,
Dr. Vijian Dhevan is a general surgeon and board certified; he just recently came to the Rio Grande Valley. He was recruited by Valley Baptist Hospital in Harlingen, Texas.
The area was not unfamiliar to him, he had been vacationing with his family traveling from West Texas and staying at South Padre Island.
Dr. Dhevan was born in Malaysia. He said, "I was born there. I grew up there to my early teens and I finished up my high school in a boarding school with a British curriculum but in Singapore, my exams were all sent from Britain."
After that he moved to Nacogdoches, Texas.
Today he is a general surgeon and does a lot of different procedures. "I operate on things as simple as skin lesions all the way down to tumors, cancers, hernias, and bowel obstructions."
He said, being a surgeon he also deals with trauma and explains that general surgery covers a broad-spectrum in his field.  He said, "Within that broad spectrum, each of us as general surgeons, has a specific area of interest." He told Mega Doctor News that his interest happens to be in cancer surgery. "That's where I have gravitated towards. It's just how things evolved in my training program and practice," he said.
He pointed out that he was given the ability to do something he enjoys. "The fact that I can help cure somebody from cancer, I consider that a great gift."
Dr. Dhevan's other area of interest is breast cancer. "I've been interested in breast cancer, and also foregut surgery (stomach, small bowel, and tumors related to those regions), but I also operate on tumors in other areas of the body."
Like some of the best professionals in his field, he says, "I have always tried to do what I would like to have done to me," he stated.
Dr. Dhevan says that at the end of the day he will go to the nth degree to try to cure somebody, to dissect the tumor; but he admits that there comes a point in time when he realizes that there is a certain futility to it.
He understands that sometimes the patient's quality of life isn't going to be changed by what he does and at the end of the day the patient should have the right to live his/her life in dignity.
He said, "That should be the ultimate goal to provide autonomy to the patient, let them decide, let them live their life with a sense of dignity." He continued, "Unfortunately, in some cases people do pass away in the hospital from their disease process. However, if we can get them back home, even though they are back with cancer, to spend their last months, weeks, years with their family; we'd like to do that."
Dr. Dhevan has a distinguished academic background, he attended from July 1990/ June 1994 Stephen F. Austin University and obtained a Bachelors in Biology. In July 1994 through June 1997, he continued at Stephen F. Austin University and obtained his Masters in Biology; and in July 2003/June 2007 he attended Texas Tech University obtaining his Masters of Business Administration and from July 2003 /June 2007 he continued at Texas Tech University School of Medicine where he obtained his Medical Doctor Degree.
He completed the professional training from July 2007- June 2011 for his Surgery Residency. From 2011-2012 he was the Chief Surgery Resident at Southern Illinois School of Medicine, Department of Surgery. As of this year, he has been a surgeon for three years.
"When I finished up my training, I was looking to come back to Texas because both my wife and I are from here." He said, "We were looking for a practice and I returned to Lubbock and was there for about two years. At the end of two years, for a number of different reasons, I wanted a bigger caseload, I wanted a more active practice; so I started looking around passively for different opportunities."
It wasn't long before an opportunity was presented by Valley Baptist Hospital in Harlingen, "They told me that there was an opening and the process took about six months; and here we are."
Dr. Dhevan told Mega Doctor News that he was looking for a place to plant his roots. He says, "To settle down, to expand my career, to build something. Then when I retire or it is time to go I will hand this off to somebody else."
He says that the search process for him was very deliberate and slow. "I wanted to make sure this was the last place I was going to go to and I would spend the rest of my professional career here."
Dr. Dhevan said that his father Dhevan Pangu instilled in him the drive, the work ethic, and persistence he now enjoys. "He was a man that achieved a lot and didn't come from a whole lot. That's something that I always hold dear to my heart and that my father gave me."
He describes his father as a very quiet man who never complained, but when he had a job to do he made sure it was done correctly. "There were no cutting corners. It was done correctly no matter how much time it took," he said.
Dr. Dhevan is married to June; she is a registered nurse and takes care of their two children. "My wife and I met in college." He said, "I was a couple of years ahead of her in college; we took a class together. We dated for about six years and she finally agreed and we got married."
Their two boys are Arun, who is eight years old, and his younger son Narayan, who is two. He says that Arun can't decide whether to follow his father into medicine, "Depending on what day you ask him; he sometimes wants to be a policeman, a fire fighter, maybe a physician, or maybe an actor."
He says that being at Valley Baptist Hospital has given him the opportunity to concentrate on what he does best in medicine.
He says, "I became a doctor because I have always been interested in the human body, the function of the organs, why we breathe and move… what makes us tick."
Dr. Dhevan said that there are a couple of things that he is interested in and one of them is the outreach program for cancer. "I'd like to get involved in that to provide more education for the community at large."
The other interest is organ donations and transplants. "Part of what I did when I was in training was work with an organ procurement organization in Illinois to grow the program at the two hospitals where I was a resident and to make it more efficient."
His wife, June being a registered nurse, was also an organ procurement coordinator. "She got me interested in this and even though I don't do transplants myself, but because I see trauma patients to bridge that gap between a patient that maybe passing away; they may have organs that could keep somebody else alive."
He says that Valley Baptist Hospital has a program here and he is hoping to get involved with it.
He is concerned about the future of medicine, "There are a lot of things that are happening now that are in the bigger picture with the different policies." He said, "I think medicine is in a state of flux. I don't think anybody can really predict what's going to happen in the next few years and that's the biggest concern that any physician has."
Mega Doctor News has selected Dr. Vijian Dhevan as the Mega Doctor for the month of May because he has such passion for doing everything he can to help his patients.
Dr. Dhevan practices medicine as part of the Valley Baptist Physician Network, which has its offices at the Valley Baptist Medical Arts Pavilion located next to the hospital at 2121 Pease St., Suite 404 in Harlingen.
He sees patients with breast cancer at the RGV Women's Health Center located at 2230 Haine Drive in Harlingen. You are welcome to consult with Dr. Vijian Dhevan by calling (956) 389-4710 to set up an appointment; for more information visit the Valley Baptist Hospital site: www.ValleyBaptist.net.
Written by Roberto Hugo Gonzalez, the 2009 SBA Journalist of the Year award winner, and a 2009 and 2012 Paul Harris Fellow award recipient. MDN