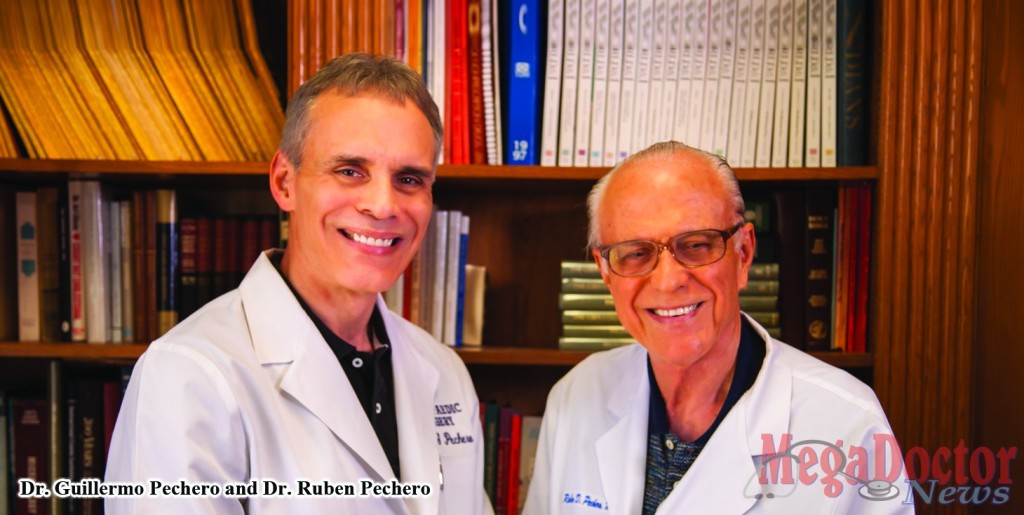 By Roberto Hugo Gonzalez
Mega Doctor News
It is not often that a father and son get to work together in the same specialized field of medicine. Mega Doctor News took notice of this very rare partnership between a father and son; they are Dr. Ruben D. Pechero and his son, Dr. Guillermo R. Pechero.  Since they have been doing this for years, they discovered that they complement each other in the field of the complex specialty of orthopedic surgery; this makes them even more unique. An orthopedic surgeon is a medical specialist that has undergone training to deal with problems of the musculoskeletal system of the human body. These are problems that are present at birth or arise due to injuries to the muscles, bones, joints, and tendons, or are related to the aging process.
Dr. Ruben Pechero
Dr. Ruben Pechero is among the pioneers of this profession in Rio Grande Valley. He first graduated from the University of Buenos Aires, Argentina in 1958 and later attended the University of Kansas where he finished his residency program in orthopedics in 1968.
Dr. Ruben Pechero said that after finishing in Kansas he packed up and came to McAllen the same year. In 2015, he is celebrating 47 years of service as an orthopedic surgeon.
He told Mega Doctor News that he feels a real passion for helping his patients with his profession as an orthopedic surgeon. He chose McAllen and the Rio Grande Valley based on the fact that his specialty was badly needed.
Dr. Ruben was born in Argentina to parents Elias Pechero, a businessman, and San Juana Arrizubieta. He has a brother who chose to be an attorney, his name is Jose.
"We come from a humble family." He said, "My father and mother believed in education; they believed the best inheritance they could leave us was our education." He said his parents inspired him to become a doctor.
"At the time when I finished my residency in Kansas, the Rio Grande Valley had only two orthopedic surgeons, one in Cameron County and one in Hidalgo County, I became the third surgeon in that field."
There was a great need for his specialty in the Valley and the fact that he is fully bilingual was a perfect match for the region.
He says that a lot has changed since he graduated and that robotic technology and other advances in medicine excite him the most. "My son, Dr. Guillermo, and I have been growing with all these changes."
"Today we have a lot of big challenges in medicine. Now-a-days, under the new rules, you have to get approval first, to be able to help people to use different programs, and to be useful to the society."
Doctors also go through tough times; they are no exception so they have a lot of stress. "For stress I like to go fishing, hunting, and to visit my ranch," Dr. Ruben said.
As for any plans for a future expansion Dr. Ruben said, "My son is a younger guy, and I leave all the planning to him."
Dr. Ruben derives a great deal of satisfaction in taking good care of his patients and helping them achieve good results. For him and his son there is no other way but total dedication in this regard.
Dr. Ruben said that as long as he can remember, he wanted to be a doctor. "I was about eight years old, and becoming a doctor was already my dream."
When asked what he would do if he had the chance to do something different, he replied, "Nothing, I would change nothing."
He told Mega Doctor News that his priority in life is God first and his relationship with his church. "My family comes second and my profession comes in third."
An interesting fact about Dr. Ruben is that he was drafted twice to go to Vietnam and twice was sent back to Texas. It was decided that because he was the only Spanish speaking orthopedic surgeon in the Valley, that he would be of more benefit here than fighting in a foreign country. Nevertheless, Dr. Ruben served his country by joining the reserves of the U.S. Army where he became a Lt. Colonel; he retired in 1991.
Dr. Guillermo Pechero
Dr. Guillermo R. Pechero, also known by his staff and patients as Dr. Billy, has been established and working as an Orthopedic Surgeon at the Rio Grande Valley Orthopedic Center since relocating to his home town of McAllen in 1997.  Dr. Billy is a Fellow and current member of the Royal College of Physicians and Surgeons of Canada since 1997. He is also a Fellow of the American Academy of Orthopedic Surgeons since 2000, and a Fellow of the North American Spine Society since 2000.  Participation and maintenance of certification ensures core competency by your doctor based on practice-based learning and improvement; patient care and procedural skills, systems-based practice, medical knowledge and a commitment to patient safety and improvement in medical practice. Every 10 years there is a recertification process which requires continuing certification documentation of professional standing, participation in educational programs, and core orthopedic knowledge that Dr. Guillermo successfully completed in 2010.
Dr. Guillermo specializes in all types of treatment in orthopedics from major to minor surgeries which include spinal surgery, hip replacement, knee replacement, arthroscopies, rotator cuff repairs to epidural steroid injections for pain management and closed and open reductions of fractures. Dr. Guillermo enjoys meeting with every one of his patients and spending time with them during consultation. One of the things that Dr. Guillermo emphasizes is that although he is a surgeon, he likes to share with his patients the importance of treating the orthopedic concerns with conservative treatments as much as possible to correct the issue rather than jumping into surgery right away as it is the last option available. Dr. Guillermo is an avid advocate for good health, proper nutrition; he encourages his patients to lose weight if there is a need and to engage in an exercise program as permitted.
One of the procedures that Dr. Guillermo has been performing and finds fascinating as it combines medical knowledge with new advanced technology is the total knee navigation system, also known as GPS Guided Surgery. How it works is that it takes a GPS picture/map of the entire knee. This in turn sends a live GPS feed to the surgeon allowing him to see and make intricate cuts on the knee for the precise placement of the implant.  This new innovative technology is a much better procedure than the manual way.  This allows the patient to be fitted with a one of a kind surgery and implant.  This surgery is unique to each patient because no one will receive the same surgery.   The Total Knee Navigation or GPS Guided System has proven results for quicker recovery, shorter hospital stay, less chances for any revision surgery, and most importantly less pain.  Because we are not all designed the same, why should our surgery be the same.
Dr. Billy enjoys getting away with his family to recharge, to regain vitality, and be the best in his field.  Mega Doctor News made a great effort to bring you this feature story about this remarkable father and son team of Mega Doctors in Orthopedic Surgery in the Rio Grande Valley.
Dr. Guillermo moved to the Rio Grande Valley when he was 6 years old because his father, Dr. Ruben Pechero chose the Valley to work and raise his family after completing training in Orthopedic Surgery in Wichita Kansas.  Both Dr. Ruben and Dr. Guillermo consider the Valley their home and have been committed to and will continue to service their patients as they have for the past 40 plus years.
For more information on Dr. Ruben Pechero and Dr. Guillermo Pechero you can call to (956) 686-6510 to set up an appointment and you can visit them at: Rio Grande Valley Orthopedic Center located at 1005 E. Nolana Loop in McAllen, Texas. MDN
Dr. Ruben Pechero
Academic Background and Professional Activity:
Graduated:  03/58 – 06/60 University of Buenos Aires, Argentina, Family Practice;
03/63 – ECFMG: March 27, 1963; 1960 – 1964 Medical Missionary in Peru (Amazon River area); 01/64 – 12/64 Mercer Hospital, Trenton, NJ, Internship; 01/65 – 06/68 Univ. of Kansas at Wichita, VA Hospital, St. Francis Hospital- Wichita, KA, Orthopedic Residency; 12/67 – Northwestern Univ. -Medical School of Prosthetic Orthotic Education, Upper Extremity: Chicago, IL, Orthopedic Residency;
Board Certified: 01/70 – American Board of Orthopedic Surgery, 1970
Certification of Registration: Colorado State Board of Examiners in the Basic Sciences, December 3, 1966; Kansas State Board of Examiners, February 28, 1966;
Texas State Board Examiners, March 1, 1967; South Dakota Board of Examiners, November 25, 1967; Board of Medical Quality Assurance-California, June 7, 1985
Dr. Guillermo Pechero
Academic Background and Professional Activity:
07/97 – 12/97 McMaster University Spine and Joint Fellowship
07/93 – 07/97 McMaster University Orthopedic Surgery Residency
07/92 – 07/93 U.T.H.S.C./San Antonio General Surgery Internship
08/90 – 05/92 Albany College Received M.D. 05/92
08/88 – 08/90 Texas College of Osteopathic Medicine Rank 3/200
01/80 – 05/83 U.T. Pan American University, B.S. Chemistry May, 1983 Magna Cum Laude
Board Certified:
Fellow of the Royal College of Physicians and Surgeons of Canada (Fellow) 09/10/97
American Board of Orthopaedic Surgery, Inc.; Board Certified 2000; Recertified 2010