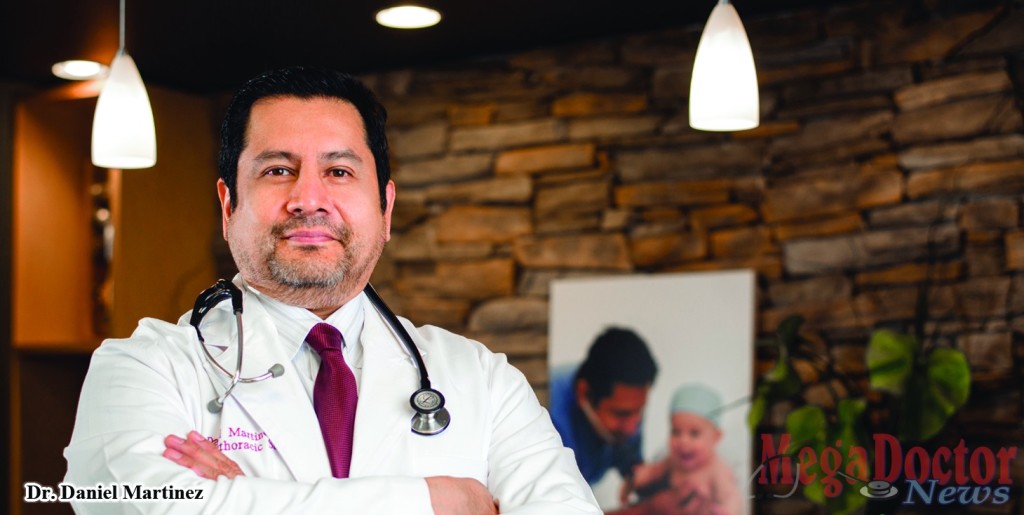 By Roberto Hugo Gonzalez
Dr. Daniel Martinez comes from humble beginnings like many people of the Rio Grande Valley, but that did not stop his high aspirations to become a heart surgeon.
Dr. Martinez is a board certified cardiovascular surgeon who has an active surgical practice at RGV Heart Surgeons in Harlingen, Texas. He is an active member of the American College of Surgeons (ACS) and the Society of Thoracic Surgeons (STS). Dr. Martinez relocated to Harlingen, TX in early 2007.
Dr. Martinez was born in San Juan, Texas to Alberto and Maria Martinez. Both of his parents are from Mexico and did not have a formal education. His mom came to the United States, earned her General Education Diploma (GED), and became a U.S. citizen. She worked as a migrant counselor for a school district. "It was through very hard work and dedication that she got that position."  His father was an automobile mechanic and still enjoys working on cars today.  Both of his parents worked hard to provide for their four children and raised them in a Christian home.  He attributes his strong work ethics and morals to the example set by his parents.
Dr. Martinez' life has changed 180 degrees all because of his determination to get a good education and be a part of the medical profession. Today, he is a renowned thoracic surgeon that provides the latest surgical treatment in the field of heart surgery for the people of the Rio Grande Valley.
Dr. Martinez grew up in Edinburg during his younger years and then moved to Pharr to attend Buckner Elementary and LBJ Junior High.  He graduated from Pharr San Juan Alamo High School in 1985 and then graduated cum laude from Pan American University in 1989." He said, "I graduated from the University of Iowa, Roy J. and Lucille A. Carver College of Medicine in 1993." He also served in the Army Reserves for 18 years and was honorably discharged in 2002 as a Major.
He completed his General Surgery residency at Louisiana State University Health Science Center in Shreveport (LSUHSC-S) in 1999 under the chairmanship of organ transplant pioneer, Dr. John C. McDonald.
Dr. Martinez completed a Cardiothoracic Surgery Fellowship at Wake Forest University Baptist Medical Center in Winston-Salem, N.C. in 2001 under the Chairmanship of Dr. Neal Kon, a renowned surgeon with expertise in heart valve surgery.
In 2001, Dr. Martinez accepted a faculty position as an Assistant Professor of Surgery at LSUHSC- Shreveport. In August of 2002, Dr. Martinez traveled to the southern region of China on a two-week medical mission performing pediatric congenital heart surgeries.  He was invited by a trauma colleague, Dr. Lou Smith, to join a group of the Church of Christ with a plan of doing pediatric surgery. He said, "We were not guaranteed to do them, but we traveled to a very remote area of China. It was exciting and we did about 10 to 12 pediatric operations." The patients were from ages two months to five years. "I went because I have always had an interest in congenital heart surgery."
During his tenure at LSUHSC-Shreveport, he took a sabbatical to complete a fellowship in Congenital Heart Surgery at the University of California at San Francisco. At LSUHSC-Shreveport, Dr. Martinez instituted the first Extra Corporeal Membrane Oxygenation (ECMO) in a newborn.  ECMO is an important treatment for cardiorespiratory failure in infants and children. ECMO is the use of an artificial lung (membrane) located outside the body (extracorporeal), that adds oxygen in the blood and this blood then carries the oxygen to the body tissues (oxygenation).
In 2004, he accepted a faculty position in the Division of Cardiothoracic Surgery at The University of Texas Health Science Center in San Antonio under the auspices of Dr. John Calhoon.
It is important to say that in June 2009, Dr. Martinez performed the first pediatric open heart surgery to repair a heart defect at Rio Grande Regional Hospital. He also brought the Extra Corporeal Membrane Oxygenation technology to the Valley.
Dr. Martinez told Mega Doctor News that he remembers that ever since he was a child in grade school he wanted to be a doctor. He said, "As I was growing up, my family had no health insurance, so we visited a family doctor in Reynosa, Mexico."  He continued, "I noticed the way the doctor treated us, and he was one of my first role models."
After embarking on the long journey of studies and training, a doctor usually stays in other communities and doesn't even consider coming back to their hometown to set a medical practice. This was not the case for Dr. Martinez. "When I was attending medical school for my residency I used to come to the Rio Grande Valley and visit, and I saw the rapid growth in the Valley, and especially in the medical field."  He said, "I saw the need for physicians so that part attracted me to come back home. I know there's a real need for more doctors here."
Today, when he is in action, about 50 other professionals interact with him to save lives. He said that cardiac surgery involves multiple disciplines, first a cardiologist for the initial evaluation. "They are the ones who initiate the work of tests and if the patient needs surgical intervention that's when I get called."
The heart team of professionals includes assistants, nurses, operating technicians, perfusionists, and the anesthesiologist. He added, "A cardiovascular perfusionist is a specialized healthcare professional in charge of the heart-lung machine during cardiac surgery in order to perform the operation on the patient."
He pointed out that after the procedure a team of ICU nurses, whose responsibility it is to care for the patient, have a very important role in the patients post operative recovery.
"We also have case managers to help transition patients from the hospital to their home or rehab," he said.
His opinion of technology is that it should improve patient safety and outcomes. "We do pretty complex operations with an excellent success rate." He said, "Cardiac surgery is still considered a complex major operation and the combination of science, professionals and technology equals to good outcomes."
The challenges of his career were in setting up the team and preparing the system to ensure the operations were performed safely and effectively.  "We have had a nursing shortage across the country, that's always challenging for our services."
He pointed out that the other challenge is related to the reimbursement issue, in which surgeons are getting paid less by insurance companies to perform their services.
What worries him about his patients is lack of medical compliance, sometimes they do not take their prescribed medication and follow up with their family doctor or cardiologist.  He said, "Once I'm done with the operation they still need someone to care for them, and some patients are not compliant.  Sometimes they think they are cured but a change in lifestyle is necessary."
According to him the non-compliance could be a cultural thing or sometimes due to financial issues.
Dr. Martinez knows that his field is constantly evolving, and he keeps up with the competitive edge. He said, "I want to keep us on the forefront and to serve the community, and we have been providing minimally invasive surgical procedures for the past two years." He continued, "There are other technologies such as transcatheter aortic valve replacement(TAVR) that works in conjunction with a cardiologist."  This minimally invasive surgical procedure repairs the valve without removing the old, damaged valve. Instead, it wedges a replacement valve into the aortic valve's place. He said, "I think that we will be working to perform these in the near future."
He met his wife Christy J. Martinez, RN, a registered nurse when he took his first job at Louisiana State University. "I went back as attending staff at the university, and she was an ICU Nurse. She recovered my cardiac patients, and we developed a good working relationship." Was it love, at first sight? "I would say yes; we started dating in January 2002 and were married in November 2004." They have one child named Daniel Luke. Why is his middle name Luke? "I'm a Christian and Luke in the Bible was a physician, and that's why I named him Luke."
To reduce stress, Dr. Martinez rides his motorcycle; one time he rode 1400 miles to attend a biker's rally in Sturgis, South Dakota.
Dr. Martinez is actively involved in instituting quality performance measures in the field of Cardiac Surgery. As a result of this, Harlingen Medical Center has received a 3-star rating, which is the highest rating from The Society of Thoracic Surgery for outstanding results in coronary artery bypass grafting (CABG) procedures for the past two and a half years. " I am very thankful to all the people involved in the care of our heart patients."
Dr. Martinez is an active member of the American College of Surgeons (ACS) and the Society of Thoracic Surgeons (STS).  His interest and expertise in the field of heart surgery includes complex valvular procedures and the Minimally Invasive Cardiac Surgery (MICS) approach.
It took many years of training and dedication to become a heart surgeon and Dr. Martinez made a lot of personal sacrifices to fulfill his goal.  He still continues to educate himself by attending many conferences on the most contemporary cardiothoracic procedures in order to bring cutting edge medicine to his people in the Rio Grande Valley.
Dr. Martinez feels great satisfaction in his profession when his patients are doing well. Because of his dedication and compassion for his patients, Mega Doctor News selected Daniel Martinez, FACS as the Mega Doctor for the month of February 2015.
You can contact Dr. Daniel Martinez at his practice called RGV Heart Surgeons located at 618 Maco Drive in Harlingen, TX by calling (956) 425-0111 and by e-mail: office@rgvheart.com. For more information, you can also visit their website: https://www.rgvheart.com. MDN
Written by Roberto Hugo Gonzalez, the 2009 SBA Journalist of the Year award winner and the 2009 and 2012 Paul Harris Fellow award recipient.