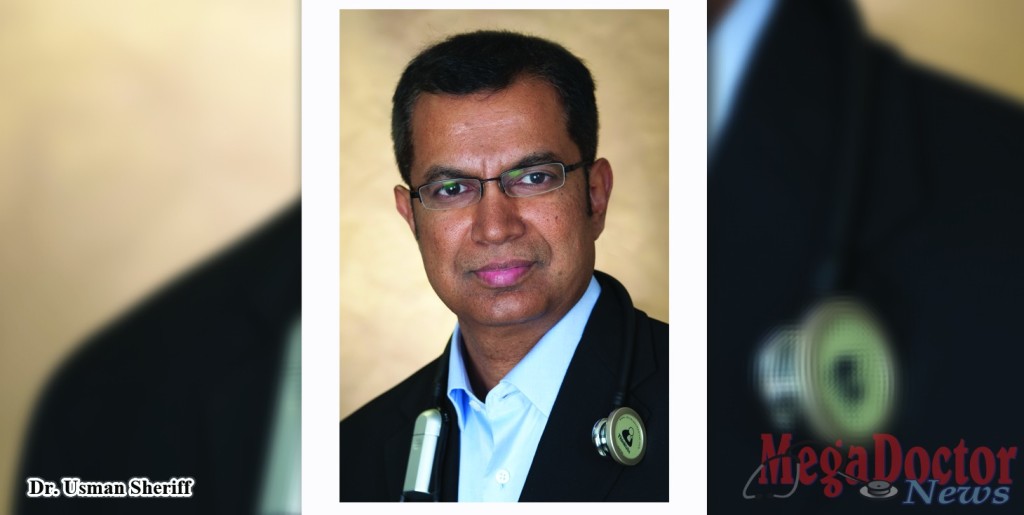 Mega Doctor News – 
- Advertisement -

Harlingen – While Valley residents are busy getting gifts for their loved ones, a local doctor suggests that the best gifts we could give to our family this holiday season is to take care of our health.
Dr. Usman Sheriff, a cardiologist in Harlingen, said that many Valley residents, while rushing from store to store, may also wish to consider using extra time off work during the holidays to have their blood pressure and blood sugar checked – or to have a stress test or other screening if they already have risk factors for heart disease.
"These days leading up to the holidays are actually a good time to go to your doctor and get tested, and take stock of how you are doing with your health," Dr. Sheriff said.
"Using the semblance of wrapping a gift, yes, we should do that – but we shouldn't lose sight of the fact that the best gift you can give your family is your health, so you can be around to celebrate the holidays a few more years with your loved ones," Dr. Sheriff added.
A patient who has met their health insurance deductibles for the year – or who has un-spent amounts in their flexible spending account that will expire if not used by the end of the year – may wish to consider investing in getting their cholesterol checked – or getting a complete "lipid panel" at a laboratory, such as the Valley Baptist Community Reference Lab, so the patient "knows their numbers" as far as the health of their heart.  Dr. Sheriff said patients who already have high blood pressure or diabetes may wish to get blood work or a screening such as a carotid artery screening or abdominal aorta ultrasound, to see if there are blockages in their blood vessels.
"This is to see how your body is doing on the inside," Dr. Sheriff said.  "If you have blockages, early detection and treatment could spare you from possibly suffering a life-threatening heart attack or stroke later on."
With plenty of food being consumed at holiday parties, sometimes it's not easy to tell the difference between simple "heartburn" or gastric reflux, and chest pain which could be a symptom of serious heart problems.  Dr. Sheriff said if the patient is older and has risk factors, they should take a serious look and follow-up with their doctor if they have a burning sensation or discomfort in the chest.
- Advertisement -

"Heart disease can mimic the symptoms of reflux," Dr. Sheriff added. "It is best to go to the doctor and get tested if you are at risk."
"In women, symptoms of heart disease may not be so obvious.  In place of severe chest pain, a woman may have pain in the upper back, jaw, or arm … or just a sensation of weakness and feeling tired," Dr. Sheriff said.  "The physician may wish to order an echocardiogram, stress test, or nuclear heart scan to check the heart and blood vessels," he added.
Dr. Sheriff – who did his cardiology training in some of the most prestigious institutions in the country, including Cedars-Sinai Medical Center in Los Angeles and the Scripps Clinic and Sharp Memorial Hospital in San Diego, California — noted that Valley residents have special risks, with the Valley having the highest rates in the nation for diabetes and obesity.
"Diabetes is the king of all diseases," Dr. Sheriff said, noting that complications of diabetes can include heart disease, lack of circulation in the legs leading to tragic amputations of a foot or leg, kidney failure requiring the patient to be on dialysis, and blindness can occur.
Fighting obesity is especially difficult given that so many holiday celebrations center around food.  Dr. Sheriff advises his patients "not to slack off" when limiting salt and sugar, even during the holidays.
"Remember what kind of diet you are supposed to be on," he added.  "Slacking off for one or two weeks during the holidays could undo all the good work you have done for five to six months with diet and exercise."
He suggests families celebrate the holidays with a game of volleyball or other sport, so that get-togethers are more than having a huge table spread of food and drink.
"Patients should have their height and weight checked to see what their body mass index (BMI) is – and do their best to keep their BMI as low as possible," he added.
Of course patients can also take care of their health by staying away from smoking and soft drinks – Dr. Sheriff said a can of coke has so much sugar that you would have to run on a treadmill for an hour to burn it off.
He suggests patients meet with their doctor now, in December, to take "an audit" of their health at the end of the year, and to write down some resolutions for the new year – such as a resolution to lose 10 or 12 pounds in the new year, or to start walking or jogging three or four times a week.
"Taking care of our health is a gift that our family will value and cherish more than any material thing we can give them," he concluded. MDN