- Advertisement -

His medical practice is among only three in the Valley to been recognized as Patient Center Medical Home level 3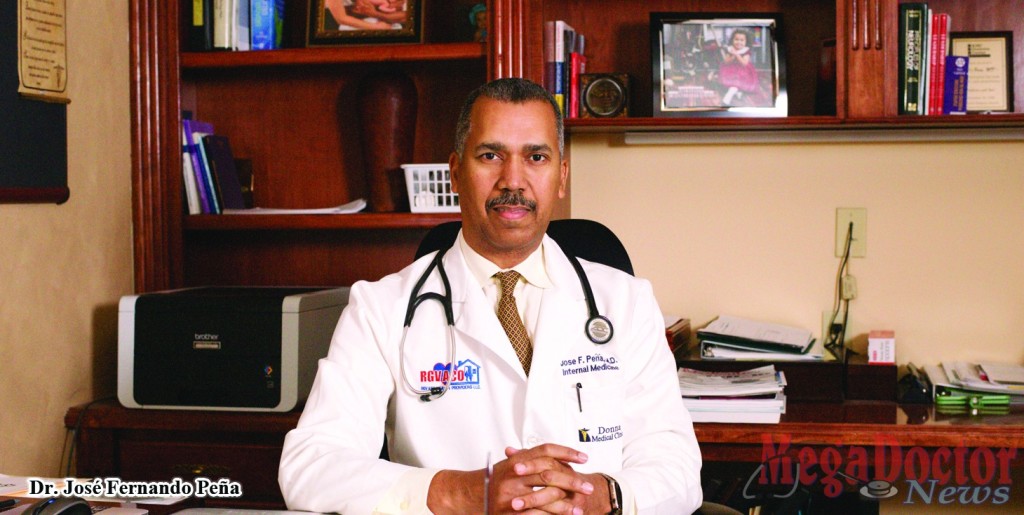 By Roberto Hugo Gonzalez, 
Mega Doctor News – 
Donna, Texas is a small community southeast of McAllen in southeastern Hidalgo County. It has a population of about 15,000 according to the 2010 U.S. Census. The City of Donna and the small communities around it are served by several physicians, one of them is Dr. José Fernando Peña.
Dr. Peña heads an Accountable Care Organization (ACO) created by Dr. Peña and a group of distinguished doctors that have one goal in mind, to keep their patients healthy. The ACO is a separate organization from their respective practices.
Recently Dr. Peña shared with Mega Doctor News an interesting journey of the challenges and satisfactions in his life. It starts with his late father, Gustavo Peña, who was a self-taught man, and the second son of fourteen brothers and sisters. At seventeen, he left his home that was in a small town in the Dominican Republic to settle in the city of Santo Domingo.
He then followed a military career and became the first college graduate in his family during the 1940s. "His father's leadership made it possible for other family members to migrate to Santo Domingo and New York City and become doctors and businessmen," said Dr. Peña.
- Advertisement -

His mother, Juana Rodriguez, was a compassionate and sweet woman who also migrated from a small country town to the city where she met and married Gustavo Peña.
"My father was an avid reader and writer; as a matter of fact, he wrote two books about traditions in the Dominican Republic, and our family roots," Dr. Peña stated.
In Dr. Peña's family, everything has been about dedication and hard work; nothing has just fallen into their laps. He is the oldest in a family of four children. From an early age, his vocation for helping people in need led him to medical school where he developed a clear vision to assist others as his mother had taught him.
His passion in anatomy earned him a job as an instructor for junior students. After graduation in 1986, Dr. Peña did three years of Internal Medicine in Santo Domingo. He was then accepted at Saint Barnabas Hospital in New York City where he completed three and a half more years of Internal Medicine training. He is board certified in Internal Medicine. In 1995, he was named "Resident of the Year" for his dedication and effectiveness in the care of patients.
After graduation, he came to the Rio Grande Valley to work at Nuestra Clínica Del Valle, a community health clinic in Pharr.  Two years later, he started his private practice in Donna. In 2003, Dr. Peña opened an office in Elsa and acquired another one in Donna.
In 2015, his group added a practice in McAllen. Currently, Donna Medical Clinic group has six doctors and six mid-level practitioners, which include Physician Assistants and Nurse Practitioners.
His offices have become one of the largest primary care groups in the Valley. Last year Donna Medical Clinic earned recognition from The National Committee for Quality Assurance (NCQA) as a Patient-Centered Medical Home (PCMH) level 3. Only two other practices in the Valley have achieved recognition for that level of patient-centered care.
It is important to note that Patient-Centered Medical Homes are driving some of the most important reforms in health care delivery in the nation.
NCQA indicates that the medical home inspires quality in care, cultivates more engaging patient relationships, and captures savings through expanded access and delivery options that align patient preferences with payer and provider capabilities.
Dr. Peña's explanation for the significant growth of his practices is simple, "One of our core values is to be able to serve every patient that needs our help, that same day. We accept walk-in patients without an appointment in all of our four offices." He said, "Also we have night clinic hours and we are open on Saturday mornings in three of our offices. Additionally, one of the offices is open Saturday and Sunday evenings."
Dr. Peña's professional development in the area and contributions to the community and the medical field have also had a great impact on the area. He told Mega Doctor News that after coming to the Valley, he improved his clinical skills at Knapp Medical Center in Weslaco where he served from 1996 to 2006.
In 2004, his peers elected him as Chief of Staff. Being elected Chief of Staff of a hospital is a great recognition to be proud of, however, it brings with it a sizeable responsibility. Dr. Peña reminisces about the long hours of work from 6:00 AM to 10:00 PM almost daily. "It was a great time of service. I only regret that it took so much time away from my family."
In the last five years, the medical industry has changed dramatically. Many in this industry have left, others have struggled, but the leaders adapt and bring solutions to health care. In 2003, together with Dr. Pedro McDougal and other mid-valley physicians, Dr. Peña played an important role in the creation of Weslaco Rehabilitation Hospital. There he served on the board of managers until the spring of 2015.
In 2005, Dr. Peña joined Doctors Hospital at Renaissance (DHR). Under the leading of Mr. Alonzo Cantu and a group of visionary doctors, he helped to develop the foundations of what became a Regional Referral Center in the Valley. Dr. Peña was Chief of Staff in 2007 and served on the Board of Directors for five years.
"My time working with DHR leaders changed my life forever. It instilled in me my current process of development; it showed me how much you can achieve working with others as a team," he said.
Dr. Peña's activities in this field have always been focused on how to better serve the patients. So, in the midst of 2012, Dr. Peña joined forces with Dr. Pedro McDougal and Dr. Pedro Penalo and other doctors to form RGV ACO Health Providers, LLC.
Dr. Peña defined this as his biggest project by far and immersed himself in the study and analysis of Accountable Care Organization rules and regulations.
The proposal comes from Medicare directed to Primary Care Doctors, asking them to work in a group and develop a strong Primary Care Program to keep the patients healthy, provide quality care, yet work more efficiently, and decrease the cost of health care.
The rules include new elements to the process of health care. For example, a Care Coordinator or Care Coach is placed in every office. A home visit program is also done, where providers and nurses visit the most fragile patients at their home to decrease the chances of hospitalizations or unnecessary emergency room visits.
The project has become very successful and has grown here and outside the Valley. Currently, RGV ACO has fourteen affiliated offices in the Valley, five in San Antonio, and is adding three offices in New Jersey.
Almost three years after being fully integrated, RGV ACO has developed a comprehensive Disease Management (DM) program that has achieved national recognition.
Early this year, Dr. Peña was invited to present his work in a Work Forum of disruptive innovations in Diabetes by the Brookings Institution in Washington, DC.  His ACO is in the top 5% in the nation in diabetes control.
Dr. Peña said, "We decided to focus our efforts in the process of improvement in diabetes management because almost half of our Medicare Patients have diabetes. Controlling the blood sugar now will decrease heart attacks, strokes, kidney failures, blindness, including amputations, sexual dysfunction, and many other complications of diabetes." This group of doctors made the project work, when at the beginning, it seemed impossible.
Today, the project is progressing and improving with full benefit to each patient. "What we have found, is not only about adding more pills or insulin, but about coaching the patients with frequent phone calls, talking about diet, weight loss, exercise and the need to take their meds." He said that the providers are making the necessary adjustments on medications before the patient's next office visit to the doctor."
The relationship between the patient and physician has evolved through the years. It got to a point that doctors were seeing too many patients. Initially, this looked like the answer, that is, to attend as many patients as possible instead of using a system that is becoming the norm today.
He pointed out, "With our Care Coordination program we engage patients and family to a degree that was not happening before. We call our approach a "low tech, high touch" approach, and the potential is enormous."
The importance of this technique and the process is that more patients become stable; especially those with chronic diseases that are often hard to manage.
"There are more than 25% of people in this country with HbA1c > 9. That means, they have very uncontrolled disease. If doctors use our Care Coaching philosophy, the health care industry will be saving billions in a short time," he emphasized.
The system process takes planning but above all it needs a serious follow up with patients to be successful. "At Donna Medical Clinic we decreased the HbA1c greater than 9 to less than that, in 3% of our patients; and HbA1c less than 8 to less than that, in 15% of our patients. This means that most of our diabetic patients are controlled."
"They are given instructions to call our phone number any time. They have access to our Care Coach or a provider 24 hours per day."
Dr. Peña said that RGV ACO is joining other groups in the Valley to increase the education and awareness about diabetes and obesity.
This project has been a unique way for Dr. Peña's medical group and RGV ACO to keep in touch with patients and to learn ahead of time of their condition because this is how they exercise their low tech, high touch approach.
"I want to disseminate our process improvement methodology to more primary care doctors in the Valley and other cities. We are providing better care at a lower cost and want RGV ACO to become a national model."
According to Dr. Peña, the RGV ACO is already in the top 5 % of ACOs in the country. "We want people to know that good things are happening in the Valley and good doctors are bringing innovations to the patient's homes".
"My personal plans are to keep studying and I want to get a Masters Degree in Medical Management. I look forward to seeing my four kids develop as individuals who can make a contribution to our society."
What is your favorite book? "Several books made the final list, but, I can mention "The Success Principles" by Jack Canfield and "Winning" by Jack Welch."
Who is your most admired person and why? "Nelson Mandela because of his indomitable character and determination. His biography 'Long walk to freedom' is a gem."
Do you have a favorite quote? "The best way to predict the future is to create it" by Peter Drucker."
Dr. Jose F. Peña was selected as the Mega Doctor for the November 2015 edition of Mega Doctor News for his compassionate care for patients and his passion to improve the quality of diabetes care in the Valley.
You can reach Dr. Peña at the Donna Medical Clinic by calling 956-464-2402; his practice is located at 307 North D. Salinas Blvd., in Donna, Texas.
"A patient's medical needs are our priority and our group is here to serve," he finalized. MDN
Written by Roberto Hugo Gonzalez, the 2009 SBA Journalist of the Year award winner and the 2009 and 2012 Paul Harris Fellow award recipient.