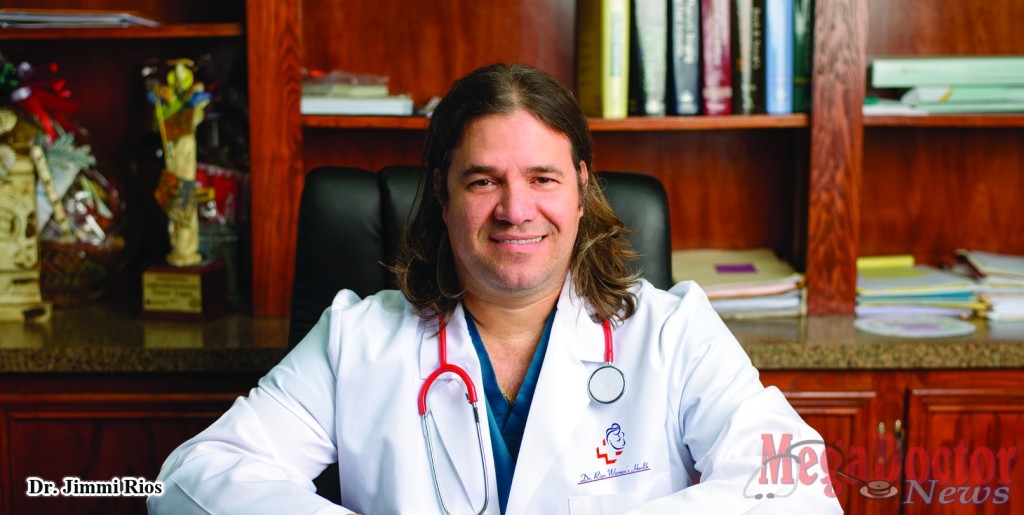 He is an exceptional medical doctor serving the Rio Grande Valley
- Advertisement -

By Roberto Hugo Gonzalez,
In 1994, began what is the fabulous story of Dr. Jimmi Rios, a doctor specializing in obstetrics and gynecology who ventured from Cuba to the United States. He is the perfect example of how migrants from other countries make America the best.
Dr. Rios practices here in McAllen but not before going through the rigorous tests to revalidate his profession as an OB-GYN surgeon in the United States. After a year of solo practicing, he is in the process of expanding his practice to Rio Grande City.
In Cuba, he was already all he could be as a medical doctor, but the freedom of success ended when he graduated in Cuba. Dr. Rios continued to work at the National Institute for Oncology in Cuba until 2005 when he decided to leave to pursue a medical degree in the United States.
"I am originally from Cuba." He said, "I was a general surgeon and an oncology surgeon in Cuba. I decided to relocate here to the United States when the question came to my mind, whether to continue my degree studies there or to come and get a degree here in United States to be an obstetrical and gynecology doctor in this country." He also said that in Cuba when you are a general surgeon you also acquire experience in gynecological surgery.
In 1994, Dr. Rios had become a Medical Doctor from the Medical University of Camaguey in Camaguey, Cuba. In 1998 he obtained his General Surgeon I Degree also in Camaguey. In 2002 he obtained an even higher rank and training as a General Surgeon II Degree in Havana, Cuba. During the same year, he became an Oncology Surgeon while in Havana.
When he was working in Cuba he had the opportunity as a student to be in a group of surgeons. "I assisted very experienced surgeons and that is the reason that today I am skilled in a lot of surgical techniques. I was a surgical assistant very early on before I became a surgeon. I love this career," he said.
- Advertisement -

By the time he arrived in the United States, Dr. Rios had acquired a great deal of experience and practice. As is the rule in many countries and it is no exception here; he started from the bottom in order to get his degrees in this new country.
He told Mega Doctor News, "Yes, in Cuba I finished the residency in general surgery with a fellowship in oncology surgery. However, when I came to the United States I had to get my degree again and the educational commission for a medical graduate doctor. I finished my resident training in Ponce, Puerto Rico in obstetrics and gynecology."
As an OB/GYN doctor, he takes care of female patients. He pointed out, "I take care of gynecological patients, patients that have babies or are expecting a baby and the patient has gynecological conditions." According the American Board of Medical Specialties, an Obstetrician/Gynecologist focuses on the health of women before, during and after childbearing years, diagnosing and treating conditions of the reproductive system and associated disorders.
He said that in order to revalidate his profession he took several tests. "We had to take three step tests, one of these had two-parts and then after you finish this test you can have the Certification of the Educational Commission of Foreign Medical Graduates." He said, "After you have this certification then you can go and apply for resident training. I applied for OB/GYN, and I was matched in Ponce Puerto Rico, where I also did my training for four years."
In 2005, when he arrived from Cuba because he had a background in general surgery he was able to obtain a certification as a Surgical Assistant, certified by the American Board of Surgical Assistants. He said, "With that certification I went to work in Corpus Christi as first surgical assistant and I was able to assist in a lot of different surgeries there."
While in Corpus Christi, an older doctor told him, "Jimmi, go to McAllen, it is a good place for practicing medicine and for a surgical assistant."
He said that coming to McAllen was God's message to him because he and his family are very happy living here.
"It feels like my home, when I arrived here I said it feels like I was born here. I feel very, very good and my family does too. I am very happy because my wife has the same opinion and so does my son. When I am here, I feel that I belong here. These are my people." In addition he said, "It's exactly the place that I would like to stay forever."
Becoming a second-degree surgeon requires very high qualifications. He obtained the degree in Cuba. It is easy to say it, but to be able to get it takes time, dedication, and passion. In 2007, he became licensed by the Educational Commission for Foreign Medical Graduates. In 2012, he finished his Postgraduate Medical Education training Program in the specialty of Obstetrics and Gynecology.
In the spirit of continuing education, in 2013 he obtained his Certificate in Modern Liposculpture Techniques and during the same year he also obtained a Certificate in Fat Grafting Techniques.
In order for Dr. Rios to advance in his career he had to leave his native country of Cuba, but in order to pursue his dream and accomplish his goal he had to be separated from his wife, Karenia, and his son, Juan Miguel, who was three years old at the time.
"The government prevented my wife and son from leaving with me," He said, "Because of that, we were separated for six years, I left my son when he was three years old, and I met him again when he was nine; as of four years ago, they are both here with me."
His wife, Karenia, is also a doctor who graduated in Cuba; she has not obtained her license in the United States, but her specialty is in allergies.
Dr. Rios met his wife during the time when they were both studying medicine in the same medical institute in Cuba. He says, "She is such a beautiful and amazing woman who also sacrificed to reach our goals."
Dr. Rios feels strongly that his story and the stories of other doctors coming from other countries are the same. "We are here to work, to do our best." He said, "That is the reason my practice today is successful, even though I have only one year as a solo practitioner."
Just last April 14, 2015 he celebrated his first year. He said, "I think that this is an example that when you come into this country and work, and are focused, and do your best; success happens."
He told Mega Doctor News that he is trying to make a difference. "In my practice, I try to reinforce education, and spend time with my patients and the most important to me, other than making sure that they are well under my care, is the opinion of my patients about my practice and how they feel."
He is always vigilant that the comments coming from his patients are very positive. Dr. Rios shared with us that since he started working in McAllen, he has been recognized for his excellent patient care, this is according to the hospitals' monthly patient surveys. "Based on their comments, I think that we are doing great, and that is our goal."
Dr. Rios is indeed a unique individual that survived the strict rules of a communist country. The rules and laws of Cuba require that all students should work first in the morning and attend classes in the afternoon. No one is the exception.
"I think that all this story from Cuba to today made me different. People don't know that we are coming from working the tomato or potato plants." He said, "In Cuba we had to work every day before going to school."
He pointed out that when you have this foundation, this education, and this background; you are different. Well not just different, but much better."
His father, Juan Miguel Rios, was an administrator of a podiatric hospital in Cuba; he had the title of Chief Executive Officer for more than 20 years. Dr. Rios said that his father instilled in him the value of honesty and to fight for his goals. Gladys Rios, his mother instilled in him the importance of being persistent. "My mother is a very smart lady, and she is very organized, and was always encouraging me to persist, to continue to fight."
Dr. Rios shared with us that as part of giving back to the community, "There is a church congregation in Pueblo de Palmas in Peñitas, Iglesia Centro Cristiano Familiar Asamblea de Dios," which he helped with a computer center for the children. Now he has a commitment to help in a project at the same community. "The Ready 30+" that is a group of teenagers going into middle school and high school; he is helping them with school supplies and clothing for school.
Presently, he is in the process of opening a new office in Rio Grande City to expand his practice. "I think this is a community that needs more doctors and an OB/GYN; I think I can do it."
He also said that in the near future, there is another doctor that will be joining his practice. "He is also from Cuba and was an OB/GYN, and had to acquire his certifications in the United States as well."
Dr. Jimmi Rios was selected Mega Doctor of this month for his sincere and genuine passion of serving his patients. His difficult upbringing made him a different and better person. His tenacity to reach his goals and the special care he provides makes him unique; no doubt his patients will continue to be on his side.
For an appointment with Dr. Jimmi Rios you can call him at 956-631-0223, so you can visit with him at Dr. Rios Women's Health clinic located at 1801 S. 5th St., Suite 209 in McAllen, Texas.  MDN
Written by Roberto Hugo Gonzalez, the 2009 SBA Journalist of the Year award winner, and a 2009 and 2012 Paul Harris Fellow award recipient.
HONORS AND AWARDS
2012 – Excellent work as Chief Resident
2011 – Special Resident in Minimally Invasive Gynecology
1994 – 1998 Outstanding Surgical Resident Award. Manuel A. Domenech Hospital
1990 – 1994 Surgical Undergraduate Instructor. Carlos J. Finlay Institute
1989 – 1994 Outstanding Medical Student Award. Carlos J. Finlay Institute