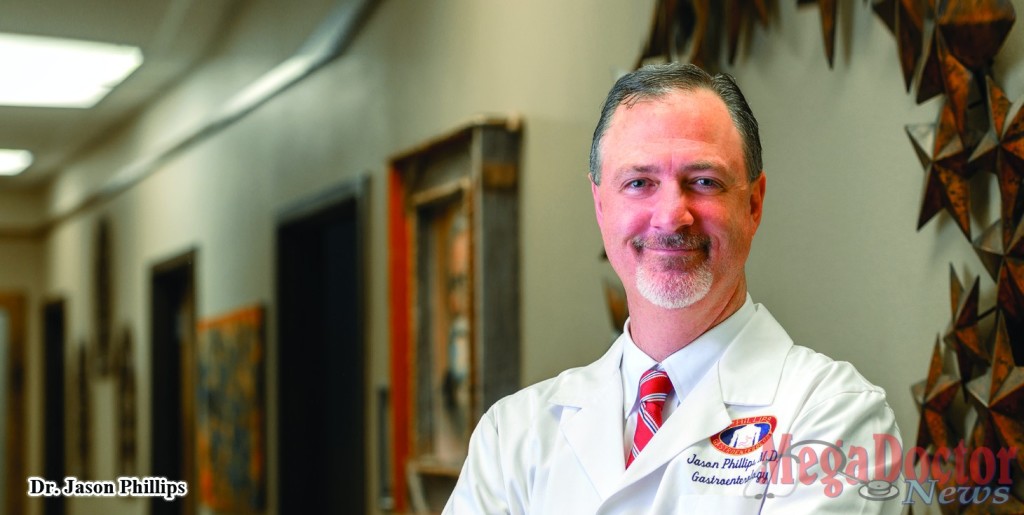 - Advertisement -

Mega Doctor News – 
By Roberto Hugo Gonzalez,
Gastroenterology is a very important specialty in the medical field. It is the branch of medicine focused on the digestive system and its disorders. Diseases affecting the gastrointestinal tract, which include the organs from the mouth to anus, along the alimentary canal, are the focus of this specialty. It also includes diseases of the liver and pancreas.
Today, we all have the opportunity to meet and to know more about Dr. Jason Phillips, a board certified gastroenterologist who treats patients in Harlingen, Texas.
Doctor Phillips says that his journey to medicine was not the most direct path. He told Mega Doctor News that after college he was in a Ph.D. program in medical physics at MD Anderson. He said, "My undergraduate degree is in physics and so I wanted something more applied."
He pointed out that he hadn't experienced much in the biological fields until he took several medical courses, which interested him to go into medicine thus dropping his Ph.D. program.
He attended The University of Texas Medical Branch at Galveston (UTMB) for four years and after that he did his residency in internal medicine at the Mayo Clinic in Minnesota.
- Advertisement -

He said, "I got my fill of very cold weather but also got very valuable experience and knowledge at the Mayo Clinic."
Afterward he went for three years to the University of Michigan-Ann Arbor where he did his fellowship in Gastroenterology. "I specialized in interventional endoscopy, which are the advanced procedures that work on problems in the pancreas and the bile ducts. After Ann Arbor, I moved back to Dallas where I grew up."
While in Dallas, he was in practice for two years. Like in any large city, he got tired of the traffic and the medical politics of Dallas. He said, "My wife Rhonda is from Los Fresnos, and we had an opportunity to come back to live and work in the Rio Grande Valley. Harlingen Medical Hospital helped set up and sponsored my practice initially. We moved back here, and we've been very happy and pleased to be here since then."
He has been in medical practice for ten years. Dr. Phillips is very caring and a dedicated doctor, this according to Melanie Little, RN who works as a Day Patient Dept. Manager at Harlingen Medical Center. She said, "I've been impressed with Dr. Phillips concern for the community, for Harlingen, and especially for his patients. He's not of the Valley but he is for the Valley."
Dr. Phillips was born in Bartlesville, Oklahoma to his parents Bob and Linda Phillips. His father worked mainly in the technology field with computers. He told Mega Doctor News that the biggest thing his father instilled in him was a strong work ethic and morality. "My father was very good at basically being there every day at work, showing up early and doing a great job in everything he did. We were never late to any function. He would always say, 'I don't want to be late to my own funeral,' so we were always the first ones there 10 minutes early before church and pretty much 10 minutes before everything.
My sense of punctuality and time definitely come from my dad. He's also very bright and a hard worker providing for his family. He encouraged me to go as far as I could go with my studies and my accomplishments. He was always a great support and a great example to follow."
Dr. Phillips said that his mom also instilled a passion to succeed. "She was also a constant source of encouragement, a constant source of support, and always there ready to discuss." He stated, "She was always there to discuss issues and provide a different perspective on things. She's definitely an important part of my life and helped mold me into the man I am today."
Dr. Phillips met his wife Rhonda in Houston while he was in graduate school. He said, "We actually met at church. She was visiting the church that I was attending. She was in graduate school and I was in graduate school and it took off from there. It was love at first sight and I have been married for twenty great years." Their oldest son, Dawson is 15, and the youngest is Ethan; he is 12 years old.
Are any of your sons following in your footsteps? "I don't know. When Ethan was young they would ask him what he wanted to be when he grows up. He would say that he wants to be an '-ologist'. He's just not sure what type of '-ologist' he wants to be."
He said that the biggest struggle he had while practicing in Dallas was that everything was connected to Southwestern Medical School.
Dr. Phillips told Mega Doctor News that he wanted to go to a medical community where people were open to people from different backgrounds. "In the Valley there was a great opportunity for gastroenterologists because there was a great need."
He also pointed out that in the Rio Grande Valley there is a this family-centered culture that is really not present in the larger cities. If you treat people with respect and provide good medical care, the patients appreciate it and will recommend their friends and families to you.
"I don't know if there's any one person in my life that inspired me to become a doctor. There are no doctors in my family except for several generations back." Dr. Phillips wanted a career in the sciences where he would help people and make a difference. "A career where I wasn't just crunching numbers or doing physics experiments that nobody understood. I wanted something where I made a difference in people's lives. At the end of the day this is what I did for this person. This is how I helped them."
Dr. Phillips' concerns about the future of his field in medicine are probably the same concerns that most physicians have. He said, "Loss of independence, loss of control. With the many changes in insurance, care is being dictated by protocols or insurance rules and it removes the physician-patient relationship. It makes medicine become depersonalized.  You lose that very relationship between the physician and the patient because the care is being dictated by rules, paperwork, and red tape."
His plans for the future include, "We are trying to work on bringing more sophisticated technology and to be able to perform more advanced gastroenterology studies such as esophageal manometry to help our patients.  We will be starting an endoscopic ultrasound program at Harlingen Medical Center soon, which is using top of the line equipment that was recently purchased.
Dr. Phillips said that one of his short-term goals is to start a celiac disease support group because there's nothing like that in the Valley. Celiac disease is a disease that affects one percent of the population in the United States. In his case it's a very personal issue because he actually has celiac disease and so does his son.
He explained, "It's basically an intolerance to gluten which is a protein found in flour and wheat, and it occurs in genetically susceptible people. It results in what we call an autoimmune reaction where the body is acting in the small intestines resulting in symptoms of diarrhea. In extreme cases, it can cause weight loss, vitamin deficiencies, and increased risk of cancer. It affects one percent of the population."
In addition he said that most people with this disorder don't know they have it or they just put up with the symptoms because they are not particularly severe. He points out that in the big cities the restaurants and the public is becoming more aware of this disorder but in the Valley most restaurants really do not know what gluten free means.
He said, "As a result there's a sizeable population even in the Valley, one percent of the Valley that basically live in isolation because they can't go out to eat, or enjoy social functions because of the lack of education. A support group is an excellent means to go out and educate restaurants and the public about gluten intolerance and celiac disease. That's one of my medium term goals."
He is involved with church activities and participates in various outreach programs as well as providing funding for some of them at church. He said that his other passion is music. "If I weren't a doctor I'd be a musician." Dr. Phillips plays tenor and soprano saxophone, "That's probably what I'm best at, but at church I play keyboards."
When he feels stressed he says, "I go to the gym and workout. Music is also a stress release for me, and when I have time, I like to fish."
Dr. Phillips is a gastroenterologist and treats patients with constipation, colon cancer screening, diverticulitis, gallstones, ulcers, acid reflux, chronic diarrhea, abdominal pain, hepatitis, celiac disease, irritable bowel syndrome and inflammatory bowel disease.
You are welcome to call (956) 428-5700 to make an appointment so you can visit him at Phillips Gastroenterology located at 615 Camelot Drive in Harlingen, Texas 78550.
Written by Roberto Hugo Gonzalez, the 2009 SBA Journalist of the Year award winner, and a 2009 and 2012 Paul Harris Fellow award recipient. MDN
Education
2001 – 2004 Gastroenterology Fellowship – University of Michigan,
Ann Arbor, Michigan
1998 – 2001 Internal Medicine Residency – Mayo Graduate School of Medicine,
Rochester, Minnesota
1994 – 1998 M.D. – University of Texas Medical Branch,
Galveston, Texas
1989 – 1992 B.S. – Physics – Abilene Christian University,
Abilene, Texas
1992 – 1994 University of Texas Health Science Center – Graduate School of Biomedical Sciences, Doctoral candidate in Medical Physics; no degree received,
Houston, Texas