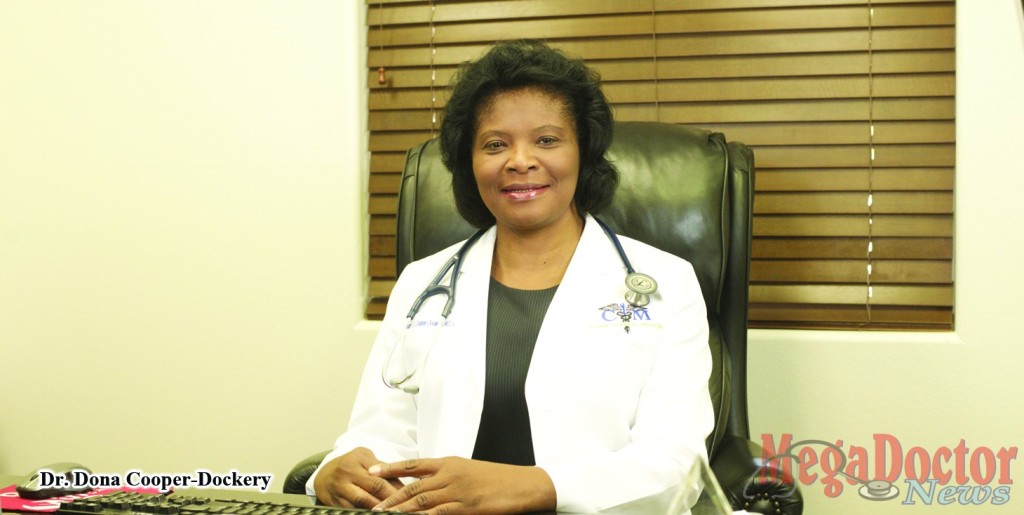 "Let food be thy medicine and thy medicine be thy food." – Hippocrates
By Roberto Hugo Gonzalez
Mega Doctor News
It is not surprising to find a physician who maintains a busy schedule, but Dr. Dona Cooper-Dockery takes "busy" to new and intense levels, all to accommodate the needs of her patients. Dr. Cooper is Board-certified in Internal Medicine and currently serves as the Medical Director for Cooper Internal Medicine. She has been a practicing physician for over twenty-four years and brings a wealth of knowledge and experience to our community.
Dr. Cooper was born in Jamaica where she spent most of her formative years with her grandmother who worked as a local midwife. She remembers accompanying her grandmother, who also served as a local community nurse, to the homes of the town's sick and ailing patients, bringing comfort and healing. This early exposure to the medical profession was enough to spark a genuine love for the practice of medicine and ignite a passion to serve others.
Dr. Cooper graduated from the University of Montemorelos, School of Medicine in Montemorelos, Nuevo Leon, Mexico. After obtaining her medical degree, she returned to her native land to serve at the Kingston Public Hospital for a year before returning to Mexico where she completed a year of Social Service at La Clinica Urbana de Linares, Nuevo Leon.
Dr. Cooper-Dockery completed her residency in Internal Medicine at Metropolitan Hospital Center in New York City, New York. She has been a resident of the Rio Grande Valley since 1996.
For over twenty-four years she has been devoting her time and efforts to not only practicing medicine but constantly reviewing and refining her methods to meet the highest standards for patient care.  Because of her reputation for excellence, patient-centered focus, and culturally-sensitive approach, her patient care services are increasingly in demand and her practice is constantly evolving. As she observed an alarming increase in obesity as well as other chronic diseases, most of which were lifestyle-driven, she began exploring ways to assist her patients in achieving better health.
In addition to her primary practice, Dr. Cooper has also established Cooper House Doctor, an extension of her Internal Medicine Practice. "I do this for my frail, elderly, and home-bound patients who are unable to get to the office to receive quality healthcare." Cooper House Doctor continues to improve access and provide quality healthcare in the region through this valuable service. Typically doctors don't have time for house calls, but she is far from typical in her philosophy and approach to the practice of medicine.
Clinical studies indicate that the Rio Grande Valley has the highest rate of obesity in the nation, as well as many other chronic diseases. With a passionate desire to make a significant long-term impact on the health of the community, she has been focusing on educating her patients about the advantages of healthy lifestyle choices.
In 2012, Dr. Cooper founded the Cooper Wellness & Disease Prevention Center and began to broaden her scope to include "Lifestyle Medicine." Her innovative, holistic approach focuses primarily on patient education, which brings awareness to the daily choices which have a compound effect on our health.  The program consists of several key components: medical evaluation, educational seminars, physical activity, nutritional counseling, stress management and spiritual renewal. Dr. Cooper and her outstanding team of caring professionals have seen remarkable results, including reversal of certain conditions and increased vitality, in patients who were once chronically ill.
After practicing traditional evidence-based medicine for years, this incorporation of Lifestyle Medicine provides the balance that is needed to help her patients achieve and maintain optimal health. This balance helps Dr. Cooper-Dockery to not only deal with the symptoms of diseases through medication and pharmaceutical means, but allows her to get to the root cause.
"The patients that are at high risk for diabetes, heart disease, obesity and other diseases are asked to enter into a Lifestyle educational program," she explains. Consuming densely nutritious foods, exercising on a regular basis, getting enough rest, drinking enough water, and even meditation are all part of the health educational program.  These simple lifestyle modifications not only help patients to gain a better understanding of the elements that promote good health, they also help to prevent certain diseases and reduce the risk factors for others.
In addition to being a well-respected physician, Dr. Cooper is a dynamic leader, an entrepreneur, an author, an educator, a television host, a visionary, and a champion for change.  She is the founder and President of Faithful Path International Ministries, a Non-profit organization which conducts medical missionary outreach projects in various nations. She volunteers her services to the underserved and underprivileged in countries such as Haiti, Jamaica, and the Philippines. In August of this year, she visited Budapest, Hungary to strategize with faith-based organizations to provide social and medical relief for the Refugee Crisis affecting the nations of Afghanistan, Iraq, and Syria.
Faith in God and compassion for the hurting, are two driving forces in her life. Dr. Cooper's pioneering spirit and deep spiritual foundation has fueled her passion to branch out in various endeavors and experience the fulfillment of serving her local, national and international community with excellence and distinction. "Give Love to Haiti" was a 5K Walk/Run coordinated and organized to raise funds and awareness of the dire needs of the island nation. Each year, she takes a team of healthcare providers to provide medical care and humanitarian aid to the impoverished communities of Haiti.
Dr. Cooper-Dockery recently launched the 'Get Healthy with Dr. Cooper' television broadcast, a program designed to educate, inspire, and empower the residents of the RGV to live longer, healthier lives. According to clinical studies, the Valley currently has the highest ranking in the nation for obesity and several chronic diseases.  Dr. Cooper places special emphasis on community outreach and educational programs to help reduce the significant health disparities affecting the communities of Hidalgo County and surrounding areas. She aspires to reach a broader audience through her television broadcast, which airs on Fox Channel 2 on Tuesdays and Thursdays at 8:00 am and on Televisa Channel 19 on Saturday at 11:00 pm.
On the first Tuesday of each month, Dr. Cooper has been hosting a Wellness Seminar Series and inviting the community, her patients and her viewing audience to meet with her at the Wellness center, where she instructs them on wise choices for good health. The topics she has taught include, Reversing Diabetes Naturally, Foods that Heal, and on November 3rd, her topic will be Preventing Cancer. Dr. Cooper is passionate about educating the community and is always looking for opportunities to share practical, helpful tools and information at an organic level. Personally, she adheres to the vegan lifestyle and recommends plant-based food sources.
"Let food be thy medicine, and thy medicine be thy food" is Dr. Cooper's motto. She teaches her patients and viewers about the vital relationship between their health and their food, and gives practical, common sense tips for achieving and maintaining optimal health. This heightened awareness helps each person take ownership of the condition of their health and many patients are discovering the amazing healing properties of natural, whole, unprocessed, organic, plant-based foods.
The "Cooper Wellness Walking Club" engages and encourages the community to start taking simple steps to improve their health. They meet each Monday and Wednesday at 5:30 pm at the Bill Schupp Park, 1300 Zinnia Ave., McAllen. All are welcome. The Walking Club helps provides excellent support and information for those who are just getting started.
On November 10th, Cooper Wellness Center will be featured at a Good Day Luncheon at the McAllen Chamber of Commerce. The event will introduce and reacquaint the chamber members with the services offered by the Cooper Network of organizations. Partnership with members of the business community is of vital importance when seeking to establish and encourage community support systems that promote wellness and improve health outcomes. They are looking for partners in the medical and business community who will help to share the message.
On a personal note, Dr. Cooper has been married to Dr. Nelson Dockery for the past 27 years. They have three children ages 23, 19 and 16. Their daughter is currently in Medical School, their 19-year-old son is studying at University of Texas in Dallas in the pre-law program, and their youngest son is in high school.
Dr. Cooper is also involved in various aspects of the civic community as the co-founder of the South Texas Lyric Opera, where she serves as the Vice President for Financial Affairs.  She is also an active member of The Center for Better Living, which is an organization that encourages better health practices through Lifestyle Medicine. In addition, she is the author of "Diet and Exercise Manual" and "My Health and the Creator" and hopes to have another publication out in 2016.
Dr. Cooper recently participated in a Mega Clinic in San Antonio, where 6,000 patients received medical, dental, and vision care by a team of physicians and healthcare professionals serving the underserved communities of San Antonio.
What is your take on the future of medicine? "As I reflect on my life as a physician practicing medicine for twenty-four years, the natural thing to do is to diagnose a problem and prescribe medication. However, we know that to change the trajectory of chronic diseases, we must emphasize preventive medicine."
Meeting the needs of a community is a daunting task at best, but through the efforts and services of Cooper Internal Medicine, Cooper Wellness Center and Get Healthy with Dr. Cooper all working together, Dr. Cooper is helping transition patients from Healthcare to Wellness. She continues reaching out, touching lives, healing families, bringing hope for a healthier community, one life at a time. You can reach her at Cooper Internal Medicine; to make an appointment call 956-686-8802 at 801 E. Nolana Ste. 12 in McAllen, and 956-287-9797 at 1154 W. Monte Cristo in Edinburg, Texas.
Dr. Dona Cooper-Dockery was named the Mega Doctor of October 2015 because of her efforts to make a difference and truly transform the health of the people of the Rio Grande Valley and its future generations. MDN