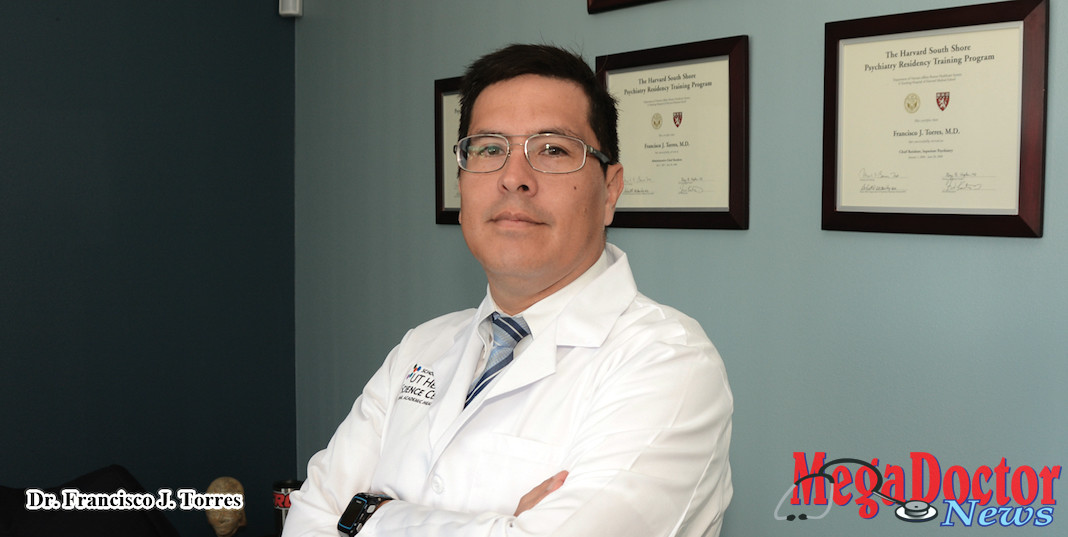 By Roberto Hugo Gonzalez,
As originally published by Mega Doctor News newsprint edition December 2016.
Since its inception, Mega Doctor News has done its part bringing awareness of illnesses affecting our communities. Over the years, many articles have been written to inform the public and in a way, educate them to take matters into consideration. This publication has brought awareness of formidable enemies; strokes, diabetes, heart disease, obesity, and others that attack our well-being.
This month, December 2016, our featured Mega Doctor is Dr. Francisco J. Torres. He is a psychiatrist who believes that the evaluation of patients and education about mental illness are the best prevention.
Today we bring you news about mental disorders that could become a tsunami in a new future if we do not pay attention. During our conversation with Dr. Torres, he reminded us how dangerous these illnesses are. He noted that mental illness could be very devastating, even more devastating than cancer. He said, "It is people struggling with their body, not being able to endure themselves, and having this huge burden on their backs."
As you read the article, you'll learn more about mental illness. It is to our benefit to know more and understand that there is help.
In this issue, once again, I want to share with you our yearly Collector's Edition. It is a compilation of all the Mega Doctors of 2016. It is an impressive issue that you are holding.
January 2016: Learn about Dr. Michael T. Mohun; he practices Emergency Medicine, one of the most exciting and challenging fields in healthcare.
February 2016: Meet Dr. Frank Mazzola; The Rio Grande Valley's first cardiac electrophysiologist performing state-of-the-art electrophysiology studies and complex "catheter ablation" heart procedures at Harlingen Medical Center.
March 2016: Learn more about Dr. Osama Nahass, an internist in Edinburg who treats patients with a wide variety of conditions.
April 2016: Meet Dr. Luis R. Venegas, DPM, ABPM, a Podiatrist who told Mega Doctor News that it's critical for patients with diabetes and other susceptible patients in the Valley to take simple steps – such as checking their feet for signs of lesions, trauma, and infection to avoid complications.
May 2016: Learn about Dr. Alejandro Kudisch, a psychiatrist who enjoys his work in the South Texas.
His reason for setting up a psychiatric practice in the Rio Grande Valley, Dr. Alejandro Kudisch would say it is "family".
June 2016: Meet Dr. Jose L. Almeda, a physician who faces challenges daily. His unique specialty is a blessing from above for the Rio Grande Valley especially to patients with liver and pancreas cancer, and patients needing liver or kidney transplants.
July 2016: Learn about Dr. Stacy Renay Beltran D.D.S., M.S., a periodontist and dental surgeon who specializes in the prevention, diagnosis, and treatment of periodontal diseases, and dental implants.
August 2016: Meet Dr. Maria Coimbra, a family medicine physician certified by the American Board of Family Medicine; She treats patients from children to geriatric patients. She gives the credit for her success to God first, and then to her family.
October 2016: Learn more about Dr. Rafael Rafols, is a specialist in diabetic wound care. He told Mega Doctor News that the prevalence of adult diabetes is more than 20 percent higher in South Texas than in the rest of the entire state of Texas – close to 70,000 people have adult diabetes.
November 2016: Meet Dr. Luis S. Navarro; he is a doctor of Optometry.  He provides primary vision care, ranging from treating eye disease, eye injuries, allergies, dry eye, glaucoma, and diagnosing multiple sclerosis, and Sjogren's syndrome.
I know that you will enjoy this Collector's issue. MDN