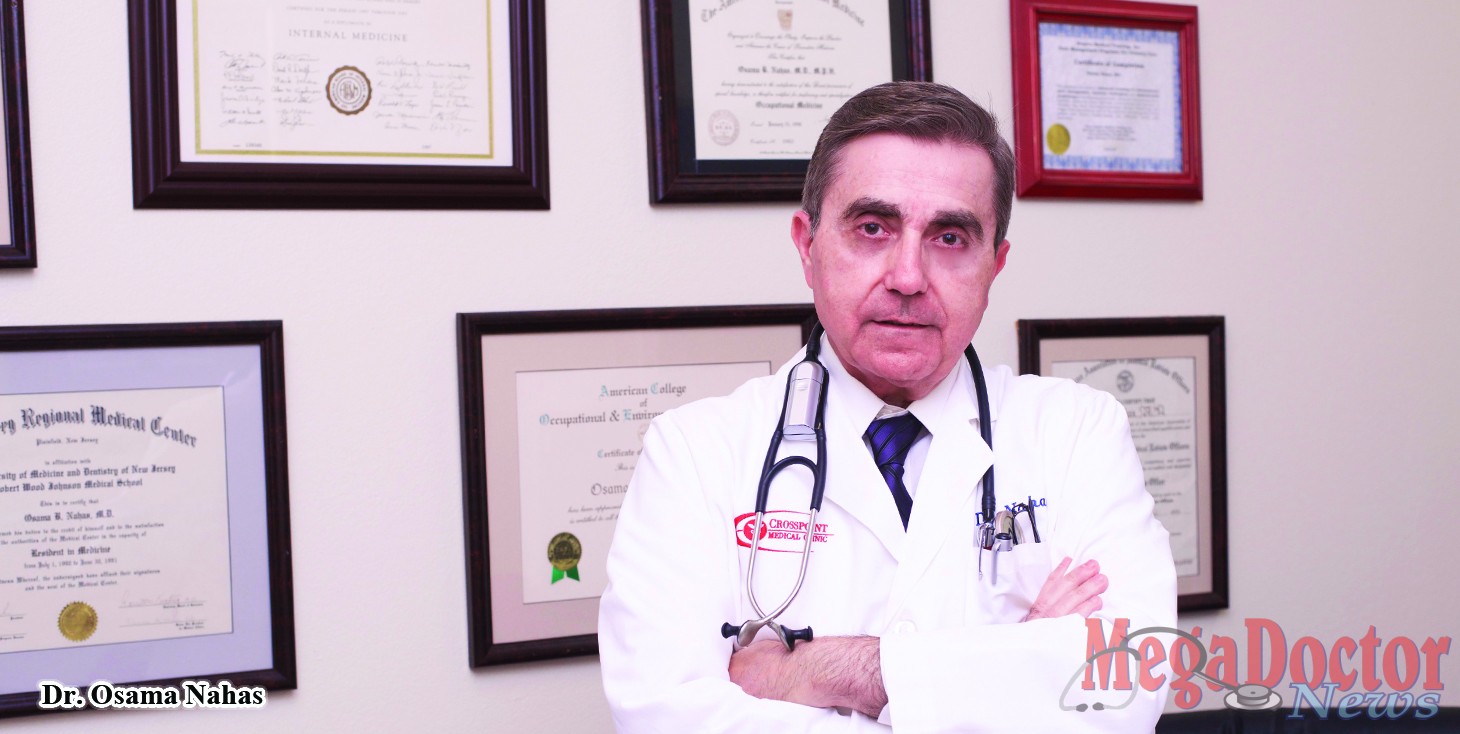 Mega Doctor News – 
By Roberto Hugo Gonzalez,
Edinburg, Texas – Dr. Osama Nahas, as an internist in Edinburg, treats patients with a wide variety of conditions – ranging from the flu, common cold, diabetes, and high blood pressure, as well as injuries related to automobile and workplace accidents. Dr. Nahas also offers his patients a relatively new method designed to relieve back pain. He says that in many cases, it may save the patient from having to undergo surgery.
"Some of our patients have had back pain for years — and have tried every treatment imaginable, but are still in pain," stated Dr. Nahas. "Our specialized services for lumbar spinal decompression, combined with massage therapy, many of our patients have been able to avoid surgery and become pain-free in a matter of weeks."
Dr. Nahas has been using the DRX9000C medical decompression machine at Crosspoint Medical Clinic in Edinburg for seven years. This procedure is still considered experimental, so it isn't covered by insurance.  In spite of that, Dr. Nahas said the treatment has provided "very good results" for patients who are looking for an alternative to back surgery – or who aren't ready to have back surgery yet.
He added that many patients with less-severe back and joint pain can be treated with medication and physical therapy in the beginning with great results.
"Here at Crosspoint Medical Clinic, we can do our own in-house X-rays and lab work to help in diagnosing the patient," stated Dr. Nahas. "We do a lot of testing here, and we get our lab results right away. We try to have everything immediately available here for the patient."
If the patient has disc or other severe problems, he or she may be sent for an MRI, this will determine if they will be a candidate for the DRX9000C machine which helps "decompress" the spine.
With the non-surgical spinal decompression technique, the patient lies on a motorized "traction" table which the physician adjusts with the help of a computer.  During treatment, the spine is gently stretched, in order to take pressure off the spinal disks and nerves, and relieve pain. Treatments can last 30 minutes or more, with many patients receiving twenty or more treatments over the course of five weeks or more.
In conjunction with the DRX9000C machine, Dr. Nahas is also using a type of "nerve block" which is designed to help reduce the patient's perception of pain. "This is a break-through in electrical stimulation therapy, called EPS8000, which causes certain muscles to contract," Dr. Nahas added.
Dr. Nahas, an Internal and Occupational Medicine Specialist, treats a variety of other conditions including anemia, anxiety, arthritis, asthma, COPD (chronic obstructive pulmonary disease), depression, emphysema, heart disease, high cholesterol, osteoporosis, high blood pressure, diabetes, and general internal medicine diseases and conditions.
Originally from Syria, Dr. Nahas, has 35 years of experience in his medical practice. He speaks four languages, including English, Spanish, French, and Arabic.
Dr. Nahas is board certified in occupational medicine by the American Board of Preventive Medicine. He completed a residency in Internal Medicine / Occupational / Preventive Medicine at John H. Stroger Hospital of Cook County in Chicago, Illinois.
Prior to coming to the United States, Dr. Nahas did medical rotations in France.  He then served as a research fellow with the Baylor College of Medicine in the Texas Medical Center in Houston, Texas.  From there, he went "across the street" to earn a Master of Public Health at the UT Medical School in Houston, Texas.  After completing his residency and internship, he worked as a staff physician at the Rush Presbyterian Occupational Medicine Clinic in Chicago for a year. He then moved to Houston to take the position of Director of the Occupational Medicine Clinic at Spring Branch Hospital.
After that Dr. Nahas opened his private practice in Pasadena, Texas to provide medical services to workers in the area as an occupational medicine specialist and as an internist and general medicine physician.
In 2002, he moved to the Rio Grande Valley and within three years he had opened his practice at Crosspoint Medical Clinic; it is located at 2505 West Trenton Road in Edinburg, Texas.
Dr. Nahas said even though his parents were teachers, ever since he was a child, he had always wanted to be a doctor. He followed his heart and has worked with complete dedication to helping his patients.
"I enjoy what I do –and we have a staff here that enjoys what they do.  We're always open here to serve our patients.  I enjoy helping people, and helping to improve their lives," stated Dr. Nahas.
For his dedication to improving the quality of the lives of his patients, Dr. Osama B. Nahas has been named the Mega Doctor for the month of March by Mega Doctor News. MDN