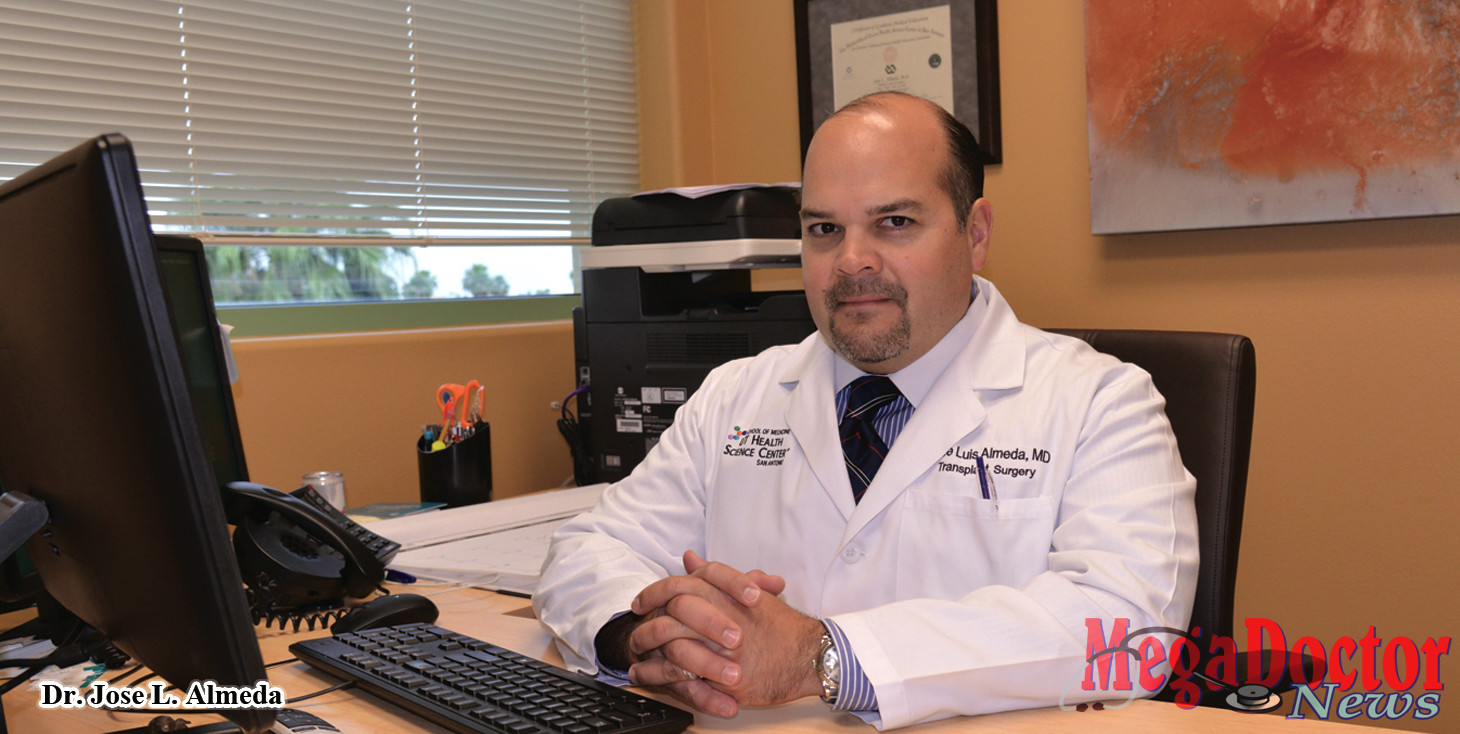 Mega Doctor News – 
By Roberto Hugo Gonzalez,
June, 2016 – Dr. Jose L. Almeda is a physician that faces challenges on a daily basis. His unique specialty is a blessing from above for the Rio Grande Valley especially to patients with liver and pancreas cancer, and patients needing liver or kidney transplants. He has been practicing in this field for the last ten years.
It is important to say that he is the only surgeon in the Valley specializing specifically and only in Liver and Pancreas Cancer Surgery, and Transplant Surgery.
He told Mega Doctor News that in San Antonio four doctors with the same specialty serve approximately 1.4 million in population (US Census 2013), about the same population as the Valley, however, he is the only one providing this service here.
Dr. Almeda was born in Del Rio, Texas to immigrant parents, his father is Eduardo Almeda (deceased), and his mother is Cristina Arranaga Cortez. He completed medical school and residency training in General Surgery at The University of Texas Health Science Center at San Antonio (UTHSCSA). His board certification is by The American Board of Surgery.
Additionally, Dr. Almeda completed fellowships in Liver and Kidney Transplantation at the University of Southern California (USC) and is accredited by the American Society of Transplant Surgeons. Under the direction of Dr. Rick Selby, he completed an intense fellowship in Hepatobiliary and Pancreatic Surgery also at USC.
During this training, he focused on tertiary referrals involving complex liver, bile duct, and pancreatic diseases. Using traditional open and new laparoscopic techniques, Dr. Almeda now offers South Texas these specialized surgical services focused on pancreatic cancer, liver tumors, and bile duct diseases including repair of bile duct injuries.
The surgical team provides vascular reconstruction for those pancreatic tumors previously categorized as inoperable, and they can help with liver tumors involving complex resections. The outcomes of these operations parallel or exceed those of tumors that do not require vascular structures; thus, the benefit to the patient is tremendous.
Dr. Almeda is currently Director of Transplant Surgery and Associate Professor of Surgery at the University of Texas Rio Grande Valley (UTRGV).
The fact that Dr. Almeda moved from San Antonio to the Valley is thanks to the vision of Doctors Hospital at Renaissance (DHR). A little over a decade ago, DHR was created and has taken a leadership position of service. They have also identified the different needs of the Valley's population and are working in bringing needed solutions to combat dangerous diseases that plague these communities.
What brought you to the Valley? "Doctors Hospital at Renaissance; if it were not for this hospital, we would not have moved from our positions in San Antonio – where we were also very happy," he said. In the beginning, Dr. Almeda traveled back and forth for two weeks per month, as part of the The University of Texas Health Science Center at San Antonio (UTHSCSA) medical school. "I would see many patients in need of my services for cancer surgery and transplants; most could not travel to San Antonio."
During all these travels, he found the doctors and hospital administration and leadership of DHR to be very sophisticated and up-to-date providing excellent care to their patients. "Many had better medical care and more access to care than some of the patients in Los Angeles and San Antonio. The doctors cared about their patients," he said.  "We love the Valley and found the ability to participate in the new UTRGV medical school was extremely important to us."
His wife, Ana, is originally from Brownsville and also a physician; they met during medical school. "She is a Pediatric Critical Care Doctor dedicated to the care of pediatric patients in the Intensive Care Unit (ICU)," Dr. Almeda said.
Dr. Almeda's presence in the Valley is important to many people in need of specialized medical attention. How bad is the situation in the Rio Grande Valley?  "There are hundreds of patients in the Valley waiting for kidneys.  The waiting time can be as long as 6-9 years.  Every day, people are dying while waiting on the list. There are many more patients needing organs than there are available organs to transplant," he said.
What is causing the kidneys to fail?  "Causes of renal failure in the Valley are predominantly diabetes and high blood pressure.  An unhealthy diet, lack of exercise, and genetics can predispose us to kidney issues, and the symptoms can be silent, until it is too late."
How can people avoid kidney problems?  "In order to prevent kidney failure and preserve kidney function as much as possible, it is important to manage the patient's diabetes and high blood pressure. Following a healthy diet and exercise to avoid obesity, and taking the prescribed medications and following the doctor's directions can help prevent renal failure."
Compared to other regions in the nations, where do we stand?  "Our waiting time for a kidney transplant is very high.  Unfortunately, our area suffers from a lack of donor awareness. In other words, we need people to know it's safe to donate a kidney to someone waiting on the list."
For this particular reason, on April 15, 2016, Dr. Almeda said the Doctors Hospital at Renaissance Health System participated in a National Donate Life Blue & Green Day. The hospital sent a clear message to the Valley's residents encouraging the community to join the effort in wearing blue and green promoting the success of organ, eye and tissue transplantation and the extreme need for registered donors.
At the same time, Doctors Hospital at Renaissance Health System announced the opening of the Renaissance Transplant Institute. At the press conference, Dr. Almeda was introduced, and there was a discussion about the impact that this essential program will have in South Texas.
During this event, hospital officials and Dr. Almeda raised awareness for the importance of organ donation. The Renaissance Transplant Institute at Doctors Hospital at Renaissance is the only facility in the Rio Grande Valley that currently offers kidney transplant services. This facility is under the direction of Dr. Mourad Alsabbagh and Dr. Jose Almeda.
Dr. Almeda said that without an active transplant program, most individuals in this community have had to travel outside of South Texas to receive organ transplant medical care.
"Today, after this announcement, it is no longer necessary for patients to leave the Valley because they can locally receive an assessment and follow-up visits close to home. Upon regulatory approval, patients will not have to travel away for the surgical transplant procedure," Dr. Almeda said.
Dealing with pancreatic cancer, liver tumors, and bile duct diseases is not a simple job. What inspired you to do what you do?  "The ability to take care of the sickest patients and provide lifesaving surgery is very gratifying." Dr. Almeda said, "As a cancer and transplant surgeon, I have the privilege of being with patients during some very trying times in their life. It gives you an appreciation for life and reminds you how important it is to live a good, productive, kind, and compassionate life.   Life can be short, but life is precious."
Are you involved with any civic organizations? "Not yet." He said, "We are starting a multi-center trial supported by the The National Institutes of Health (NIH) to determine why so many Hispanics are prone to fatty liver and then very prone to liver cancer. South Texas is one of the areas found to have some of the highest rates of liver cancer in the nation. As this story was going to press, Dr. Almeda informed us, "The study has been approved and we have started!"
Dr. Almeda also pointed to a new study, which is part of a larger research effort with The University of Texas MD Anderson Cancer Center (colloquially MD Anderson Cancer Center).
According to Dr. Almeda, "It will involve going door to door and examining patients as well as reviewing some of our patients and their families to determine what causes them to be more prone to liver cancer than the rest of the population in the United States," he finalized.
Roberto Hugo Gonzalez, is the 2009 SBA Journalist of the Year Award Winner and recipients of the 2009 and 2012 Paul Harris Fellow Awards. MDN