- Advertisement -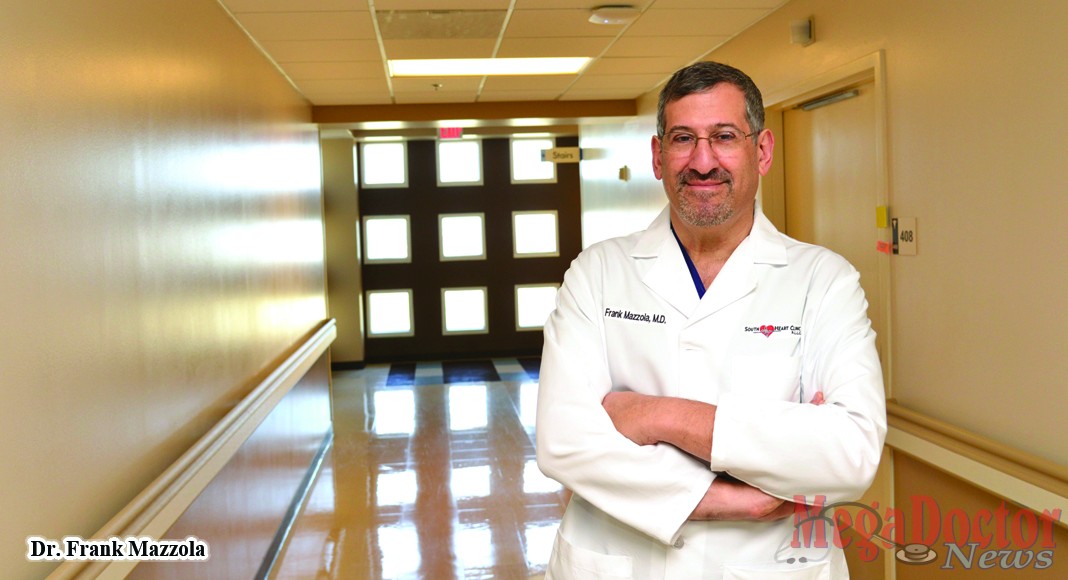 Mega Doctor News – 
Harlingen – The Rio Grande Valley's first cardiac electrophysiologist, Dr. Frank Mazzola, is performing state-of-the-art electrophysiology studies and complex "catheter ablation" heart procedures at Harlingen Medical Center — but Dr. Mazzola says that many patients in the Valley are going without the care their heart needs.
Originally from Brooklyn, New York, Dr. Mazzola came to the Valley in 1995 – at a time when many patients were having to travel to Houston for studies to test the electrical activity of the heart, in order to pinpoint the location of an abnormal heartbeat, called an arrhythmia.
"Actually at that time, most of the patients ins the Valley who needed these services were just not getting treated at all," Dr. Mazzola said.  "And even today, in some parts of the Valley, there are patients who need these tests who are going without treatment."
Thanks to advanced equipment in the Cardiac Electrophysiology Laboratory at Harlingen Medical Center, Dr. Mazzola said he is able to perform very complex types of ablation procedures.
"We have the most state-of-the-art, advanced equipment in the entire Valley, and we are doing things here that are not being done anywhere else in the Valley," Dr. Mazzola added.
During the ablation procedure, thin wires called catheters are routed through the blood vessels, from the patient's groin toward the heart.  A special machine sends radiofrequency energy through one of the catheters to treat small sections of heart tissue where abnormal heartbeats may cause an arrhythmia to start.
During the procedure, Dr. Mazzola views a "color map" of the inside of the heart, which allows him to pinpoint treatment to within less than one (1) millimeter of the target area, using the high-tech equipment at Harlingen Medical Center.
"What we have available here is truly cutting edge, but it is still under-utilized, as many people don't know we have this kind of capability in the Valley," Dr. Mazzola added.  "People have arrhythmias that can be cured with these catheter procedures, as opposed to being on lifelong medications, which sometimes don't work."
For those who have heart problems with the "electrical part" of their heart, getting treated can make the difference between life and death in some cases.   The electrical system of the heart controls how fast your heart beats and the rhythm of your heart beat.   With each beat of your heart, an electrical signal is generated from the top to the bottom of the heart.  This electrical signal causes the muscle of your heart to contract and pump blood.
But if a patient's heart has "short circuits" or other problems with its electrical activity, the patient could be at increased for a potentially life-threatening condition called ventricular fibrillation– and also more at risk for sudden cardiac arrest — in which the heart can suddenly stop beating.
In addition, Dr. Mazzola said many patients have an arrhythmia called atrial fibrillation, which can also be cured with catheter ablation. Dr. Mazzola – who previously served on the Cardiac Electrophysiology faculty at North Shore University/Long Island Jewish Medical Center as an Assistant Professor of Medicine – said he was inspired to go into the sub-specialty of cardiac electrophysiology by one of his own professors at New York University, Dr. Larry Chinitz.
"He showed me exactly how these procedures work, and explained it to me.  All of a sudden, everything clicked; I understood it.  He allowed me to become very involved with the patients. Because of him, I found my niche," Dr. Mazzola added.
Dr. Mazzola — who now serves as Medical Director of the Electrophysiology Program Laboratory at Harlingen Medical Center – said he always had it "in his heart" to be a doctor.  However, in undergraduate school, he was actually a music student, majoring in piano performance, at the Hartt School of Music at the University of Hartford in Connecticut.
But from there it was on to University of Connecticut School of Medicine, and then to a residency in internal medicine and a fellowship in cardiology at New York University, Bellevue Hospital Center.  He was then a Fellow in Cardiac Electrophysiology and Pacing at the University of Massachusetts.
From the East Coast, Dr. Mazzola went on to the West Coast, to complete a second year of fellowship in cardiac electrophysiology at the University of California in San Diego.   Dr. Mazzola said he has always lived close to the ocean – and that was one reason he grew to love the Valley when he came here to start an electrophysiology program more than 20 years ago.
"I fell in love with the Valley – the climate, the people, and the culture – and especially now, I'm only 20 minutes from South Padre Island," he said.
Dr. Mazzola's hobbies include going to the beach, practicing his piano, and scuba diving.  In his youth, he enjoyed sledding and playing in the snow in New York … but these days he does not miss shoveling snow or defrosting his car just to get to work every morning.
If you guessed that "Mazzola" is an Italian name, you're right – Dr. Mazzola's family hails from the island of Sicily.  His parents are Salvatore and Lorraine Mazzola, and he has three children, Erika, Michelle, and Steven.
Patients can see Dr. Mazzola — who is board certified in clinical cardiac electrophysiology and cardiology — at the South Heart Clinic, 2310 N Ed Carey Drive in Harlingen.  Dr. Mazzola treats all ages of patients, including children and teenagers.
In 1983, Dr. Mazzola served as the co-founder and director of a computer camp for physically-disabled children for the Easter Seal Society of Connecticut and Newington Children's Hospital.
For more information on heart disease and electrical problems of the heart, please contact your physician and visit https://www.HarlingenMedicalCenter.com./Services/Cardiovascular.aspx. MDN
- Advertisement -