- Advertisement -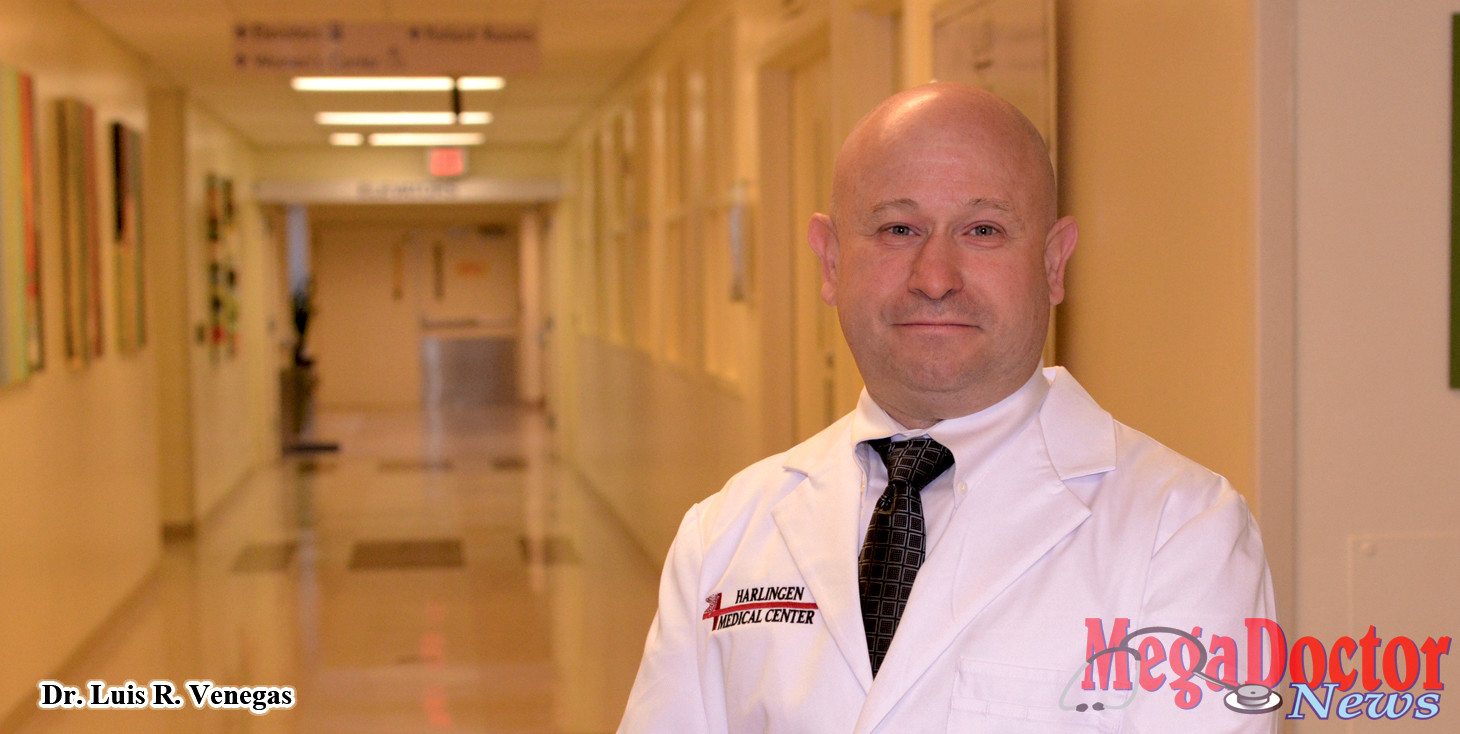 Mega Doctor News – 
By Michael Swartz,
As originally published by Mega Doctor News in its newsprint Edition.
Harlingen – Helping to prevent some of the most tragic consequences of diabetes in the Valley population has become the life work of Dr. Luis R. Venegas, DPM, ABPM, a podiatrist who is now opening a new office next to the Wound Healing Center at Harlingen Medical Center.
Dr. Venegas said it's critical for diabetes and other susceptible patients in the Valley to take simple steps – such as checking their feet for lesions, abrasions, abnormal calluses (thickened, hardened sections of skin), and other signs of trauma and infection.  Noticing injuries and getting early treatment can potentially save a patient from having their foot or leg amputated – which could leave them disabled, unable to work, and in some cases, dependent for care on family members — or needing to go into a nursing home for around-the-clock care.
"A foot amputation can interrupt a patient's whole life – including affecting their personal life and family life – and make them unable to return to work," Dr. Venegas said. "This is why it is so important to have simple foot ulcers treated in a timely manner."
Dr. Venegas recommends that diabetics check their feet every day, using a mirror if needed.  If a diabetic is not able to clearly see the bottom of his or her feet, Dr. Venegas suggests asking a family member to check their feet on a regular basis for ulcers or lesions.
- Advertisement -

In addition, the doctor says it's important for patients to check their shoes each morning, to make sure that a foreign object has not fallen into one of the shoes. Since many diabetics can't feel sensation in their feet, they may walk around for days — not knowing there is an object in their shoe – whether it be a pebble or piece of metal, such as from a stapler.
"Once your feet become numb, it's hard to tell if you have any injuries, or to feel something that may be damaging your foot," Dr. Venegas said.
Even worse, once their foot is damaged, such a patient may lose the protection of their skin underneath their foot – making them prone to infections from bacteria, fungus and viruses, which could eventually lead to destruction of the tissue in their foot.
Complicating these problems even more is a high-cholesterol, high-fat diet, which can result in arteries becoming clogged – and reduce blood circulation in the feet and legs.  Reduced blood circulation means it takes longer for the body to heal from an injury.
Fortunately for such patients, the Wound Healing Center at Harlingen Medical Center offers some of the most advanced, comprehensive treatments available to help heal such injuries, starting with basic local care of the wound and if necessary including hyperbaric oxygen therapy.  Dr. Venegas says the hyperbaric oxygen therapy (HBO) helps "in an incredible way" in many diabetic patients, by increasing the level of oxygen in damaged tissues.
"We are up-to-date with the latest technology in various treatment modalities, including using bioengineered tissue, such as tissues which are grown out of placenta cells or skin," Dr. Venegas said. "These bioengineered tissues keep us a step ahead on treatment of these wounds … basically they help to shorten the duration of the wound.  By shortening the wound duration, it helps make sure the person doesn't develop further complications or deeper infections, such as infections of the bone, in many cases. Our goal is to close these wounds in a timely fashion."
Additional treatments at Harlingen Medical Center include surgical treatment of wounds; skin grafts; wound "debridement," which involves removing dead tissue and contaminated substances; and antibiotic therapy to stop infections.
In addition, Dr. Venegas said one of the main goals is to relieve pressure on the foot, which in some cases may require the patient to use special shoes or added padding on their shoe — or even to use crutches or a wheelchair temporarily, until the wound is healed.
Depending on the needs of each individual patient, other components of the treatment plan may include pain management, nutrition management, infectious disease management, physical therapy, nuclear medicine / radiology procedures, vascular and laboratory evaluations, and diabetes education.
Dr. Venegas said he has been seeing more young patients in the Valley, including those in their 30's and 40's, developing foot wounds related to diabetes. Dr. Venegas has been treating wounds in the Brownsville area for the past 17 years, as well as for the past seven years at Harlingen Medical Center.
Dr. Venegas, who currently serves as Medical Director for the Wound Healing Center at Harlingen Medical Center, previously practiced in podiatry and wound care in Miami, Florida, for four years.  He is board certified by the American Board of Podiatry, and is a Fellow of the American Professional Wound Care Association.
Dr. Venegas completed a residency at a U.S. Veteran's Administration hospital in New York, the Franklin Delano Roosevelt Hospital, and a fellowship in foot care and surgery at New York Downtown Hospital, and at foot clinics in New York. He graduated from the Ohio College of Podiatric Medicine in Cleveland.  Fluent in Spanish and English, he also attended Pontificia Universidad Catolica de Puerto Rico, where he met his wife, Jannette.
The son of Luis Ramon and Daisy Venegas of Ponce, Puerto Rico, Dr. Venegas was always interested in the bio-mechanics of the human body, including how it relates to athletics, and decided to pursue a career in medicine — despite coming from a family of engineers and business people.
However, two of his sons have decided to stick with engineering, with one of them working as an aerospace engineer in Florida after graduating from Massachusetts Institute of Technology; and the other son studying mechanical engineering at the University of Houston.  A third son is a senior in high school and recently became an Eagle Scout.
Dr. Venegas and his wife, Jannette — who has served as administrator of his medical office for more than 20 years — decided to come to the Valley in search of a family-friendly environment after living in "the big cities" (New York and Miami) for several years.
With his new podiatry office in Harlingen, Dr. Venegas hopes to increase access to foot care for patients in the Harlingen-San Benito areas.  The public is invited to see his new office and the Wound Healing Center during an open house in Harlingen Medical Center's Medical Office Building, 5005 S. Expressway 77, Suite 101 and Suite 100 (in the building closest to the Expressway, outside the hospital, on the first floor).
For more information on diagnosis and treatment of wounds, please contact your physician and visit https://www.harlingenmedicalcenter.com/Services/Wound-Healing.aspx. For more information on the Wound Healing Center at Harlingen Medical Center, please contact Mary Wallace, Director, at (956) 425-HEAL (4325) or MWallace@primehealthcare.com.  MDN