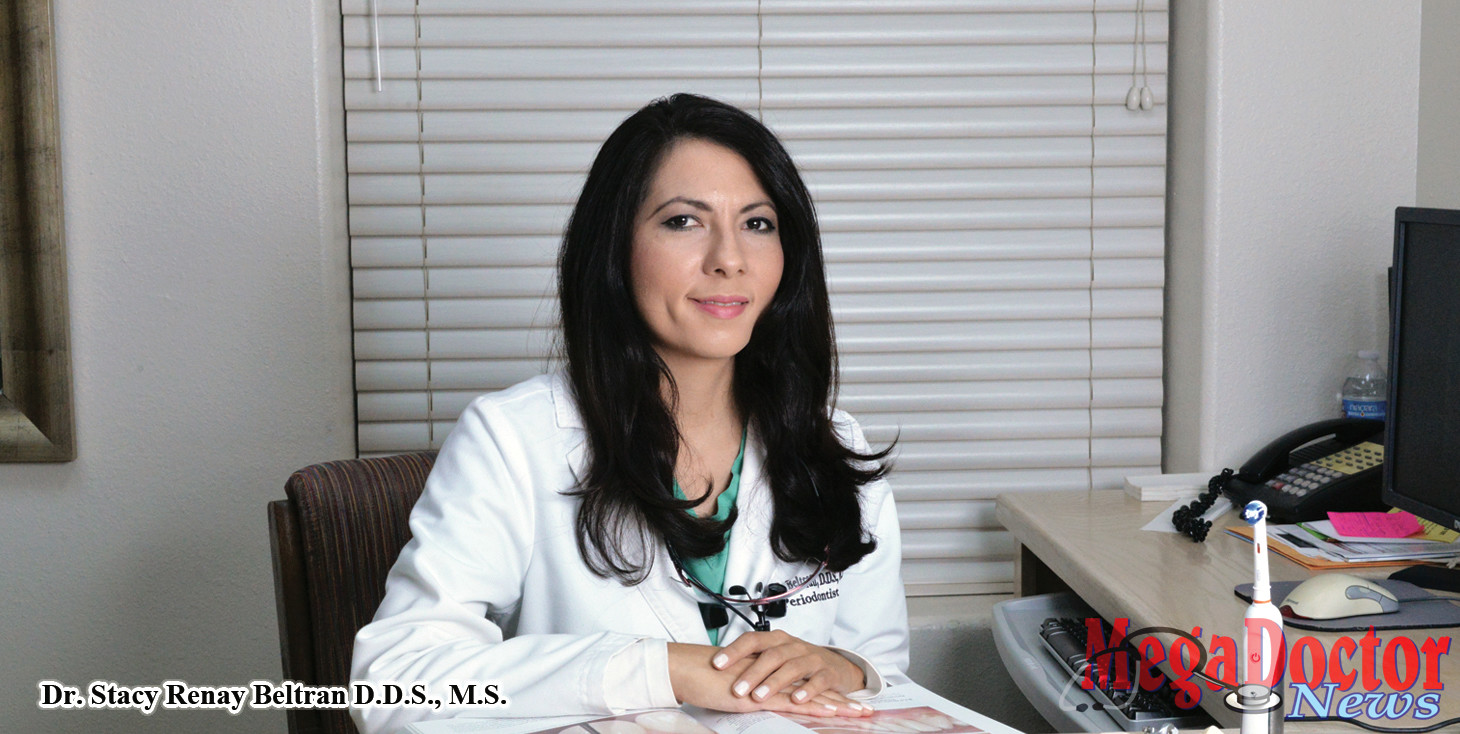 She Professes a Passionate Dedication to Her Patients' Wellbeing and to Her Field
Mega Doctor News – 
By Roberto Hugo Gonzalez,
It is an honor and a pleasure to introduce to you Dr. Stacy Renay Beltran D.D.S., M.S. (Periodontist). She was born in McAllen, the youngest of two siblings, to parents Al and Maria Elena Beltran of Brownsville, Texas. Christopher, her older brother, resides in San Francisco, California.
Dr. Beltran is a periodontist and surgeon that specializes in the prevention, diagnosis, and treatment of periodontal diseases. In September of 2014, she established Pure Perio & Implant Dentistry an independent company that operates from the offices of RGV Endodontics in Edinburg and Harlingen, Texas.
She told Mega Doctor News that as a specialist, she trained for three years in addition to the four years of dental school. Her idea from the beginning was to learn the most advanced techniques necessary to treat periodontal disease, and to place dental implants.
According to Dr. Beltran, periodontal diseases are infections of the supporting structures around the teeth.  "I primarily focus on the gums and the jawbone to which the teeth are anchored." She said, "By eliminating periodontal disease, I strive to save my patients' teeth and improve their overall health and wellbeing."
In her practice, she provides service to patients of all ages and performs a vast range of cosmetic procedures to enhance the esthetics of a smile, such as crown lengthening and gingival grafting.
She said that it is important to emphasize that Periodontitis is a serious gum infection that damages the soft tissue and destroys the bone that supports the teeth.  "If not treated, it can cause tooth loss or an increased risk of heart attack or stroke and other serious health problems," she stated.
Dr. Beltran takes her career seriously and regularly acquires experience in her field to benefit her patients. She practiced for three years during her residency program and nearly three years in private practice. She has always been active, including during her residency; she worked as a general dentist at McArthur Dental office in Irving, Texas.
What makes a professional accomplish their goals? In her case, from a very early age, she wanted to go into the health care field. "I was undecided if to pursue medicine or dentistry." She continued, "While at The University of Texas at San Antonio (UTSA), I took a nutrition class and fell in love with the course.  I wanted to know more about the role of diet and health," she said. Consequently, she changed majors and transferred to the University of the Incarnate Word because UTSA did not offer a degree in nutrition.
Wasting no time, she excelled in her studies and by working hard earned a spot on the dean's list every semester and earned her bachelor's degree in Nutrition Science.
"My love for studying dietetics served as a great foundation for pursuing my dental career." She said, "While completing my dental degree, it was always my passion to learn and understand the role the environment, the immune system, and diet play on our health; it intrigues me still."
Today, Dr. Beltran proudly says that she also loves surgery, and that furthering her educational studies and focusing on the relationship between periodontal and systemic health, has helped to improve her surgical hand skills.  "I love this field!" she said.
Dr. Beltran stated that periodontal disease is highly prevalent within the diabetic population, that is why Dr. Beltran stresses the importance of prevention and treatment to this subset of patients.
Because of her passion and dedication for her field, the Valley is fortunate that she is back serving this community. On multiple occasions, Mega Doctor News has known about the fact that Valley students do not come back to help their communities. The problem for this area or any area is to lose human capital to cities where they go to study.
Her decision to practice in the Rio Grande Valley comes from a sincere desire to serve the people of the Valley and the fact that her parents live here. "Quality time with them is important to me." She continued, "I also love the unique and distinctive Valley culture, and South Padre Island, and that there is the potential for future growth."
Have you invented or modified something to heal your patients? "Yes, as part of my master's thesis and research project in residency, I studied the anti-inflammatory effects of a protein called TSG-6.  I, along with others, obtained a patent for this protein.  My hopes are that this protein will provide benefits to post-surgical patients in the future.  This research project earned me the John F. Prichard Award for graduate studies (a competition among all periodontal residents from eight southern states).  The January 2015 issue of the Journal of Periodontology published my research. Because every patient is unique in their treatment needs, I strive to implement the most efficient, innovative options available to attain the best results.  It is my goal to treat as conservatively as possible, but as aggressively as necessary.
What board certifications do you have? "I have obtained diplomat status and board certification by The American Academy of Periodontology."
Dr. Beltran is not married, according to her she has spent too much time studying and building her practice, and she says, "My personal life fell a bit behind." However, she says that she has two beautiful dogs, Baylee and Charlie, and they are a loyal team for now.
Do you have any hobbies? "Being a dentist, it's no surprise I love the arts.  I've always loved to draw and paint, especially human faces and I love to read and workout.  I am also an activist for animal rights and enjoy leading a vegetarian/vegan lifestyle."
How would you like to be remembered when you leave this earth? "I recently joined a dental/ medical missions trip to Guatemala.  Dr. Lorena Rojas leads a group of dentists and doctors abroad every year.  It was my first missions trip, but definitely, won't be my last!  My experience in Guatemala was work-intensive yet unbelievably humbling, to say the least.  I'd love to be remembered for my passion for serving," she finalized.
Stacy Renay Beltran, D.D.S., M.S. (Periodontist) practices from Pure Perio & Implant Dentistry (Office #1) located 5421 S. McColl Rd Stonebridge Business Park, Edinburg, Texas 78539; and also at 1610 E. Harrison Ave. Suite "A" Harlingen, Texas 78550 (Office #2) https://www.rgvperio.com. MDN
Academic Background:
Our Lady of Sorrows School (McAllen, Texas);
1986-1997 The Science Academy of South Texas (Mercedes, Texas);
1997-2001 The University of Texas at San Antonio;
2001-2003 The University of the Incarnate Word (San Antonio, Texas);
2003-2006 B.S. Nutrition Science
Texas A & M University Baylor College of Dentistry (Dallas, Texas);
2007-2014 Doctor of Dental Surgery (D.D.S.) Master's of Science (M.S.) in oral biology.
Civic Activity:
* A board member of the McAllen Evening Rotary
* A volunteer with the Dr. Doolittle Rescue Ranch
* A member of the Rio Grande Valley Dental Society
* Texas Dental Association
* American Dental Association
* Southwest Society of Periodontists
* American Academy of Periodontology.