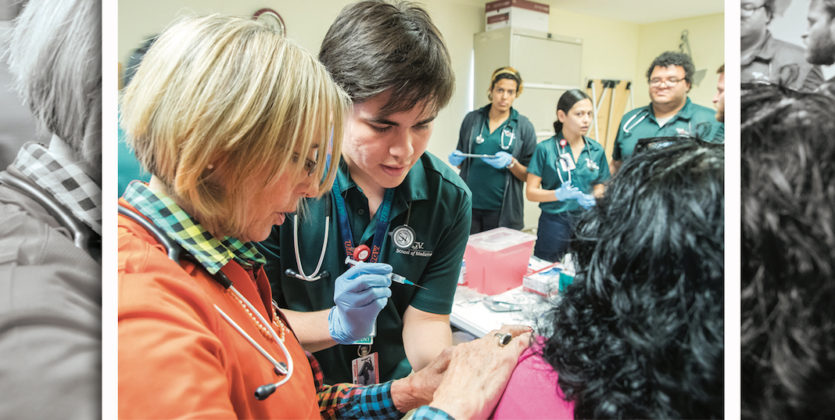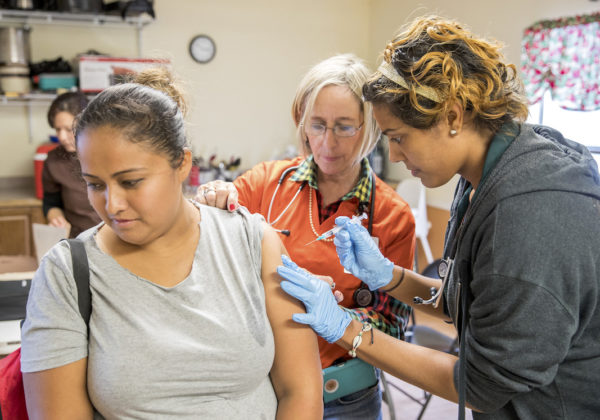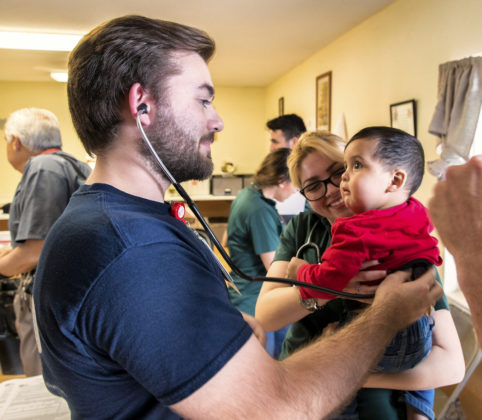 Mega Doctor News
By Jennifer L. Berghom,
Rio Grande Valley, Texas – More than a dozen medical students stood inside the multipurpose room at La Iglesia de los Hechos in Indian Hills, a community near Mercedes, Texas. They listened intently as Linda Nelson, an RN and Senior Director of Clinical Operations for the UTRGV School of Medicine, gave instructions on how to administer a flu shot.
It would be the first time any of them would give an immunization shot to a patient; all their previous experience had been with oranges.
The group, part of UTRGV's first cohort of medical students, were gathered on Nov. 9, 2016. Another cohort would go the next day to St. Francis Xavier Cabrini Catholic Church in Las Milpas, south of Pharr, Texas, to get hands-on immunization experience.
Students were under the supervision of faculty and staff from the School of Medicine, like Nelson; Dr. Eron Manusov, chair of the SOM's Department of Family and Preventative Medicine; Dr. Francisco Fernandez, professor of psychiatry in the SOM's Department of Psychiatry, Neurology, and Neurosciences; and other health care practitioners from the SOM.
The medical school offered 100 immunization shots — 50 in each community — on a first-come, first-served basis.
"It was a little bit surreal," said Danielle Feng, excited to be the first student to administer a flu shot.
- Advertisement -

She and the other medical students were lined up around a table bearing trays with syringes, Band-Aids and rubbing alcohol pads. As each patient was brought in, a student would approach, ask health-related questions in Spanish, clean the patient's arm with the rubbing alcohol pad, and then administer the shot.
Feng said it was actually easier to administer the shot to an actual human than the oranges they had practiced on.
"I remember, with the orange, all of the fluid would leak out immediately because we couldn't really hold it in," she said. "For this first patient, all of it went in pretty well. And when I pulled the syringe out, nothing came gushing out. I think, on the patient, the shot went very smoothly."
Nelson said having these first-year med students administer the shots is another example of how the UTRGV School of Medicine differs from many other medical schools: Most medical students don't get clinical experience until their third year.
"It's all about the patient," Nelson said. "It helps to bond them with a real human being. The students get to actually do something. And they need to do something to apply what they've learned."
Students said they appreciate how uncommon it is for them to work with patients so early in their career.
"I think it's a really unique experience here," said Feng, who is from Plano, Texas. "Some of my friends at other medical schools, they are in class all day and they don't get the chance to go out into the community like we do,"
Jared Eaves, a first-year medical student from Brownsville, said having the opportunity to interact with patients early on is the reason he chose UTRGV.
"A lot of us did decide to come here for that reason, that we're going out into the community right away. This is the perfect opportunity," he said, "because it not only helps us, but it helps the community as well."  MDN