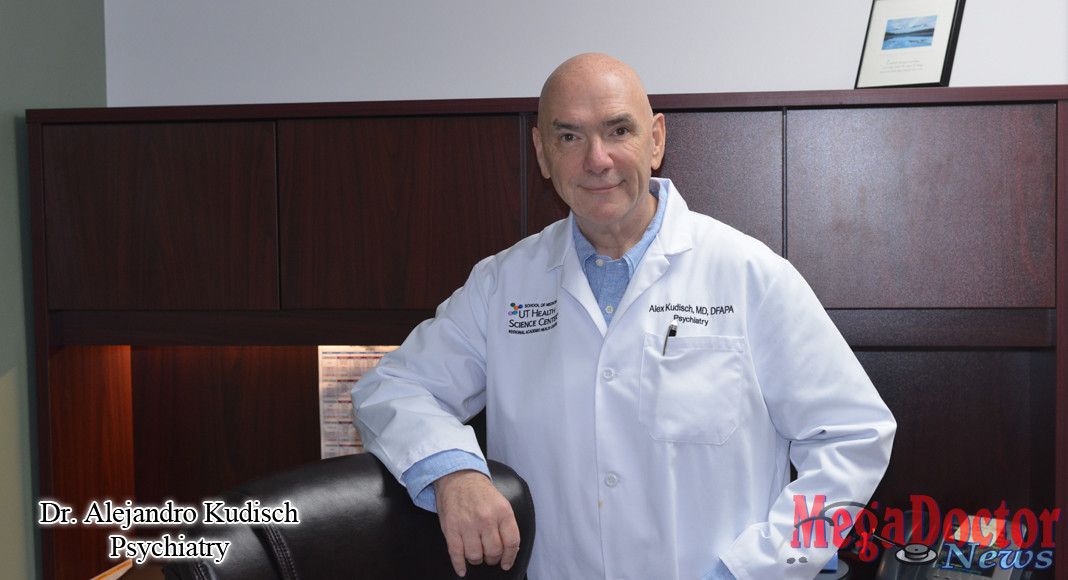 By J. C. Cruz,
As originally published by Mega Doctor News newsprint edition May 2016.
Since 1949, Mental Health America and their affiliates across the country have led the observance of May is Mental Health Month by reaching millions of people through the media, local events and screenings. We welcome each of you to join us in spreading the word that mental health is something everyone should care about. This year's theme for Mental Health Month is – Life with a Mental Illness.
That is why Mega Doctor News has selected Dr. Alejandro Kudisch as our Mega Doctor for this month. He is a genuine advocate in this field and brings awareness to such important topic.
If asked to sum up in one word all his reasons for setting up a psychiatric practice in the Rio Grande Valley, Dr. Alejandro Kudisch would say it is "family".
"We came to the Valley because we wanted to raise our family here. But there were very few child psychiatrists in the Valley at the time, so we were extremely busy from day one."
Dr. Kudisch is board certified in general psychiatry, child and adolescent psychiatry, and addiction medicine by the American Board of Psychiatry and Neurology and the American Board of Addiction Medicine. He serves as President of Medical & Psychiatric Associates of South Texas, PLLC, in Brownsville Texas, and is currently one of two psychiatric doctors providing comprehensive behavioral health services at the Valley Baptist Behavioral Health Facility in Brownsville Texas.
"What's unique about our group is we provide a comprehensive medical and psychiatric focus to our patients. Whereas other hospitals may bring in medical personnel (apart from) psychiatric personnel and work separately, we are the only group offering an integrative model of treatment."
Dr. Kudisch's associate and colleague, Dr. Robert Guevara, is triple board certified in adult psychiatry, addiction medicine and family medicine.  This combination merges together the two disciplines of medicine and psychiatry necessary for integrative care. Dr. Kudisch and Dr. Guevara are joined by a cadre of physician's assistants, nurse practitioners, and internists. On weekends, staffing is supplemented with part-time personnel, including part-time psychiatrists.
Born in the capital city of Buenos Aires, Argentina, Alejandro came to the United States with his family at the age of five. His father, Leonidas Kudisch, practiced Obstetrics and Gynecological medicine.  Alejandro attended the Universidad Autónoma de Nuevo León in Monterrey, México, where he would meet his wife, Evelia Kudisch.
He and his wife, Evelia, who is also medically trained, were married during his residency and fellowship work in child psychiatry at the University of Texas Health Science Center in San Antonio.
Upon completion of his residency in 1996, the choice of where to raise a family became the immediate question, but it did not take long to decide that the Rio Grande Valley would be their home.  Evelia and Alejandro arrived in McAllen, raising two boys, and contributing more than a quarter century of knowledge, experience, and practice to the field of psychiatry and mental health to the region.
Elliot Kudisch, their eldest, presently attends Georgetown University, studying law.  Bryan Kudisch, their youngest, attends graduate school at Princeton studying chemistry. Both are doing well and taking very much after both of their parents.
"My wife does not practice medicine," Dr. Kudisch explains as he shares the details of his family. "When we started a family, we decided one of us should stay home until they started school. Once they did, she came and ran the office. It is amazing having a medical professional handle our business matters, knowing so much about the practice itself."
Dr. Kudisch quickly developed a passion for the field of mental health. "When I went into psychiatry," he says, reflecting on his early years, "I was immediately challenged by how patients presented with their clinical symptoms. There is very little objectivity in how to understand and arrive at a diagnosis."  The challenge in diagnoses is perhaps easy to underestimate. "If you have someone who is diabetic, for example, you can do blood tests to find out," he says. "But there's no blood test for mental disorder. There's only a clinical interview and observation to lead you to diagnose and decide what you are going to call it. I was always intrigued by that kind of challenge."
Dr. Kudisch's group provides, through Valley Baptist Behavioral Health Services, a wide array of services, including various assessment and diagnostic methods, an Adult Psychiatric Inpatient Program, and an Adult Intensive Outpatient Program (IOP). Patient treatment can include medication management, group and individual therapy, cognitive behavioral therapy, stress management, as well as patient and family education.
For patients receiving care through IOP, transportation is available Monday through Friday. According to Valley Baptist Behavioral Health Services, treatment goals center on "restoring optimum mental and physical health" as well as "alleviating symptoms that interfere with an individual's ability to function".
Asked what worries him most about the future of mental health services, Dr. Kudisch quickly expresses a deep concern for seeing mental health services expanded, improved, and well resourced.
"One of the challenges we see is that, unfortunately, mental health has very few friends. Out of all 50 states, Texas ranks 49th in mental health funding. We're just one step away from being the least funded in the U.S.  Stigma and generally poor attitudes toward mental illness are to blame, and that attitude can go all the way to Austin where it impacts funding, he explains.
"When CHIPs (Children's Health Insurance Program) was first rolling out 20 years ago, Texas leaders decided the program would not cover mental health. We went to Austin to convince the Commissioner of Health that the decision as incorrect. The commissioner agreed and reversed the decision."
"I also worry about our insurance providers and payers being able to deliver and not hold back on resources to our patients that really need them," he says. His concern is genuinely founded in both experience and a deep understanding of the needs of his patients. "In psychiatry, therapy is just as important as medication, but it's very difficult to get authorization for services like that because insurance companies may not want to pay for them. Unfortunately, our patients are often relegated as another case only to be medicated. That's not a comprehensive solution for some of our patients."
Still, Dr. Kudisch does see the light at the end of the tunnel. "We have imaging studies that are helping us progress (with diagnosis). We're winning diagnostically," he explains.  "We're also winning with our therapeutic resources, and rolling those out with medication that can be provided monthly, weekly, or daily. But, we have to work with our legislators and come up with creative solutions through other agencies and through making grants available to get more resources available (to patients and those in need)." Dr. Kudisch points to the El Milagro Clinic (Su Clínica) in McAllen, Texas, where funding and public support has made it possible to offer health care to indigent populations in the region.
According to Dr. Kudisch, the issue is not isolated to behavioral centers and psychiatric clinics. Mental health, he says, is not solely the concern of psychiatric practitioners. "Primary care physicians see more mental health than most. So you need to be able to recognize it and treat it."
According to data supplied by Dr. Kudisch, 1 out of 66 children are diagnosed with autism, and 1 out of 4 people in the US suffers from anxiety or depression. The problem is very real, he says. "We're obligated to find a way and diagnose (mental illness) and get rid of it," he says. "People who suffer from mental illness deserve a chance to overcome it before it becomes a major burden on them and their communities. It impacts everyone, and it can't be ignored."
Dr. Kudisch was named Resident of the Year at the UTHSC-San Antonio campus by the Department of Psychiatry in 1997 during his fellowship. Numerous recognitions have since followed, including Best Psychiatrist by The Monitor in 2004, and being named "Super Doctor" in the field of psychiatry by Texas Monthly for 2005, 2007, 2008 and in 2009.  Dr. Kudisch is listed among America's Top Psychiatrists.
For more information about Behavioral Health Services at Valley Baptist, visit ValleyBaptist.net or call (956) 357-1892. MDN