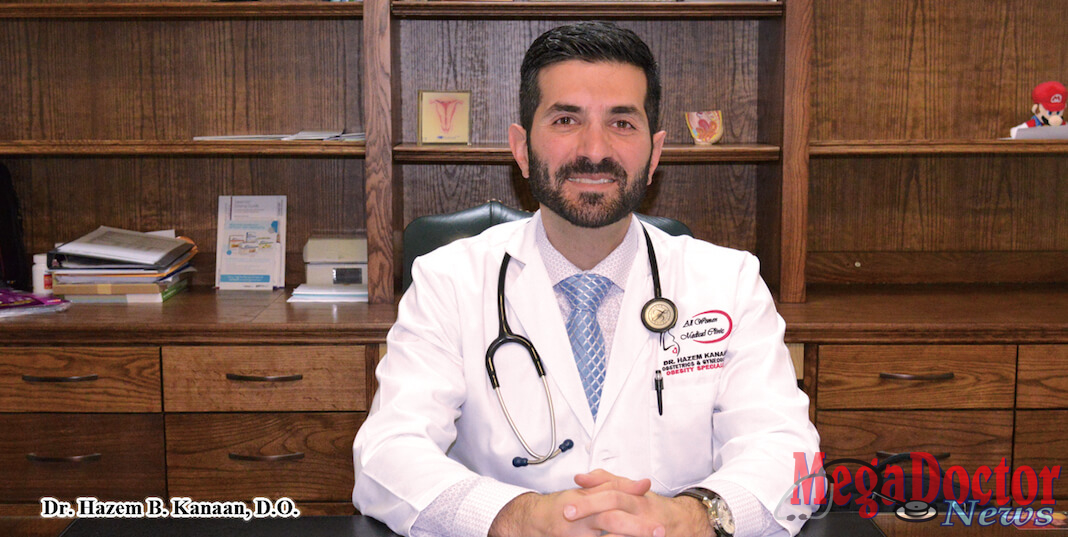 By Roberto Hugo Gonzalez
As originally published by Mega Doctor News in its newsprint edition December 2017
Imagine, this is the end of December 2017. I don't know about you, but for me 2017 went flying by. We all worked hard, now even more so because most of us multitask; five even up to ten things at same the time. That's the ability that technology gives to everyone.
One aspect of the Valley, is that it continues to attract professionals from every part of the world. This time, we had the pleasure to meet with Dr. Hazem B. Kanaan, D.O., an Osteopathic Physician specializing in Obstetrics and Gynecology. He is also treating patients with obesity challenges.
Dr. Kanaan has been in the Valley a little over four years, and last October, he opened his clinic in McAllen on Dove Avenue, one step away from Edinburg.  He is very qualified in his specialized field and wants to make a real difference in the Rio Grande Valley. Enjoy!
On another matter, Renaissance Cancer Foundation raised $345,700 to help Valley patients who are fighting cancer. During the celebration, members of the foundation in the company of their sponsors, celebrated the accomplishment featuring Las Vegas entertainer Frankie Moreno. Like every year, this gala is an extraordinary event that I have it labeled as a 'must go'.
Good News from our good friend, Dr. Leo Lopez III of Rio Grande City was recently honored as part of an elite group of 12 Texas A&M University alumni in the "12 Under 12" Young Alumni Spotlight. More in this issue. Congratulations!
As every year, Mega Doctor News December is one of the most important issues we publish. Aside from bringing you a new physician to meet, we compiled all eleven doctors that we have featured in 2017. That is why this particular issue becomes a Collectors Issue. We started the year bringing you some of the best stories on the medical professionals working to help the people of the Valley.
You will read about Dr. Michael Sander, an orthopedic surgeon in Weslaco was our Mega Doctor in January; and in February, Dr. Nicole Grigg-Gutierrez who provides life-saving colonoscopies was our feature story. Then Dr. José Raúl Nieves-Sosa who performs minimally invasive OB/GYN surgeries was featured in March.
In April, we brought you four outstanding physicians who formed a kidney transplantation team. They are: Dr. Jose Almeda, transplant director for the Renaissance Transplant Institute; Dr. Phillip Thomas, transplant surgeon; Dr. Mourad Alsabbagh, transplant nephrologist; and Dr. Gaudencio Olgin, urologic surgeon.
In May, we announced that Dr. Carlos J. Cardenas was named President of the largest medical association in Texas. Then in June, Dr. Michael Wingard, an optometrist who serves the nation's bravest was our Mega Doctor. Dr. Juan Joel Garza, an interventional cardiologist affiliated with the South Heart Clinics was our July exclusive.  Then in August, it was a pleasure to learn of doctor scientists dedicated to medical breakthroughs like Dr. Shoukhrat Mitalipov; his team of scientists successfully eliminated a genetic disease from human embryos.
Last September, we brought you the story of one of the great cardiologists in South Texas, Dr. Norman M. Ramirez, a pioneer in medicine. Then in October, Dr. Álvaro Restrepo, an oncologist and hematologist, shared that he fights with his patients against cancer.
In November, medical breakthrough cancer specialist, Dr. Michael Bishop at UChicago Medical with FDA approved treatments for advanced lymphoma cancer is offering pioneer CAR T-cell therapy for cancer patients. Patients with this type of cancer will have a better chance of survival.
We worked every day of the year to bring you the best in the medical community. Enjoy!
Related articles:
Dr. Hazem B. Kanaan, an OB/GYN and Obesity Medicine Specialist with Passion for Improving People's Health
Dr. Lopez III honored by Texas A&M University Association of Former Students