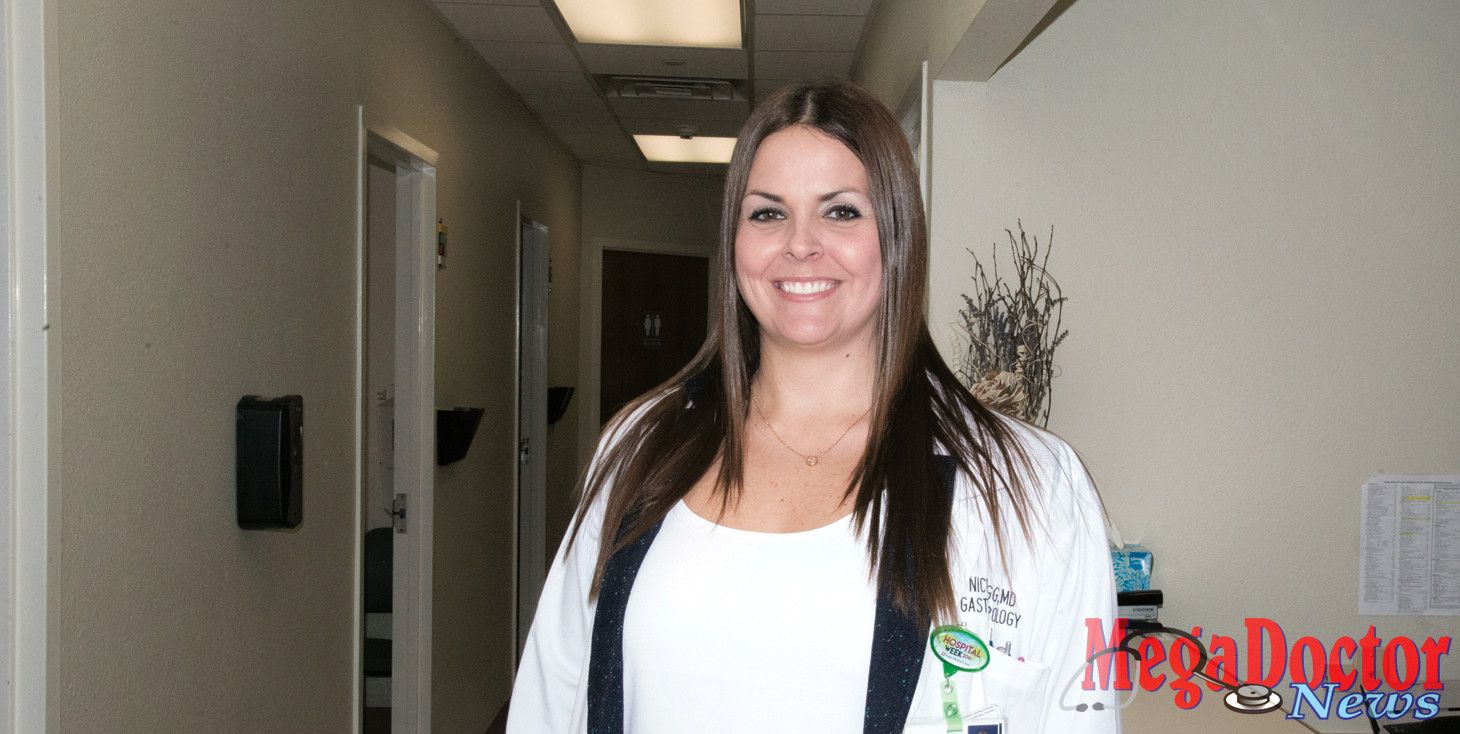 New Gastroenterologist at Knapp Medical Center in Weslaco inspired to pursue specialized field by medical residency, ordeal of dealing with cancer in her father
As originally published by Mega Doctor News in its newsprint edition February 2017.
Weslaco, TX – Feb., 2017 – Dr. Nicole Grigg-Gutierrez, M.D.  – whose interest in gastroenterology was sparked in part when her own father developed cancer of the stomach – is now offering potentially life-saving colonoscopies as well as endoscopies and advanced gastroenterology-related services in the Mid-Valley area. Originally from Puerto Rico, Dr. Grigg has opened a gastroenterology office in the Knapp Medical Center Medical Arts Building, 1330 East Sixth Street, Suite 201 in Weslaco.
While Dr. Grigg eventually went on to complete a fellowship in Advanced Endoscopy at Carolinas Medical Center in Charlotte, North Carolina, she said the decision to focus on the specialty of gastroenterology was actually a very personal decision — which took root when she was still a medical resident at the Department of Veterans Affairs / Caribbean Healthcare System in San Juan, Puerto Rico.
"As part of my curriculum in internal medicine residency, I had the opportunity of performing a two-week elective rotation in gastroenterology in my first year," Dr. Grigg recalls. "This short rotation reinforced my interest in this field and gave me a feel of what a career in gastroenterology comprises."
"After all the clinical exposure — and then the unexpected personal ordeal of dealing with my father's diagnosis of gastric adenocarcinoma (gastric cancer) — I realized that continuing a career in gastroenterology was my true passion and next academic goal," she added.
Dr. Grigg-Gutierrez is now helping in the fight against the potentially-deadly disease of colon cancer by offering colonoscopy screenings at Knapp Medical Canter's gastrointestinal lab, as well as at Harlingen Medical Center.  Colonoscopies are recommended for men and women 50 years of age or older, in most cases, as a way to prevent colon cancer – which is one of the most common cancers, but also one of the most preventable cancers.  During a colonoscopy screening, pre-cancerous polyps (growths of cells that form inside the colon, or large intestine) can be removed — before cancer develops and spreads throughout the body.
"Now is an ideal time to highlight the importance of a colon cancer screening," Dr. Grigg said. "March is national colorectal cancer awareness month — and screenings can help us find and treat this disease before it becomes deadly. You can help save the lives of your loved ones by encouraging them to get a colonoscopy as recommended by their doctor."
Regular screening starting at age 50 is crucial because, in most cases, colorectal cancers do not produce noticeable symptoms in its early stages.  According to the U.S. Centers for Disease Control and Prevention, 136,119 people in the United States were diagnosed with colorectal cancer in 2013 – and 51,813 people died from the disease.
"Colorectal cancer is the second-leading cause of death among cancers that affect both men and women, and 60 percent of it is preventable, according to the CDC," Dr. Grigg added.
While colonoscopy is one of the most common procedures that Dr. Grigg performs, she also brings advanced capabilities to the Mid-Valley area.  During her fellowship, she received training in a number of procedures that represent the leading edge of medical technology — including Endoscopic Retrograde Cholangiopancreatography (ERCP) – a procedure that treats problems associated with the bile and pancreatic ducts, ranging from gallstones to tumors or cancer.
In addition, Dr. Grigg performs HALO Radiofrequency Ablation, a prime treatment of a complication of acid reflux.   This complication can increase the risk of esophageal cancer (known as Barrett's Disease).
Knapp Medical Center is also one of a few hospitals in the area that can perform endoscopic ultrasound (EUS), a minimally-invasive procedure which is performed to assess gastrointestinal diseases.  With endoscopic ultrasound, Dr. Grigg and other physicians can view pictures inside the patient's digestive system, as well as the pancreas and liver.
"My gastroenterology fellowship was a dream come true," Dr. Grigg-Gutierrez said. "Exposure to endoscopic ultrasound and ERCP impacted me the most, due to their impressive diagnostic and therapeutic significance.  It awakened my profound desire of further education in the advanced endoscopy field. In addition, the lack of specialists where I come from has made me aware of the need for advanced endoscopy physicians committed to the patient's care and well-being," she added.
Dr. Grigg said that pursuing a career in medicine was a lifelong dream of hers — as she wanted to do something to help others live healthier, more fulfilling lives.
"It has been so long since I decided to pursue a career in medicine that I can't recall the exact moment when that idea first crossed my mind," she said. "Throughout college I deeply realized that I couldn't dedicate my life to anything else but this field.  I love the fact that medicine is one of the very few careers that provide a true possibility to help others improve their quality of life and therefore, make a positive impact in society."
"The thought that this career is a lifelong commitment to improving mankind encouraged me to participate in volunteer work early on my medical training, which ranged from health fairs and an assistantship program with a specific community with limited resources, to working in free health clinics for the homeless," she added.
Dr. Grigg is board certified in Internal Medicine and Gastroenterology by the American Board of Internal Medicine.  In addition to her fellowship in Advanced Endoscopy at the Carolinas Healthcare System / Carolinas Medical Center — and her fellowship in Gastroenterology and residency in Internal Medicine at the Department of Veterans Affairs / Caribbean Healthcare System – she also received a medical degree from the Universidad Central Del Caribe – Escuela de Medicina in San Juan, Puerto Rico.
In her free time, Dr. Grigg-Gutierrez enjoys the Valley's abundant sunshine and partakes in a number of outdoor hobbies, including hiking and paddle boarding. In addition to the weather, Dr. Grigg-Gutierrez said she has quickly fallen in love with the Valley's close-knit community.
"I like how people here are really friendly and family-oriented," she said. "I love the culture, and this is a great opportunity to be part of a close community where everyone is treated like family."
Dr. Grigg's office is located in a three-story building on the north side of Knapp Medical Center (1330 East Sixth Street, Suite 201 in Weslaco). For more information, please call (956) 854-4342 or visit www.KnappMed.org/Services/Gastroenterology.aspx.  MDN
- Advertisement -