By Roberto Hugo Gonzalez
As originally published by Mega Doctor News in its newsprint edition May 2017
What a memorable event, as the largest medical group, the Texas Medical Association (TMA) installed Dr. Carlos J. Cardenas as its 152nd president during their annual conference. Dr. Cardenas, a native of the Rio Grande Valley, practices in the field of gastroenterology.
In his 28th year of practice, Dr. Cardenas chairs the Rio Grande Valley's Doctors Hospital at Renaissance, which he helped found and serves as chief administrative officer.
This reporter has had the opportunity to speak with Dr. Cardenas on multiple occasions; the first time was in 2008. In an article titled "From the Bedside to the Boardroom," he became our first Mega Doctor in that year.  According to the conversation that Dr. Cardenas and I had, he said it was a most appropriate title because that is exactly what DHR doctors do continually.
The years have gone by fast; however, he has not changed. He is the same professional, always eager, looking for solutions and providing the best medical care for the communities of the Rio Grande Valley.
As you all know, becoming the president of the Texas Medical Association is no small accomplishment. As a matter of fact, the only other Valley physician to have had that honor was Dr. Mario E. Ramirez, 38 years ago.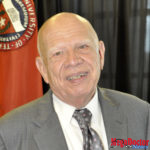 Dr. Ramirez, who is originally from Rio Grande City, became the 75th president of the association serving one year between 1979-1980.  It took almost four decades for another Rio Grande Valley native to again take the helm of this important and unique association.
Dr. Cardenas has always said that he is very proud of being from McAllen. He is related to many people since his parents come from two old families from centuries ago. He told Mega Doctor News that on his father's side, his family has traced their lineage all the way to 1740. He pointed out that in the 1754 census of Camargo, Tamaulipas, Mexico, they were counted as one of the Garcia's. "My father is Ruben Cardenas Garcia, so our ancestor was there; he came with that expedition to colonize Nuevo Santander," Dr. Cardenas stated.
According to history told by him, "What is now Tamaulipas, the Mexican state adjacent to south Texas was first incorporated as a separate province of New Spain in 1746 with the name Nuevo Santander."
He and his wife of 28 years, Chris Cardenas, have three sons, Adam R. Cardenas, Simon C. Cardenas, and Daniel O. Cardenas. His parents are Mr. Ruben R. Cardenas and Mrs. Dardanella G. Cardenas.
"I am looking forward to an exciting year of advocacy on behalf of our patients and my colleagues," stated Dr. Cardenas. "With all the uncertainty coming out of Washington, and the instability in the health care arena, I believe opportunities will present themselves in abundance to drive policy and opinion in the best interest of our patients and our profession."
Some close to him might say this day was inevitable; Dr. Cardenas grew up observing strong leadership in his family.  "My dad is a type AAA personality," he said. "He was all about community and community development. If there was a board, he served on it.  If he wasn't just serving on it, he was chair."
"I think what I learned about leadership, what I learned about community involvement, what I learned about politics I learned from my dad; that's where I got it." (He said in an interview in TMA's Texas Medicine magazine.)
Yet his father wasn't his only leadership role model. "You have to lead by example; that's something I learned from my grandmother, my mom's mom. I was the oldest of 17 grandchildren and she used to tell me that I had to set the example (for the younger children)."
"I think that applies to you in every aspect of your training when you are becoming a physician," he added. "You learn very quickly when you are an intern that you need to follow the example of those who are more senior than you are, and who know more than you do." Eventually, he said, you learn to step up and accept the responsibility as leader of the health care team, in the name of providing the best patient care. Sometimes that means rolling up one's sleeves.
"I learned to never ask anybody to do something I wasn't willing to do myself. I was willing to set the tone and to at least show that I was willing," he said. That attitude is partly why he said he is ready to lead the nation's largest state medical society during discussions of undoing the Affordable Care Act and other potential health care changes.
"When those opportunities arise, our TMA is up to the challenge," he said. "Bring it on!" The 33-year TMA member has seized many opportunities. Dr. Cardenas chaired the association's Board of Trustees, its governing body. Prior to joining the Board in 2005, he served five years as a member of the TMA Council on Legislation, and was legislative chair of the Border Health Caucus, to which he still belongs. He is a delegate in TMA's House of Delegates. Dr. Cardenas also is a member of the TMA Foundation, the association's philanthropic arm; a TMA liaison to the Coalition of State Medical Societies; and is a founding and Patron Club member of TEXPAC, TMA's political action committee (on which he also served as a district chair).
Dr. Cardenas regularly advocates on behalf of medicine and patient care. He attends TMA's "First Tuesdays at the Capitol" legislative lobby days each session. He has testified numerous times before the Texas Legislature, and has advised elected officials and policymakers in Texas and in Washington on health matters.
Dr. Cardenas also was a member of the TMA Physician Services Organization (PSO) steering committee, which led to the formation of TMA PracticeEdge, TMA's PSO.  Dr. Cardenas also served as president of the Hidalgo-Starr County Medical Society, of which he still is a member.
He also appeared several years ago in a series of informational TMA "Hey, Doc" videos designed to explain the new federal Affordable Care Act. TMA produced the videos and other material to inform patients — and physicians whose patients often turn to for answers — about how to adapt to the new health law. He also helped lead TMA's fight for medical liability reform, which became Texas law in 2003. Doctors in the Rio Grande Valley and a few other Texas cities planted that seed when they believed rampant medical liability lawsuits eroded patient care.
"When you get shot at all the time, when 70 percent or more of your colleagues are named in a lawsuit or a party to a lawsuit and you can no longer recruit, retain or attract [physicians] to your community to do what is needed to be done for the health of your community, something had to change," said Dr. Cardenas. "That was something that drove me and others in our community to stand up and say, 'No more.' We came together and organized."
Dr. Cardenas received his medical degree at The University of Texas Medical Branch at Galveston, Texas. He completed his residency training in internal medicine and gastroenterology at Scott & White Memorial Hospital in Temple, Texas.
In his spare time, he plays charity gigs with several other Rio Grande Valley physicians in their band, The Renaissance Rockers.  "It's what builds strong community," he said. "It's what I call exemplary leadership."  His grandmother would be proud. Outgoing TMA President Don R. Read, MD, of Dallas installed Dr. Cardenas during The Texas Medical Association's conference.
Story written in collaboration of the Texas Medical Association.