- Advertisement -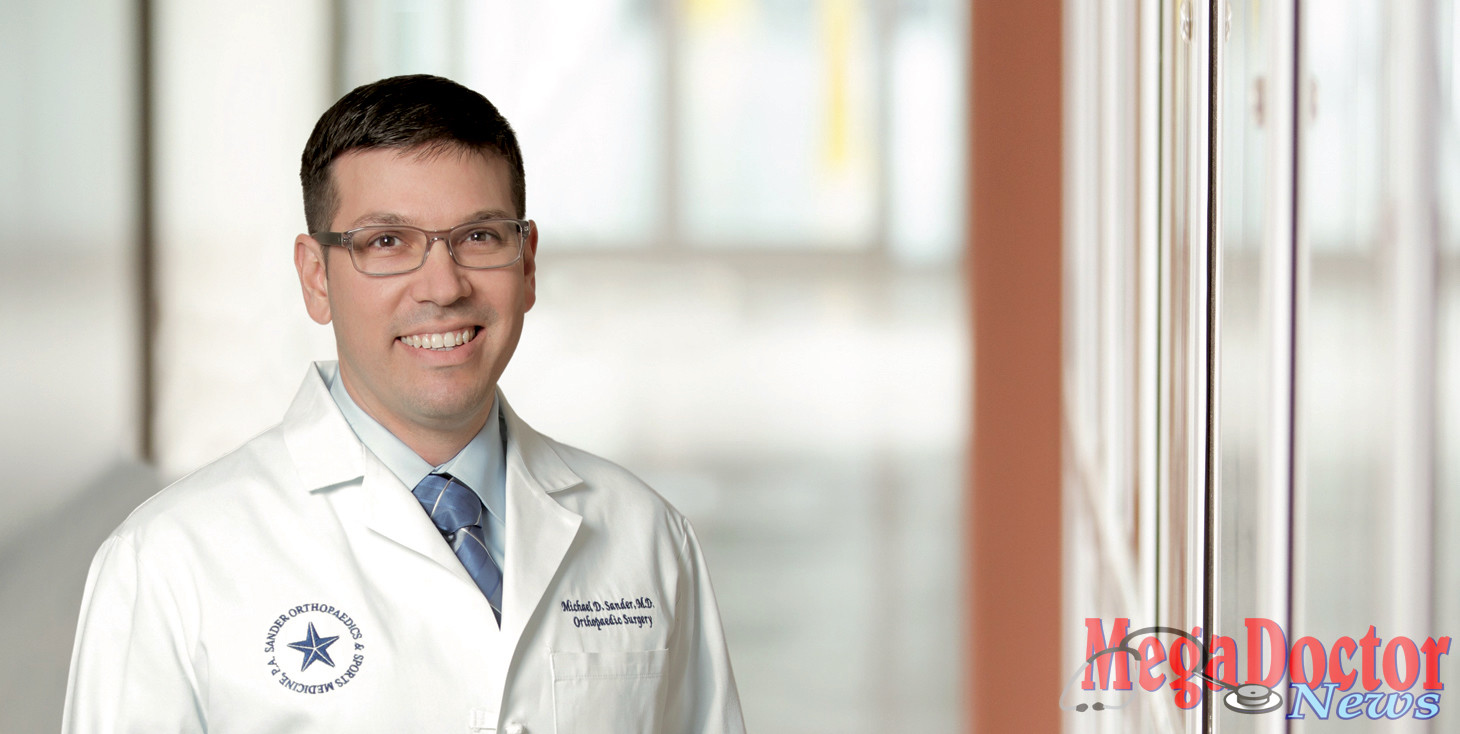 Dr. Michael Sander well-known in the Mid-Valley for knee and hip replacement surgeries, and sports medicine for athletes
By Roberto Hugo Gonzalez,
As originally published by Mega Doctor News in its newsprint edition January 2017.
Weslaco – Dr. Michael Sander, an Orthopedic Surgeon specializing in knee and hip replacement surgery and sports medicine, and a Partner-In-Care to Knapp Medical Center, has opened a new office on E. 6th Street, in Weslaco, across the street from the award-winning and nationally-recognized hospital.
"It's a new office for a new year," Dr. Sander said.  "We would like to welcome all of our patients, both new and existing, and our friends in the community.  This new office, in the Knapp Medical Arts Building (at 1315 East 6th Street, Suite 10), will allow us to better serve our patients with compassionate and patient-centered care close to home, right here in Weslaco."
Dr. Sander is well-known to local residents and Winter Texans for performing knee and hip replacements, which can help allow patients with arthritis and other conditions to walk again without pain.  Many of these patients say they simply want to be ridden of pain, so they can return to a 'normal life' with their grandchildren and to activities they enjoy.
"These are patients whose ability to walk and move is restricted by severe pain," Dr. Sander said.  "In many cases, we can replace the damaged parts of knee and hip joints with specially-crafted prostheses made from plastic or metal.   Patients are then on the road to recovery, with the help of physical therapy.  It's not easy — but the end result in many cases is to gain a new freedom – the freedom to walk, move, and even dance without pain."
Following their surgery, these patients are helped by physical therapists and other licensed professionals with the Knapp Medical Center Rehabilitation Services Department, which is accredited by the national accrediting organization for healthcare organizations, the Joint Commission.  These therapists work closely with physicians to provide a complete range of therapies and treatment, including for patients recovering from surgery, as well as for those with arthritis; osteoporosis; joint, neck and back pain; and sports and work injuries.
In addition to seeing older patients with arthritis, Dr. Sander is also known to many younger patients in the Mid-Valley who have needed treatment for sports injuries related to high school football, baseball, basketball, track-and-field and other sports.
"We take care of athletes of all ages," Dr. Sander added. "This includes youth leagues, high school, college, and professional athletes, as well as 'weekend warriors' and those who exercise for health or recreation."
Other orthopedic treatments that Dr. Sander specializes in include:
Fracture Treatment
Knee and Shoulder Arthroscopy
Anterior Cruciate Ligament (ACL) Reconstruction
Rotator Cuff Tear Repair – Arthroscopic
Shoulder Dislocation Instability Repair – Arthroscopic
Dr. Sander received his medical degree from the Baylor College of Medicine, graduating with honors.  He went on to complete a residency in Orthopedic Surgery at the University of Iowa Department of Orthopedics and Rehabilitation, and a fellowship in Orthopedic Sports Medicine at the University of Texas Health Science Center San Antonio.
A Weslaco native, Dr. Sander is board-certified in Orthopedic Surgery and Sports Medicine by the American Board of Orthopedic Surgery.
"We have been serving the orthopedic needs of the Mid-Valley since 2006," Dr. Sander said.  "I am a Rio Grande Valley native who returned to the area after 15 years of education to practice medicine and raise my family. I am proud of my family's history here, which includes a tradition of healthcare and community leadership going back two generations in the Mid-Valley and Brownsville areas."
Both of Dr. Sander's parents are pharmacists in Weslaco; his father Mike Sander has long operated Sander Pharmacy, while his mother Claudia Sander is the Director of Pharmacy at Knapp Medical Center.
Dr. Sander and his wife, Jennifer, live in Weslaco with their four children.
Dr. Sander's office is accepting new patients and accepts most insurance plans.  For more information, please contact his office at (956) 447-9797.  Dr. Sander's new office is open Monday through Friday, from 8:00 a.m. to 5:00 p.m. in the Knapp Medical Arts Building located at 1315 East 6th Street, Suite 10, in Weslaco.  MDN
- Advertisement -