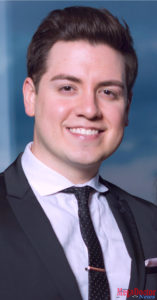 As originally published by Mega Doctor News in its newsprint edition December 2017
- Advertisement -

Dr. Leo Lopez III of Rio Grande City was recently honored as part of an elite group of 12 Texas A&M University alumni in the "12 Under 12" Young Alumni Spotlight.
Each year, The Texas A&M University Association of Former Students' 12 Under 12 Young Alumni Spotlight recognizes 12 Aggies who have graduated within the past 12 years for their outstanding accomplishments in business, civic service and philanthropy, and for representing Texas A&M's core values of excellence, integrity, leadership, loyalty, respect, and selfless service.
Dr. Lopez is a Primary Care Physician, filmmaker, and journalist. Dr. Lopez received his undergraduate degree in biomedical science at Texas A&M University and a medical degree from University of Texas School of Medicine San Antonio.
As a medical student, Dr. Lopez received the 2015 Excellence in Public Health Award from the U.S. Public Health Service. Recognized for his policy and clinical work amongst homeless populations and in global health settings as a family medicine resident with Christus Santa Rosa, he earned the distinction of 2017 National Hispanic Resident of the Year from the National Hispanic Medical Association.
His work as an investigative journalist focused on health disparities in vulnerable communities in the Rio Grande Valley and Latin America, and he subsequently shared his work at TEDx and at the World Congress for Clinical Safety in Rome, Italy.
As CEO of El Renovatio Films L.L.C., he directed and produced documentaries on healthcare policy and human rights in the Middle East, Japan, and the United States.