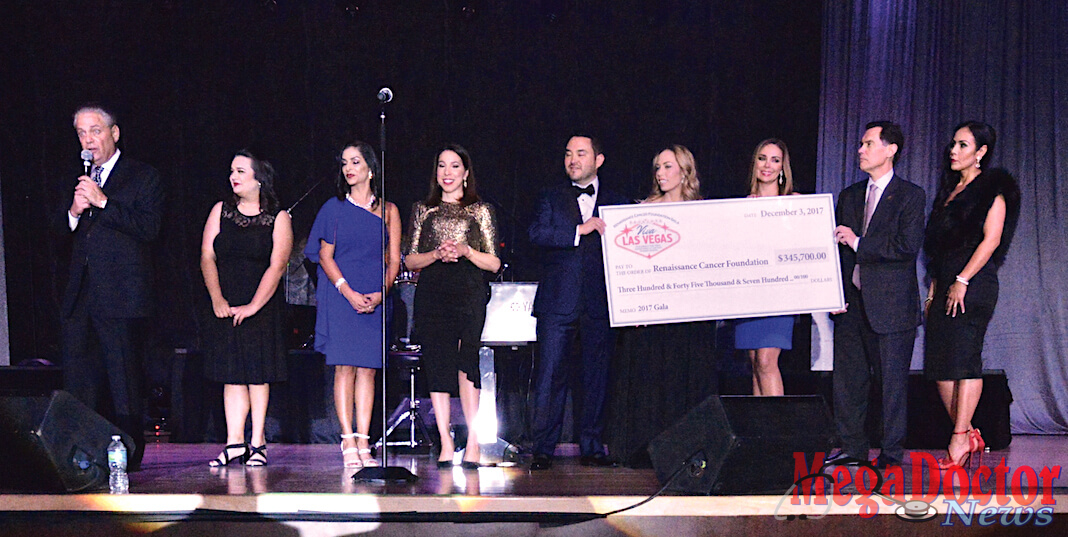 Celebrates accomplishment with Sponsors and Las Vegas Entertainer Frankie Moreno
By Roberto Hugo Gonzalez
- Advertisement -

As originally published by Mega Doctor News in its newsprint edition December 2017
Follow this link to see the photo gallery
The Renaissance Cancer Foundation Gala announced that they raised $345,700 during its annual holiday celebration. The very much needed funds are used to aid cancer patients throughout the Rio Grande Valley. Year after year, patients helped by this effort have stated that they felt blessed.
December 3, 2017 was the night of a grand celebration, for this purpose the venue used for the event was the beautiful Edinburg Conference Center at Renaissance. What a great night, the combination of guests, the people behind the scenes and the sponsors that make this project a reality, enjoyed an evening of Las Vegas music. Featured was twice-voted Las Vegas headliner of the year Frankie Moreno.
The gala celebration of this monumental fundraising effort is always well received by the community of South Texas as they give back to the individuals who need it most.  Larry Safir, Chairman of Renaissance Cancer Foundation, said, "Since 2008, the Renaissance Cancer Foundation has dedicated its efforts to building community awareness, providing cancer education, emotional support, financial assistance and guidance for underserved patients."
Safir invited a group of distinguished citizens to join him at the stage as he said, "Please welcome to the stage our sponsors." He continued, "From Lone Star National Bank President David De Anda; Senior Vice President and Marketing Director Edna De Saro; Natasha Del Barrio, Chief Executive Officer; and Robert Lucio, Chief Operating Officer; Marissa Castañeda Chief Operating Officer and Director of Marketing; and Interim Director DHR Health Advanced Care Center Elizabeth Jondreau." Sponsor companies of the event; Lone Star National Bank, Doctors Hospital at Renaissance and the Bert Ogden Auto Group were represented by high ranking officers respectively.
"Good evening all, hope you had a wonderful evening and thank you for you have been supporting us for so many, many years." Safir said, "We're going see a great show tonight." He also pointed out that it was important to remember the people that were not present because they had lost the fight against cancer. Natasha Del Barrio, CEO of Bert Ogden Auto Group, "On behalf of the Bert Ogden Auto Group we plan to dedicate our donation this evening to Javier Martínez." She said, "Bob and Janet Vackar had the pleasure of meeting this young man about two years ago, and Janet said that he brought so much light to her life." She continued, "He was a fighter and full of enthusiasm, and unfortunately he lost his battle on November 11, just a few weeks back. So, this evening Janet asked that we remember not only those who continue to fight but those who have unfortunately lost the battle. Thank you."
- Advertisement -

Bob and Janet Vacker is a very successful couple in the auto dealership industry; both are genuine philanthropists who have helped people from every walk of life. Their firm is a very important sponsor of the annual gala presented by the Renaissance Cancer Foundation.
The check presentation ceremony was followed by Safir as he presented the night's entertainment, "The artistry of Frankie Moreno." He added, "Tonight you're going to see and witness and hear the two-time, entertainer of the year from Las Vegas, direct from being sold out at Carnegie Hall and the Kennedy Center. He works with famous artists all over the world; he's a very renowned songwriter and one fabulous entertainer. Sit back, relax and get ready for Frankie Moreno."
Frankie Moreno is a great entertainer, but one thing that he did made a tremendous impact on all those present; he dedicated a song to Yoli Garza. "I've been told that there's a woman named Yoli and that she's very sad because just recently she lost her son in a battle with cancer," Frankie Moreno said.
The entertainer has composed songs for Celine Dion, Cristina Aguilera, and others. He said, "I have a boy of that same age, and I would like to sing to you a special song tonight, and hopefully the music helps a little bit, just for a night."
He said, that initially he wrote a song for Ray Charles for his last record and he passed away not long before the album came out. "So, this song has just been sitting in a drawer," he said. The first words of the song were this, 'It Was Some Kind of Love'.
Frankie Moreno also made time and hugged Yoli, as he hoped that with music and only for the night, it was helping to ease the pain of her loss.
The Renaissance Cancer Foundation's goal is to provide patients with services to help them during their cancer journey, in this case, the family also received special attention. The Foundation is a 501(c)(3) tax-exempt non-profit organization whose purpose is to provide support for cancer patients in the Rio Grande Valley. MDN