- Advertisement -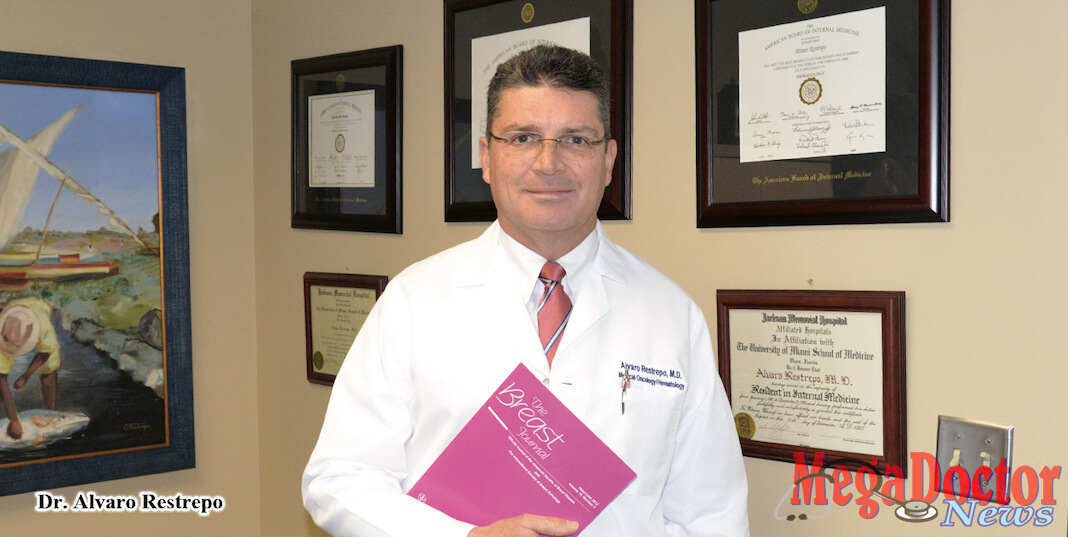 By Roberto Hugo Gonzalez
As originally published by Mega Doctor News in its newsprint edition October 2017
The fight against cancer is an ongoing battle. For years, oncologists and patients have had a commitment to never give up. If you go back to the beginning of this fight, and compare it to today, you see many changes. Many battles were won, but there is still a lot to be done.
Dr. Alvaro Restrepo, an oncologist and hematologist, says that the battle against cancer is being successfully fought. According to Dr. Restrepo, this is thanks to a better understanding of how research is done, much better communication, and the fact that today, it's easier to design medicine that helps to win the battle.
In this issue, learn about Texas Oncology and Dr. Restrepo's newest activity. They created an entity called South Texas Research Group and Tumor Bank. This exciting endeavor deals with compiling cancerous tissue, donated by patients, to acquire clinical information that will be available to medical students and researchers. There is more in this issue of Mega Doctor News.
On another note, the University of Texas Rio Grande Valley School of Medicine and community partners tackled tough topics during mental health conference. The second annual Mental Health, Substance Abuse and HIV Prevention Conference, took place last month at the Region One Education Service Center.
Great news! Six doctors entered the UTRGV School of Medicine inaugural psychiatry residency program. The UTRGV School of Medicine welcomed the inaugural cohort of residents in its medical residency program in psychiatry.
- Advertisement -

Doctors Hospital at Renaissance Health System (DHR) announced its new accreditation as a Center of Excellence in Hernia Surgery by the Surgical Review Corporation. The Center of Excellence in Hernia Surgery (COEHS) program ensures that the safest, highest quality of care is delivered to hernia surgery patients.
In Weslaco…
For Mid-Valley patients who need quick relief from orthopedic, bone, and joint problems, a relatively-new orthopedic surgeon in Weslaco, Dr. Vishwas Patil, offers appointments within 24 to 48 hours, in most cases.
Also in Weslaco, Dr. Robert Sepulveda, Internal Medicine physician, notes that police officers are often the first to arrive at the scene where a person is suffering a cardiac arrest. He said, that being the case, why not equip police with life-saving defibrillators. Now, that is a reality. More inside this issue.
Day of Honor Honorees Project 2017 Runway Rio Grande Valley celebrated its third year in the Valley. Gerry Garcia, Administrator Assistant at the McAllen Chamber of Commerce invited Mega Doctor News to witness how eight beautiful women, all of them cancer survivors, were featured in Project 2017 Runway RGV.
You should not miss the 4th Annual Brush Country Medicine and Survival Conference Set for October 28, 2017. This unique conference is filled with presentations with valuable information that could save a life during an emergency. As many sportsmen transition from the water to the brush for hunting season in South Texas, it is important to be aware of the hidden dangers that outdoor activities present and how to manage them should an accident happen. See you there!
Congratulations to Eloisa G. Taméz, RN, Ph.D., FAAN; she is a nursing professor who recently accepted the 2017 Latino Legacy Award from the National Association of Hispanic Nurses, during the 42nd Annual NAHN Conference in Phoenix, Arizona.
There is more, I know you'll enjoy!
Related articles:
McAllen Oncologist Says the Cure for Cancer Is Already Happening
School of Medicine and Community Partners Tackle Tough Topics During Mental Health Conference
Six Doctors Enter the School of Medicine Inaugural Psychiatry Residency Program
Relief for Patients with Orthopedic, Bone and Joint Problems Available in Weslaco
Nursing Professor accepts Legacy Award from National Organization