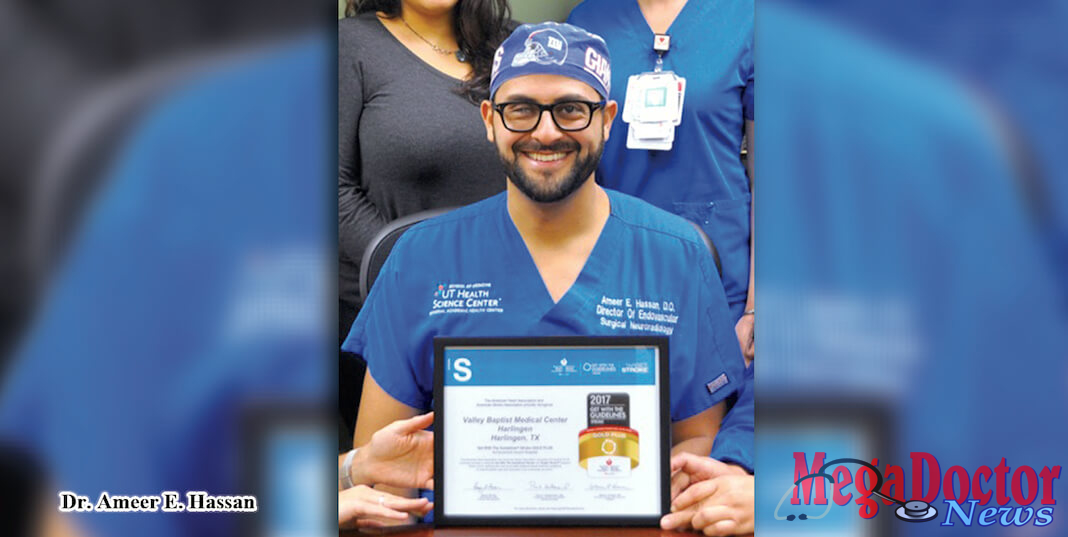 Mega Doctor News 
- Advertisement -

Harlingen – Dr. Ameer E. Hassan, DO, FAHA, FSVIN, has been named the Chair of the American Academy of Neurology's Endovascular and Interventional Neurology Section. He is the Head of the Neuroscience Department, Director of Endovascular Surgical Neuroradiology and Director of Clinical Neuroscience Research at Valley Baptist Medical Center-Harlingen,
During his two-year term as section chair, Hassan said that continuing to educate both the community and physicians on the benefits of endovascular treatment for stroke, in addition to improving communication and discussion between endovascular neurologists across the country, would be top priorities.
According to the American Stroke Association, endovascular treatment for stroke is a procedure in which a neurologist threads a catheter through an artery in the groin to the blocked artery in the brain and utilizes specialized equipment to attempt to remove the clot. This type of treatment allows a longer time window for acute stroke treatment. In addition to endovascular procedures, physicians also treat ischemic strokes by administering tissue plasminogen activator (IV-tPA), which can work to dissolve the clot and improve blood flow to the stroke-affected part of the brain. One condition is that the medication must be given as soon as possible – within 3- to 4-1/2 hours from the start of symptoms of a possible stroke.
"I'm definitely excited by the idea that we can help lead the endovascular section of the American Academy of Neurology, and it is a true honor. We hope to be able to continue to help spread the word about endovascular treatment, especially considering recent trials that have been published which prove endovascular procedures are superior to IV-tpA alone for patients suffering from ischemic stroke," he said. "The idea of getting physicians to interact with each other more is also important."
Hassan, who has participated in several recent clinical trials that have shown the endovascular stroke treatment can help save the lives of patients and can result in more of them becoming functionally independent, said that improved communication among peers and continued education in the community could have a positive impact on patient care and outcomes, pointing to recent improvements in the Valley in treating stroke patients.
"When a junior attending coming out of fellowship starts in a program, there are a lot of road blocks, but there are always ways to maneuver around them. Seeking guidance from experienced physicians from across the country, young physicians can see what worked for them and implement that in their own programs, saving significant time and allowing you to help improve patient care and patient treatment in the short term," he said. "What we've done in the Valley, in terms of increasing our IV-tpA numbers from 3 percent to 13 percent in a matter of a few years, and increasing the treatment, whether it be endovascular or IV-tpA, from 3 percent of patients to 25 percent, is amazing. That's happened because we've worked well with the community. We've focused on educating the community and first responders as well as local EMS."
Hassan said that he hoped his service as AAN section chair would continue to have positive impacts on the Valley Baptist-Harlingen neuroscience program. VBMC-Harlingen remains the first and only Certified Comprehensive Stroke Center in the Valley and south of San Antonio.
- Advertisement -

"The nice thing about being elected chair or doing the things we do with stroke care is that studies and companies come to us because they want us to be part of their research," he said. "We're getting a lot of publicity, which is helping us secure more research dollars for the Rio Grande Valley, which will hopefully help us improve stroke care for our patient population."