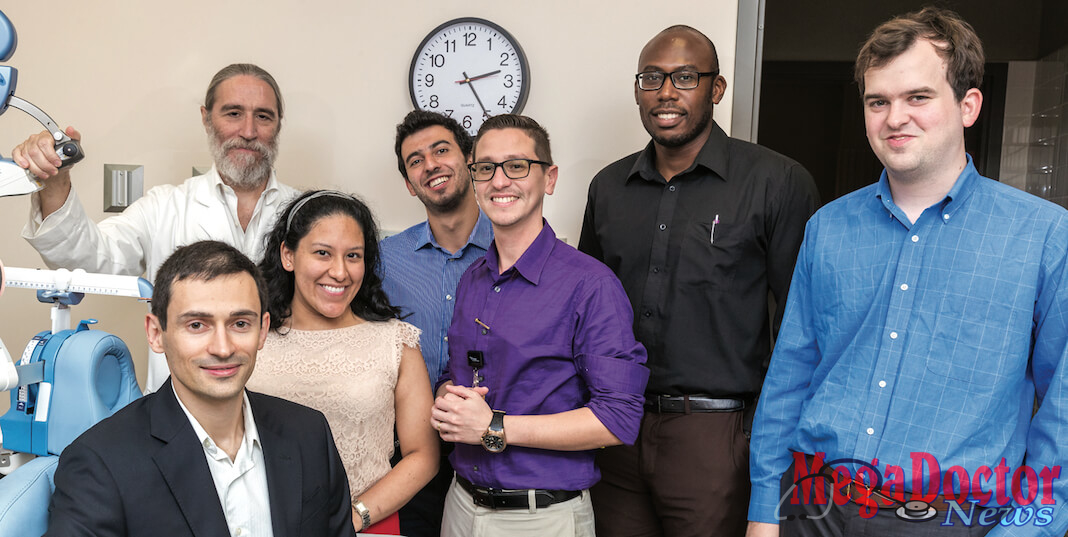 By Gail Fagan
- Advertisement -

Mega Doctor News
Rio Grande Valley, Texas – Oct. 6, 2017 – The University of Texas Rio Grande Valley School of Medicine this summer welcomed the inaugural cohort of residents in its medical residency program in psychiatry.
The six medical residents are:
Scott Wallace, M.D., 28, University of Arizona-Tucson College of Medicine.
Karachí Igwe, M.D., 29, St. George's School of Medicine, Grenada.
Camille Merhi, M.D., 25, University of Balamand Faculty of Medicine and Medical Sciences, Lebanon.
Andry Shalomov, M.D., 35, American University of the Caribbean School of Medicine, Sint Maarten.
Lessley Chiriboa, M.D., 28, Rutgers University, Robert Wood Johnson Medical School,
Karel de Leon, M.D., 34, Universidad Nacional Autónoma de Mexico Facultad de Medicina.
"We made a decision to recruit the best class we could with residents who seemed to have an interest and the skills that matched what we think is important," said Dr. Arden Dingle, UTRGV School of Medicine clinical professor of Psychiatry and Neurology, and program director of the UTRGV psychiatry residency.
The residents entering the four-year program will gain experience in a variety of disciplines within psychiatry and treat patients of all ages across the Rio Grande Valley.
"It is a community-based, public, psychiatry-focused program," Dingle said. "The residents will see a range of types of patients and be focused on understanding the needs of the Valley, particularly those of the underserved." The supply of psychiatrists in relation to the population in Texas is below the national average, and the Valley's supply is below the state average, Dingle said.
"The Valley has 1.3 million people and, not counting the three psychiatrists who work for UTRGV School of Medicine, it has 37 psychiatrists, with half of them working at institutions," Dingle said.
- Advertisement -

This year, the new residents, who are based at the UTRGV Clinical Education Building in Harlingen, will provide in- and out-patient services at the Rio Grande State Center, a state psychiatric hospital in Harlingen, and at Tropical Texas Behavioral Health, community mental health centers located in Edinburg, Harlingen and Brownsville.
In the future, Dingle said, psychiatry residents also will work at the Veteran Affairs healthcare locations in Edinburg and McAllen, and at the Valley Baptist Medical Center, a general medicine hospital in Harlingen.
The inter-professional program is designed to have residents work with other providers at all sites, including nurses, social workers, psychologists and physician assistants, and to have the residents treat the same group of patients in an outpatient setting throughout their residency.
Chiriboa, a New Jersey native whose parents are from Ecuador, said that as a psychiatrist, she hopes to reduce the stigma and cultural barriers associated with perceptions about mental illness. "I thought getting involved and coming in with my own culture and heritage, I could bring another perspective," she said.
She was attracted to the UTRGV School of Medicine's psychiatry residency because it was new and provided a great opportunity for residents to help shape the program.
"They are going to be looking for our feedback, since there will be many things we are experiencing as the first class," Chiriboa said.
Merhi, a native of Lebanon, said he saw a lot of people with anxiety and stress-related mental disorders in his country, due to successive wars there and its status as a developing country.
"I ask 'why' all the time. I like to understand people and what's behind their behavior and thoughts," he said. He is intrigued by the UTRGV School of Medicine's program because he saw at an early stage in his residency here that he could help an underserved community.
"I am really excited to see how things will play out, especially since this is the first generation of psychiatry residents here," Mehri said. "I'm really excited about the teamwork and the cooperation that will help establish this program and help people here."
Dr. Gabriel De Erausquin, professor and founding chair of Psychiatry, Neurology and Neurosciences, whom Merhi was able to shadow briefly while both were in Florida, said he is looking forward to the feedback from the inaugural class.
"That's part of the responsibilities of being part of a charter class; they will help shape the things to come," he said. De Erausquin said his department is unique.
"Our department is one of the few in the country that combines neurology and psychology, and we have a fairly ambitious plan for the Valley in terms of training programs for physicians, psychologists and other specialties," he said. "Besides our initial training of psychiatrists, we are submitting applications for training programs in child psychiatry, neurology and clinical psychology to be supported by grants that will allow us to start and sustain those programs."