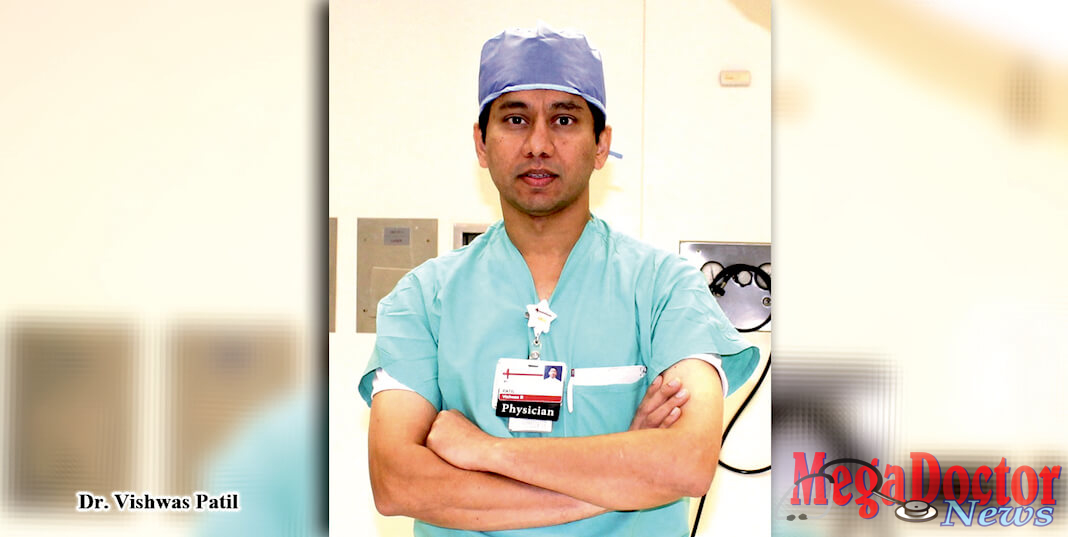 Mega Doctor News
- Advertisement -

Weslaco – For Mid-Valley patients who need quick relief from orthopedic, bone and joint problems, a relatively-new orthopedic surgeon in Weslaco, Dr. Vishwas Patil, offers appointments within 24 to 48 hours in most cases. "Being able to see patients early, within 48 hours is very important — especially when the patient is suffering from pain," Dr. Patil said.
Dr. Patil treats patients of all ages – in fact he recently did a hip fracture repair on a woman who is 102 years old, after she fell and broke her hip. "She is doing very well," Dr. Patil said.  "This operation allows us to save the original hip and allows her to walk again without pain."
The 102-year-old patient – who has been a Winter Visitor to the Valley for 38 years – said she was amazed that she had absolutely no pain after the surgery. "I haven't had any pain at all … I'm very, very pleased," the woman added. "Dr. Patil is just excellent."
Several of Dr. Patil's other hip fracture repair patients have been in their 90's, and have broken their hips after a fall – have done well (after treatment).
Others, like Lila Jones, age 69, of Donna — who suffered from intense pain because of arthritis in her hip — said a recent hip replacement surgery that Dr. Patil performed at Knapp Medical Center literally "altered my life." "Before the surgery, if I tried to walk, I was in excruciating pain," Mrs. Jones said. "I couldn't hardly move because of the pain … and if I was laying down, I could not lift my left leg.  It was paralyzing.  I was in stage 10 (out of 10) pain — but when I woke up from that surgery, the pain was gone.  I cannot say enough about Dr. Patil … I am a big fan of his."
Now, not only can Ms. Jones walk without pain – and without the walker and cane she previously had to use – she has now been able to return to work as a massage therapist in Weslaco.  So, she is now able to help relieve the pain of others – something she could no longer do before the surgery, because of her own pain.
"Now I can work and I can walk without pain," Mrs. Jones added.  "I take my time, but I can walk all over Walmart, shopping.  And I'm looking forward to going on a fishing trip, which I wouldn't have been able to do before. I'm doing quite well."
- Advertisement -

Following her surgery at Knapp Medical Center, Mrs. Jones recovered with the help of a physical therapist, Jay Herrera, DPT (Doctor of Physical Therapy) at Valley Grande Manor Nursing & Rehabilitation Center in Weslaco.  "He was wonderful, along with Dr. Patil," Mrs. Jones added.
Dr. Patil emphasized that in such cases, it's very important to be able to see patients "quickly in their disease process – especially when pain can't wait."
Originally from south India, Dr. Patil completed orthopedic residency training at the University of Texas Health Science Center – San Antonio, as well as a general surgery internship at Memorial Medical Center in Johnstown, Pennsylvania.
Dr. Patil also did research work at Christus Santa Rosa Children's Hospital in San Antonio and at Medical University of Ohio in Toledo, Ohio.  He has published articles in several national medical journals.
In addition to hip fracture repair, Dr. Patil also has interests in:
Joint replacement, including total knee replacement and total hip replacement
Shoulder conditions including rotator cuff tears / impingement syndrome (swimmer's shoulder), etc.
Treatment for trauma, including fractures of bones of the upper and lower extremities
Treatment for hand / wrist problems, including carpal tunnel syndrome / 'trigger finger' condition, etc.
Dr. Patil lives in Weslaco along with his wife (who is also a physician) and their son.   He enjoys the warm climate and outdoor life in the Valley, including hiking, bird-watching, and going to the beach.
"I also really like the fact that here in Weslaco, everything is close by," Dr. Patil said. "It takes me just a two-minute drive to get to the hospital and a two-minute drive to my son's school."
Additional hobbies which Dr. Patil enjoys are including gardening, soccer, listening to music, reading books, cooking and travel.