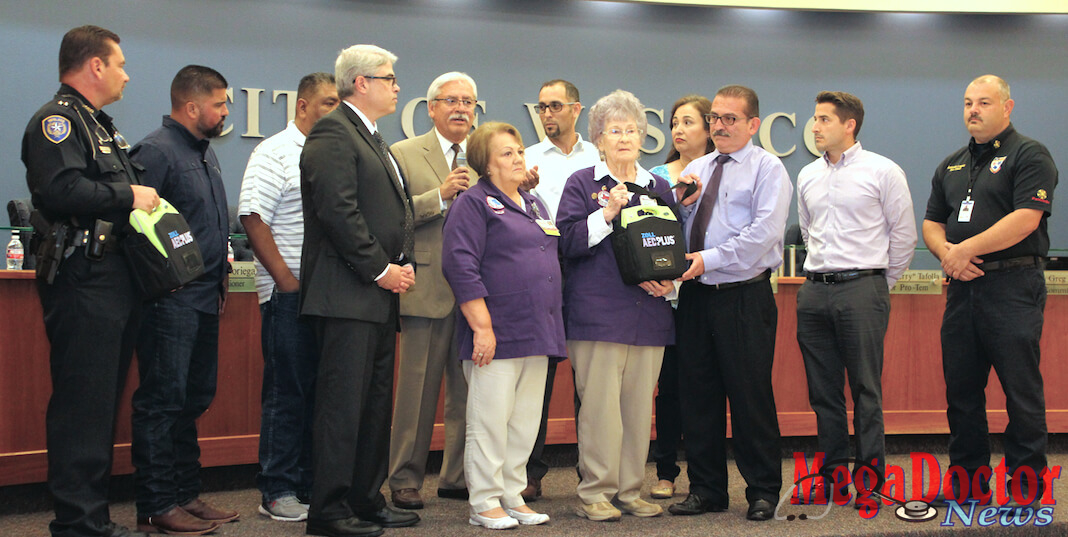 Mega Doctor News
Weslaco, Texas – Dr. Robert Sepulveda, Internal Medicine Physician in Weslaco, notes that police are often the first to arrive at the scene where a person is suffering cardiac arrest.   "That being the case, why not equip police with life-saving defibrillators – so that they can begin emergency treatment until EMS arrives", Dr. Sepulveda asked.
Dr. Sepulveda's suggestion recently became a reality in Weslaco when the Weslaco Police Department became one of the first – if not the first — police department in the Valley to be equipped with defibrillators, which can be used to shock a person's heart back into beating normally again after a heart attack.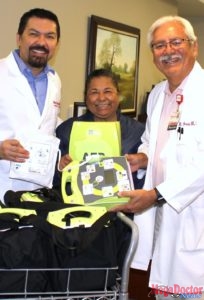 Hospital volunteers from Knapp Medical Center made this possible by donating 12 defibrillators to Weslaco Police. Knapp Volunteer Auxiliary holds fundraisers throughout the year – including a popular $5 jewelry sale – and operates a gift shop on the first floor of the hospital and uses proceeds to benefit important projects involving the hospital. But, their latest donation will benefit the entire community.
Rene J. Lopez, FACHE, RRT, MD, Chief Executive Officer for Knapp Medical Center, thanked the hospital volunteers with the Knapp Auxiliary for the "great gift" of donating the defibrillators to the community.  "Any of us may need to have this available at some time in our life," Mr. Lopez said. "This will benefit all of us in the community."
By carrying defibrillators in their vehicles, Weslaco police officers can increase the survival rate of victims of sudden cardiac arrest, and more lives will hopefully be saved each year.  It is critical that defibrillation be done within minutes of the onset of a heart attack – because every minute that passes increases the likelihood of brain damage or death.
Consider this scenario: A Valley woman suffers a sudden cardiac arrest while driving her car.  Her car veers off the road and crashes, and a passing motorist calls 911.  Within a couple of minutes, a police officer arrives on the scene and uses the defibrillator to re-start the heart.  By the time an ambulance arrives a couple of minutes later, her heart is already beating normally, and EMS continues care for her on the way to the hospital.  Because of the quick action by the police officer, the patient survives with no permanent brain damage.
"For every minute that we delay in shocking someone's heart back into rhythm, they lose 10 percent of their chance to get their heart beating again," Dr. Sepulveda said.  "So, this donation of the defibrillators will definitely save lives."
- Advertisement -

Dr. Sepulveda – who also serves as Chair of the Continuing Medical Education Committee for Knapp Medical Center – has presented numerous educational offerings for the community on the importance of knowing what to do and taking immediate action when a person goes into sudden cardiac arrest.  This includes calling 911 immediately and beginning cardiopulmonary resuscitation (CPR) until emergency medical technicians arrive – in addition to use of defibrillators.
Studies have shown the importance of starting CPR within four minutes or sooner – and using an automated external defibrillator within 10 minutes – to give the person a better chance to live.
Dr. Sepulveda was also involved in starting the Valley's first Advanced Cardiac Life Support training center at Knapp Medical Center. "We teach people how to bring people back to life," Dr. Sepulveda said.
For more information on CPR and other educational classes which are held at Knapp Medical Center, please contact the Knapp Education Department at (956) 969-5455 or e-mail Mitty Reyna at MReyna2@PrimeHealthCare.com.
For more information on the work of the Volunteer Auxiliary at Knapp Medical Center, please call Imelda Ambriz, Volunteer Services Manager, at (956) 973-5144.