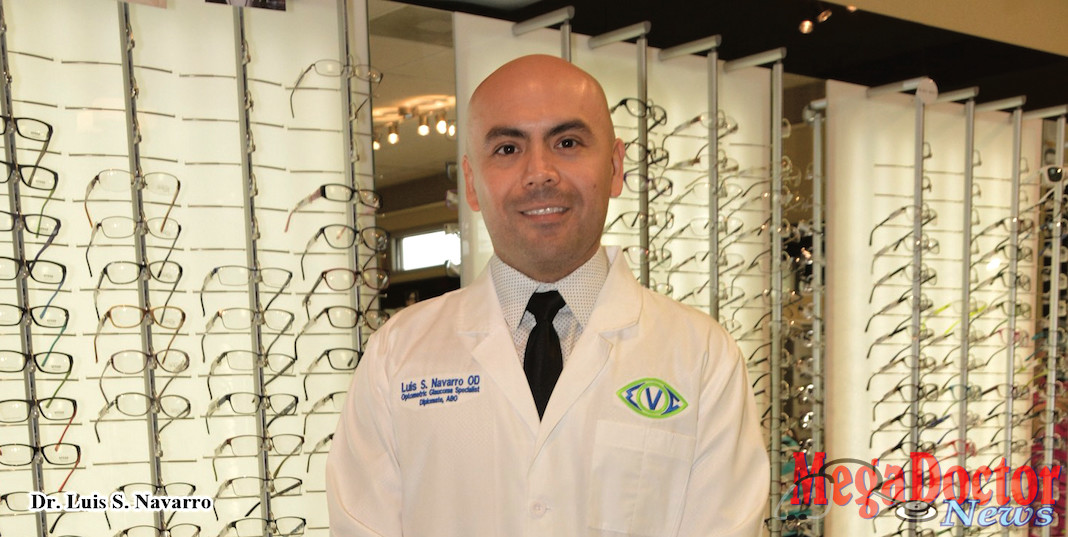 - Advertisement -

By Roberto Hugo Gonzalez,
As originally published by Mega Doctor News newsprint edition November 2016.
Born in one of the largest cosmopolitan cities of the United States, Dr. Luis S. Navarro is the son of a father who loves music and a loving mother. His parents, who instilled in him the value of hard work, supported him in every way possible.
Dr. Navarro told Mega Doctor News, that he came to the Rio Grande Valley from the windy city of Chicago, Illinois, to better himself. Straight out of high school, he enrolled at The University of Texas-Pan American (UTPA) in Edinburg, now The University of Texas Rio Grande Valley. He was following a dream of becoming an optometrist, inspired by his first visit to an eye doctor who prescribed glasses for him when he was a young man.
Sometimes following a dream is not easy, it sometimes takes years. After finishing UTPA, he left to Puerto Rico to further his education and subsequent training to finally obtain his optometrist medical license.
Ever since he started, Dr. Navarro has been blessed. When he decided to return to the Valley he ended up buying the Edinburg Vision Center practice from the physician that he worked for. Read more in this issue.
What a Great Idea. Families in San Nicolás de los Garza in the State of Nuevo Leon, Mexico are being invited to participate in a weight-loss program whose goal is to shed 10 kilograms (22.0462 lbs.) or more during a 10-week period and get up to 50% property tax discount. More inside.
- Advertisement -

Find out more about Valley Baptist Medical Center in Harlingen; they have been re-certified with a "Gold Seal of Approval™" specifically for knee and hip replacement surgeries by a national accrediting organization for healthcare organizations, the Joint Commission.
Congrats! The University of Texas Rio Grande Valley's nursing programs have received full accreditation from the Commission on Collegiate Nursing Education (CCNE)
The CCNE is a national accreditation agency recognized by the U.S. Secretary of Education that reviews undergraduate, graduate and residency programs in nursing. It is a voluntary, self-regulatory process in which programs undergo peer reviews. Full accreditation means that the nursing programs meet or exceed standards accepted by nursing education programs throughout the country.
More from the University; eight UTRGV students have earned the university's first ever post-master's Psychiatric-Mental Health Nurse Practitioner (PMHNP) certification, awarded by the School of Nursing in the College of Health Affairs.
"We are so pleased to see our first cohort complete their training, and now be ready to fill the tremendous need in this specialty," said Dr. Eloisa Taméz, professor of graduate nursing education.
In January 2015, Taméz and her co-principal investigator, Dr. Mary Diaz, associate professor of nursing education, started developing the PMHNP program with a $142,367 grant awarded by the Valley Baptist Legacy Foundation. Great work!
Welcome Dr. Nicole Grigg-Gutierrez. Knapp Medical Group is pleased to announce that Dr. Grigg-Gutierrez has joined the group and is now seeing patients in need of gastroenterology related services. She completed a fellowship in Advanced Endoscopy at the Carolinas Healthcare System – Carolinas Medical Center in Charlotte, N.C. She is board certified in Internal Medicine and Gastroenterology by the American Board of Internal Medicine. More inside this issue.
As always, I know that you will enjoy this issue! MDN
Related articles:
Dr. Luis S. Navarro, Optometrist An Advocate for His Patients and His Profession
https://megadoctornews.com/great-idea-lose-weight-pay-less-property-tax/
Valley Baptist Medical Center is Once Again Awarded "Gold Seal of Approval" for Hip and Knee Replacement Surgery
Eight students achieve first Psychiatric-Mental Health Nurse Practitioner certifications
New Gastroenterologist Seeing Patients in Weslaco; Specializes in Advanced Procedures