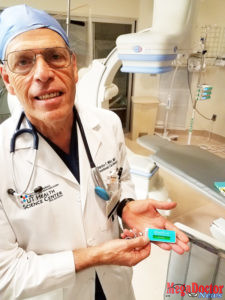 Mega Doctor News
- Advertisement -

HARLINGEN – Valley Baptist Medical Center-Harlingen recently became the first hospital in Cameron County to offer patients with coronary artery disease a new treatment option that almost completely disappears over time.
Interventional Cardiologist Dr. Charles F. Mild utilized the Abbott Vascular Absorb stent during a procedure in early November, marking the first time a resorbable stent was used in Cameron County. Mild said the Absorb – which leaves behind only two small metallic markers which allow physicians to see where the device was originally placed – could lead to better treatment for patients requiring certain revascularization procedures due to coronary artery disease. Coronary artery disease is described as the build-up of plaque along the walls of coronary arteries, which leads to reduced blood flow to the heart, and is one of the leading causes of heart attack.
"Once the stent is absorbed, it is almost like there was never a stent inserted in the first place. The resorbable stent has allowed the blood vessel to heal, leading to an open blood vessel with very little evidence that stent was used," he said. "The other benefit is that if a patient ever requires retreatment of the same blood vessel, cardiologists don't have to deal with an existing stent that was previously inserted. There is much optimism that this will be the next step in the treatment of coronary artery disease, hopefully further reducing cases of restenosis, or the repeat narrowing of the same artery."
While stents are traditionally made of metal, Absorb is made of a naturally dissolving material called polylactide, similar to dissolving sutures. Absorb disappears about 3 years after it has kept a clogged artery open and promoted healing of the treated artery segment. By contrast, metal stents are permanent implants.
Similar to how a cast is no longer needed once a broken bone heals, Absorb treats the diseased artery until it heals and is then absorbed naturally, leaving behind a healed artery that can flex and pulse naturally.
"Stents are like scaffolding for arteries, and metal stents have improved the way we treat patients, allowing blood vessels to remain open for much longer periods of time. But as you might imagine, it's hard to fool Mother Nature," Mild said. "Metal stents cause scar tissue to form around them, and that scar tissue can sometimes grow very rapidly and close off the stent."
Although current metal drug-eluting stents can reduce complications associated with revascularization procedures, Mild said that incidents of restenosis can still occur in some patients when a metal stent is utilized during treatment. Additionally, Mild said patients sometimes can be uncomfortable with the thought of metal stents remaining in their body for long periods of time.
- Advertisement -

"One of the biggest patient concerns previously was the fact that when using a metal stent, that stent would remain in their body forever," he said. "Since the resorbable stent will be absorbed, it can make the treatment more palatable to more patients. In addition, the hope is that these new stents will prove to be better for our patients and their arteries in the long run." MDN