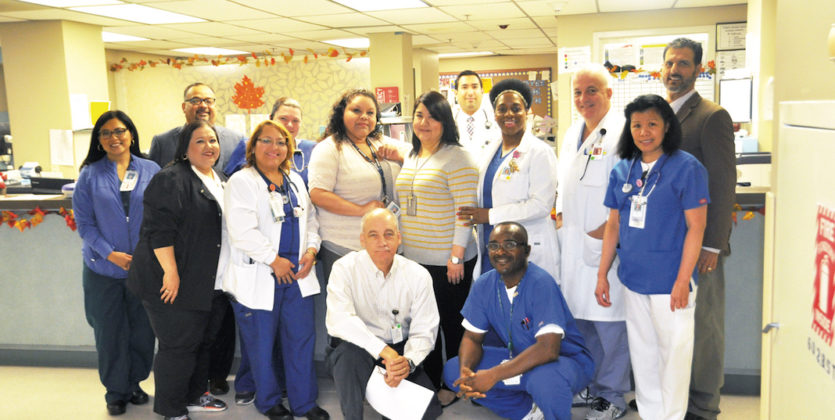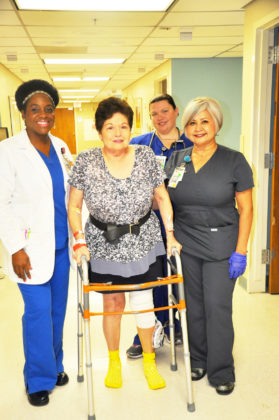 Orthopedic Surgery at Valley Baptist helping many Valley patients to walk again without pain
Mega Doctor News –
- Advertisement -

HARLINGEN, September 2016 — Valley Baptist Medical Center in Harlingen has been re-certified with a "Gold Seal of Approval™" specifically for knee and hip replacement surgeries by a national accrediting organization for healthcare organizations, the Joint Commission.
Knee and hip replacement surgery is performed at Valley Baptist for patients who have pain, discomfort, or loss of function because of arthritis, accidents, or other causes.  Arthritis can eventually cause a joint to deteriorate or wear out to the point that partial or total replacement is necessary.  The replacement surgery is designed to help restore the patient's ability to walk and relieve pain.
Valley Baptist's orthopedics department follows national standards to reduce the length of stay and risk of infections for patients hospitalized after orthopedic surgery.  For example, patients are given antibiotics at optimum times to reduce the chance of infection.  In addition, Valley Baptist's orthopedic surgery rooms are equipped with a sterile air flow system which reduces infections.
Following joint replacement surgery, patients recover on a specially-equipped orthopedics floor, with 39 private rooms, staffed by nurses experienced at caring for joint replacement patients.
Valley Baptist also offers comprehensive rehabilitation programs which range from an intensive inpatient rehabilitation program to outpatient services after discharge from the hospital.  Physical therapy plays a major role in the recovery of orthopedic patients, with Valley Baptist patients receiving physical therapy twice a day.
Maureen Rattray, RN, Nurse Director for Valley Baptist's orthopedics floor, said the Joint Commission's "Gold Seal of Approval" program shows that Valley Baptist is committed to following scientifically-proven "evidence-based" guidelines to care for hip and knee patients.
Valley Baptist holds regular pre-operative "Joint Camp" sessions in both English and Spanish to educate patients prior to their surgery and to prepare them for their hospital stay.  Patients and family members are also taught how to care for themselves after they return home following discharge from the hospital.
- Advertisement -

Ms. Rattray said a major focus of Valley Baptist's joint replacement program is on managing pain for patients.   Valley Baptist chaplains help by providing spiritual and emotional support for patients before and after their surgery.
"We've developed a nursing plan of care specifically for knee and hip replacements," Ms. Rattray said.  "The plan is individualized towards the needs of joint replacement patients, including post-operative care, patient mobility, infection prevention, and patient education.  If we educate the patients, they become their own advocate and decision maker – which helps in the recovery process."
Also to aid in the recovery process, Valley Baptist encourages joint replacement patients to bring their own loose-fitting clothing from home, instead of wearing a hospital gown.  "This helps give them the sense that they are not sick overall – their knees or hips might be – but they are not," Ms. Rattray said.  "We believe this helps with their psychological well-being, gets them active again much sooner, and speeds up their recovery."
In another effort to promote recovery and improve patient outcomes, Ms. Rattray said multi-disciplinary rounding began in August, putting members of the entire team from dietary to case managers in regular contact with patients and their families.
"It is making a big difference for our patients," she said. "We are able to answer their questions and alleviate their concerns and worries about things like their medications and going home. We find that our patients are appreciative of the personal attention they receive."
Ms. Rattray said that a multi-disciplinary team helped make it possible for Valley Baptist to be re-certified with the "Gold Seal of Approval" for knee and hip replacement surgeries, with those contributing to the effort including Dr. Rick Bassett, Orthopedic Surgeon and Medical Director of Valley Baptist-Harlingen's Orthopedics / Joint Replacement Program; the Valley Baptist administrative team, nursing staff, Valley Baptist's operating room and pre-admission testing and teaching staff, physical therapists, the Valley Baptist Case Management Department, dietary staff, core measures specialists at the hospital, environmental services staff, and engineering staff.
"Our dedicated and loyal staff work very hard each and every day … kudos to them all," she said.
For more information on knee, hip and other joint replacement procedures, please consult your physician and visit www.ValleyBaptist.net. MDN