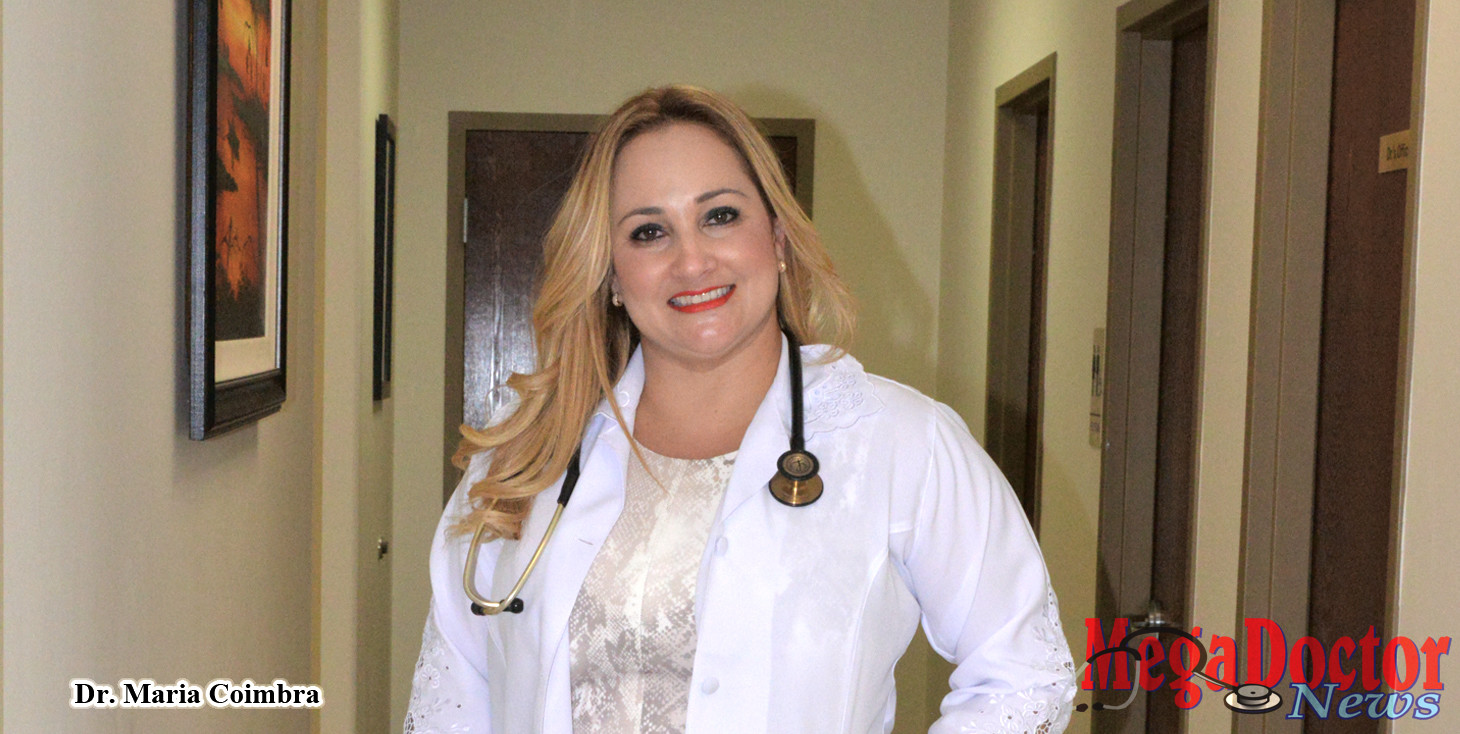 By Roberto Hugo Gonzalez,
As originally published by Mega Doctor News newsprint edition August 2016.
To become independent in any way always proves to be a major leap of faith that people have to take. Dr. Maria Coimbra, a board-certified family doctor, just recently took the leap and became a solo practitioner.
She has over ten years of experience since coming to the Valley and has put together a great team that works with her in her new office. She became out feature story this month, and as Mega Doctor News had the opportunity to know more about her, realized that she has a real passion for caring for her patients.
It has not even been two months since the opening of her practice in the new office.  She has already been very busy because of patients that know her and many word of mouth recommendations that continue to make her a favorite physician in McAllen.
Ever since she started her medical studies, she had a dream to become independent one day. Now, that is a reality. I encourage you to read this article about her; you will get to know her better.
On another matter, Mega Doctor News was present during a very important ceremony that took place at the Edinburg Renaissance Center. This particular ceremony is called "White Coat" ceremony, and as Dr. Carlos Cardenas said, 'this is a rite of passage and a beautiful time to remember when all of us began our training in the practice of medicine. It's a special event for all of these young folks that are going to come and help us care for our patients. It's a wonderful thing." Dr. Cardenas is the DHR Chairman of the Board and the Chief Administrative Officer. He is right; the White Coat Ceremony provides an opportunity to acknowledge medical residents' primary role as caregivers and to commemorate their next step toward becoming a practicing physician.
Currently, there are four programs offered, and the residency program directors are Dr. Curtis Galke, family medicine; Dr. Charles Richart, general surgery; Dr. Michelle Cordoba-Kissee, internal medicine; and Dr. John Breen, obstetrics and gynecology. Another must-read article in this issue.
At the beginning of the month, a new facility celebrated the ribbon cutting ceremony and grand opening; it is Palms Behavioral Health in Harlingen, a much needed mental health facility.
Palms Behavioral Health is a focused mental and behavioral health facility, where their primary goal is to help treat the men, women, children, adolescents and seniors in the community. Dedicated to finding every single solution possible for the patient's particular mental health needs.
Congratulation Mr. Jim Shaheen, Founder, and President of Strategic Behavioral Health, the parent company of Palms Behavioral Health. He was present during this important event. Also Congratulations to their new CEO, Mr. Michael Sauceda. He is a seasoned veteran in this field, in charge of managing the facility and making everyone aware of the essential services provided.
Harlingen Mayor Chris Boswell, Texas Senator Eddie Lucio, Jr., and Dr. Mary Dale Peterson, the Chief Executive Officer for Driscoll Health Plan welcome the facility, and all agree that it comes to an area that needs the services.
Mega Doctor News also met and interviewed several medical students of DHR's residency program. Their interests range from obstetrics and gynecology, internal medicine, and general surgery, to family medicine.
I know that you will enjoy this issue! MDN
Related articles: