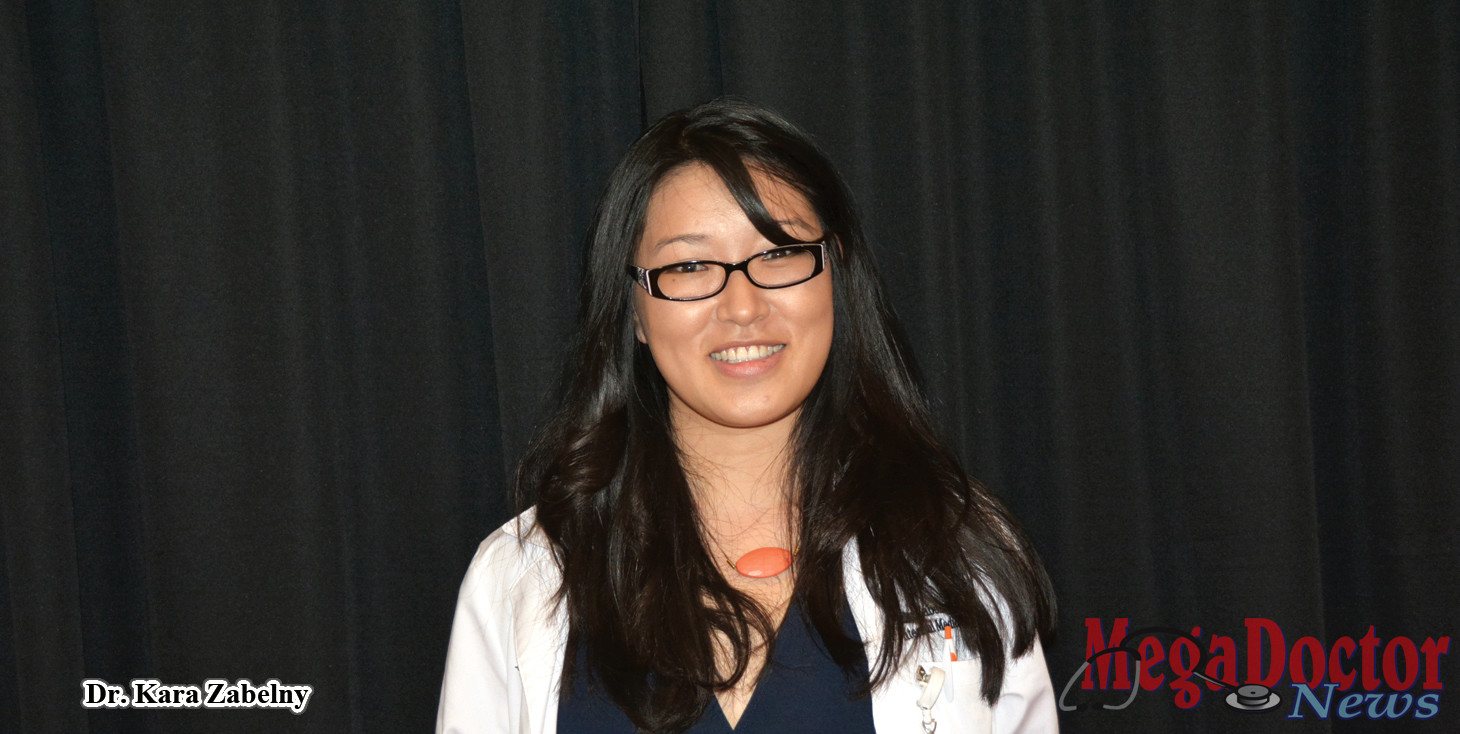 - Advertisement -

Mega Doctor News – 
By Roberto Hugo Gonzalez,
Dr. Kara Zabelny is from Rochester, New York; she has been in the Valley since starting her residency last year. She is a student in the physician residency program at Doctors Hospital at Renaissance (DHR) in Edinburg and the school of medicine. Dr. Zabelny is in training to be an internal medicine specialist; it takes three years to obtain.
Have you identified the prevalent diseases of the Valley, and do you have any solutions? "Ultimately, I think a lot of it is education, education, education." She said, "Diabetes is so prevalent in the Valley, and people don't realize that even if you have a family predisposition, and a higher risk of developing it, you don't have to develop diabetes. It's not written in stone that if a family member has type 2 diabetes that you have to have it too."
She pointed out that as long as you maintain a healthy lifestyle, and make sure that you are counting your carbs it is possible to avoid it entirely in most cases.
Also, she said, "They are familiar with diseases, but they don't understand the conditions." She emphasized that preventive medicine is the way to go rather than curative medicine, avoiding pain and suffering.
Dr. Zabelny also said, "Because ultimately time and time again we are starting to see, that prevention is key."  "We are not in the situation of modern medicine where we are curing things quite so much. We've cured a lot of infectious diseases."
- Advertisement -

Her point of view is that now chronic illness has to be treated over an extended period of time. "We are not curing them quite yet, and I don't think they necessarily will have cures any time soon, but ultimately if you can prevent somebody from even getting it in the first place, that's obviously the most optimal thing." She said, "Keep people healthy and maintain their health throughout the rest of their lives. The cornerstone of preventive medicine is education."
Which are the diseases that we have to watch carefully? "The long chronic illnesses to take precautions for are diabetes, hypertension, and coronary artery disease because ultimately these things start very silently until you have a medical disaster." She continued, "The thing is if you go to a primary care physician, and you regularly check for these things you can start to intervene long before they become a problem."
Are these diseases causing a problem among the population of the Valley? "Unfortunately, they are all very common here in the Valley."
She added that doctors could detect hypertension long before it becomes a stroke. They can also detect rising blood sugar levels long before developing ulcers and kidney failure. "Education and also making sure you maintain relationships with your doctors to see these things long before they become a problem is what needs to happen," she stated.
Can you tell me why you selected internal medicine? "There is a combination of various things, but I like the fact that internal medicine is a very academic specialty. You get to spend a lot of time thinking about the ins and outs of the patient's disease. You are the front lines of figuring what's going on, and directing the treatment because you ultimately are going to decide if you are going to call subspecialists if you are going to call the surgeons, or to involve other people. You are the first person that gets to make those decisions, and I like specialties that get to delve into different areas and such a wide range of disease processes."
What's the big difference between New York and the Rio Grande Valley? "Night and day," she told Mega Doctor News.
What do you think about the area aside from being a hot weather region? "That's probably the balancing part because I do like my cold weather. Otherwise, the people are warmer, and that's a good thing."
Are you planning to stay or go back to New York? "It depends on several factors. If I pursue a subspecialty, there aren't fellowships in the area. I will have to leave if I decide to apply for a fellowship.
Do you have any siblings? "I have one brother."
Is he also in the medical field? "There's no doctors in my family. I'm the first one. There are several nurses in my family, but I'm the only physician."
Are your dad and mom in New York? "Yes, they are still in New York.
Do they come and visit you? "They do want to come and visit me, but they still work."
Do you have any additional comments? "I'm glad to have the opportunity to be doing my residency here in the Rio Grande Valley. It's interesting, the brand new medical program is a motivating factor because we get to help build it every step of the way rather than be stuck in a wheel that's already been turning. We get to direct the wheel. I think it's very challenging but also very rewarding to be able to have such a firm hand in our education and discover the needs of the community, and tailor our program," she finalized. MDN