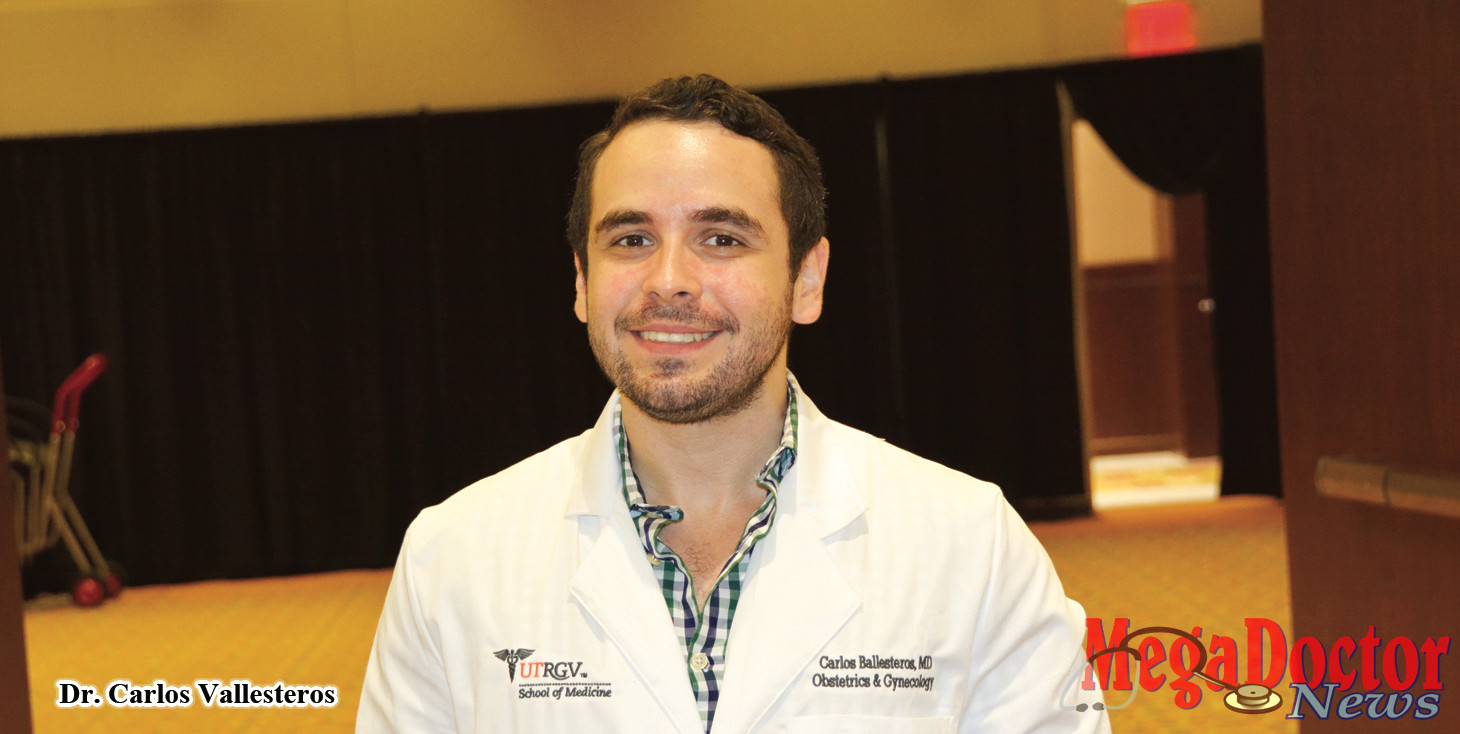 Mega Doctor News – 
- Advertisement -

By Roberto Hugo Gonzalez,
What a pleasure is to meet someone from the Rio Grande Valley that is taking advantage of the medical school recently created here.
Carlos Vallesteros, now a medical doctor, is a resident in the obstetrics and gynecology program (OBGYN). He has been in this program for one year and has started his second year of medicine.
He was born in Weslaco, Texas and lived there for many years until he left to pursue his medical education in Galveston.
He told Mega Doctor News that he is happy to be back in a very familiar place. He remembers the days when he attended the Weslaco schools. Even though he has a tight school schedule, he enjoys seeing his family and friends all the time.
The medical career is not for everyone, only for those that are willing to work hard and go through rigorous studies and training like Dr. Vallesteros.
How long before you finish your residency in OB/GYN? "Three more years," years he said with a smile on his face.
- Advertisement -

Why did you choose the medical field? "Well, that's a very complex question. Again, it cannot be summarized other than that I like to help people."
He told Mega Doctor News that there are several qualities that a physician should have because people could help anybody just being something other than a doctor. He explains that there is a set of qualities that a person should have if they are to pursue medicine.
He said, "My grandfather was a doctor, and I did admire him, for his passion, and dedication to his patients. I grew up seeing him taking care of his patients. I think that's something that had to do with me choosing this field."
During the time that you've been in this field of medicine, what chronic problems have impacted you the most? "First of all, in the Rio Grande Valley, unfortunately, there's a lack of… should I say, access to medicine." He continued, "In the OB/GYN program obviously women look for a doctor when they are pregnant, and this is the time for us to act as primary care physicians. Because these patients may never be back to see another doctor after they are done with their pregnancies. It is a very important time for us to act, and take care of their chronic problems, which can be from hypertension, thyroid problem, or diabetes, and come up with a plan to take care of them in the long run."
When you finish the OB/GYN program, are you planning to stay here? "That's the plan to someday come back. I would like to pursue a fellowship after my training here is done. Unfortunately, that training is not offered in the Valley yet but I would like to come back one day, and offer my services to the population in this area."
Dr. Vallesteros do you have any hobbies? "Yes, I do. Whenever I have free time I like running, and hitting the gym. I like cooking, and also, I like watching movies."
Cooking, what kind of dishes? "The healthy meals. I'm more into looking up recipes in the internet, things that look healthy, I can try them out. Yeah, that's my hobby," he finalized. MDN