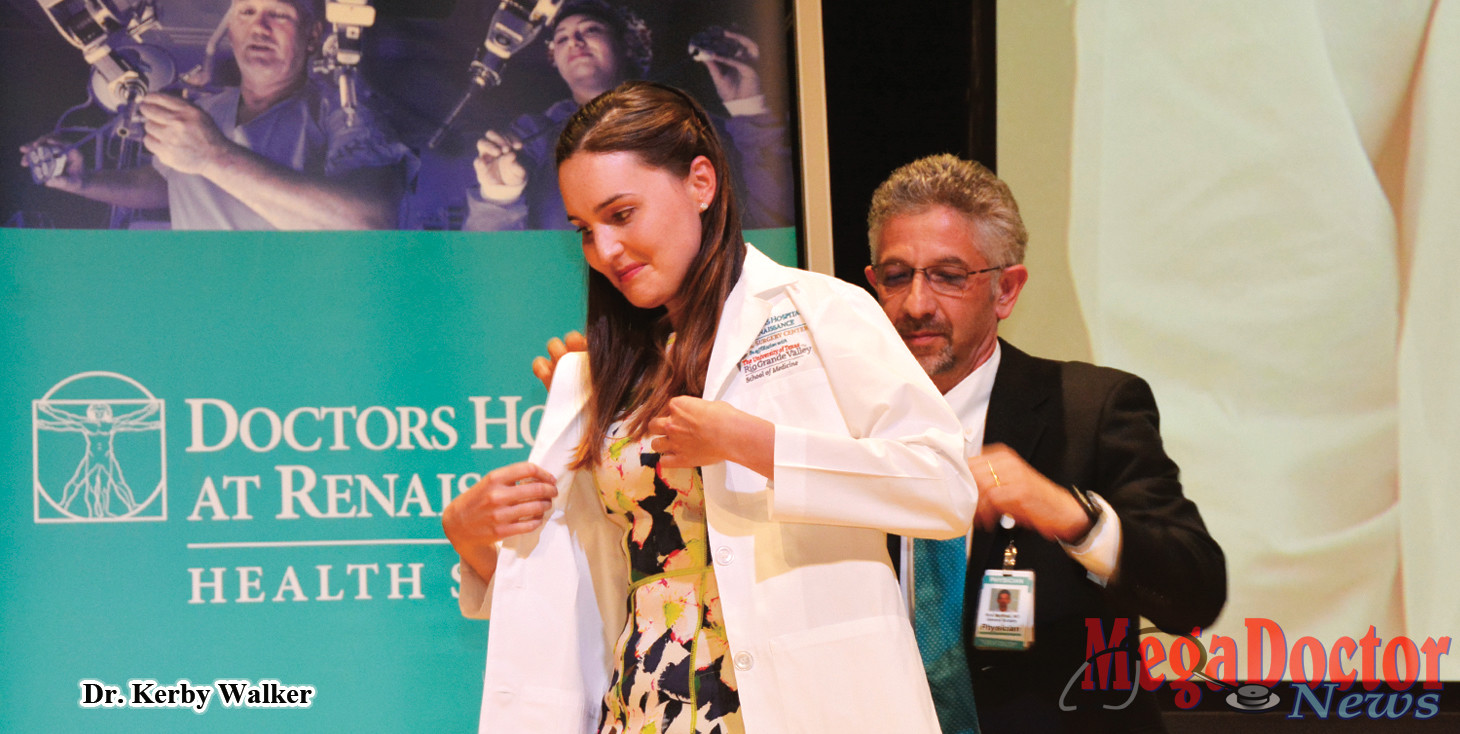 Mega Doctor News – 
- Advertisement -

By Roberto Hugo Gonzalez,
In my career as a reporter, with more than forty years in the business, I had never had the opportunity to meet young doctors in the process of advancing their careers.
Before the establishment of the medical school, I had only met with physicians that had mostly 10, 20 or 40 years in the business. Some, were already talking about retirement.
Because UTB and UT-Pan Am merged and the efforts of many years to create a medical school became a reality, many young doctors are coming to this region.
That is the case of Dr. Kerby Walker who enrolled in the general surgery program headed by Dr. Charles Richart.
How many years is it going to take for you to finish your residency? "Five years of residency," Dr. Walker said.
Is this your first year? "This is my very, very first year, and the second week."
- Advertisement -

Dr. Walker came from New Hampshire; the area for her is new. The first time she was here was when she came to interview in January 2016.
What is your opinion of the Valley? "I love it. Everyone is friendly. It's blown my mind how welcoming everybody is," she told Mega Doctor News.
But it's very hot weather, don't you think so? "It's very hot, but it's manageable."
She is still figuring out her long-term plans. "I came down here to get a strong foundation in general surgery, and the program has such a high case volume down here. I knew I'd get that coming here, and maybe when I finish, I might do a fellowship, or I might end by staying here, so we'll see."
What is the reason you chose medicine as a career? "I went through a lot of careers. It was a long time before I decided, but in the end, I just wanted to be with people, wanted to help people. That's why I'm here. I was always fascinated by this field."
She said that from a young age, it was in her mind that she wanted to be in a medical career. "My family is in medicine, so I grew up around it," she said.
Her mom was a nurse, and then her dad works in hospital administration, so the topic was part of the conversations of what's going in the hospital.
What are the cases that you intend to work with when you finish school? "I'm not sure. I have a lot of interests, but I haven't decided what I want to specialize in yet. I'm still working on that."
Dr. Walker has a younger brother back in New Hampshire, he is 26 and is in finance. "He's in an entirely different world," she says.
Has your family visited the area? "My parents came with me when I moved. They loved it down here. My mom is from Florida, and they saw a lot of similarities. She's used to the heat, and she loved it, so they were happy."
What is exciting about this medical school in the Rio Grande Valley? "I think what's so exciting is that it's always changing. It's the second year of the program, so every new rotation is a little bit different. The faculty is so excited to have us, and to teach us, and they are also so willing to listen to our suggestions whenever something isn't going well, or we think it could be improved. They listen to us. It's an incredible opportunity as a resident."
Do you have any hobbies? "I do. I'm an outdoors kind of person. I hike, and bike, and run, and I just like being outside."
Have you been able to do that? "Yeah. We are just starting; I found the Mission Trails a few weeks ago, so that was nice."
Aside from being an outdoor person, do you have any other hobby; maybe singing, playing an instrument? "I don't sing. You don't want me to sing. Most of my hobbies are outdoor activities. I like to cook. That's a hobby."
What's your favorite dish? "My favorite dish, I like to make pizza. Pizza is probably my favorite."
What kind of pizza do you like? "It depends on the day. I think one of my favorites is sausage and mint pizza, it is my favorite. It's a nice mix."
Do you have any other comment that you'd want to say? "I am excited to be here and thankful to have the opportunity to come down here," she finalized. MDN