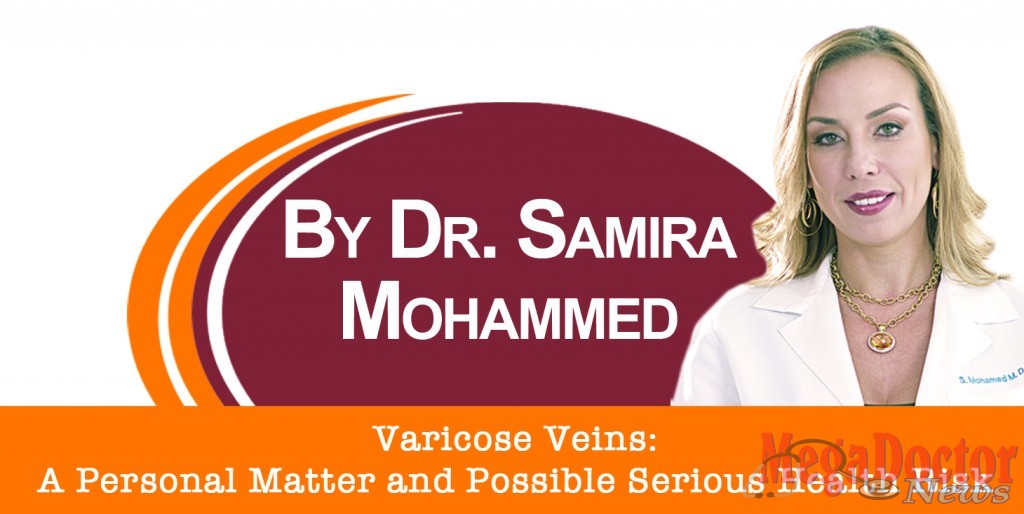 By Dr. Samira Mohammed
- Advertisement -

Mega Doctor News
As originally First published by Mega Doctor News newsprint edition
Vein diseaae affects 50% of women and 20% of men; 97% of them don't know where to go for help.
Many people are not comfortable talking about their spider or varicose veins and are embarrassed to show their legs. They want their legs to look younger and feel beautiful again.
What are Varicose Veins?
Varicose veins are diseased and dilated superficial leg veins that are often associated with saphenous vein insufficiency and spider veins. Varicose veins can be painful and can pose a serious health risk if left untreated. For many patients, varicose veins are a personal matter, but you can talk to us. We are experienced, dedicated physicians providing advanced vein care treatment options.
For your comfort, convenience and privacy all testing and treatment for varicose vein disease, including ultrasound testing, is conducted in the privacy our offices.
- Advertisement -

What health risks are associated with varicose veins?
Veins in the legs rely on one-way valves to help the blood travel back up to the heart against gravity. If these valves leak or become blocked, the blood flows backwards and pools in the legs. This is called reflux or venous insufficiency, which causes leg heaviness, swelling, Restless Leg Syndrome, skin discoloration, and ulcerations. As the hydrostatic pressure rises, the veins weaken and the elastic walls balloon outward, contributing to visible and painful varicose veins that are at risk for superficial vein clots or spontaneous rupture and bleeding.
Treatment Options
Endovenous Laser Therapy (EVLT) is a minimally invasive treatment for saphenous vein reflux. Venous insufficiency, or reflux, is one of the most important factors underlying varicose vein disease. Venous reflux is diagnosed with ultrasound in the office. If present, EVLT is performed to eliminate the reflux. EVLT has replaced vein stripping, and involves placing a thin laser fiber inside the dilated saphenous vein under ultrasound guidance. EVLT is performed under local anesthesia in our office with no hospital stay, minimal scarring, and no lengthy recovery. The procedure takes less than an hour and patients are walking the same day.
Ambulatory Phlebectomy: This procedure is the most common treatment for varicose veins, either with or without EVLT. It is done under local anesthetic and involves mapping the varicose veins, numbing these areas, and then "teasing" out these diseased veins through tiny needle sticks. The procedure takes less than an hour, and eliminates varicose veins with minimal scarring. You will be instantly free from bulging, twisted varicose veins, and back to enjoying your everyday activities.
What are spider veins?
Spider veins are small, thin blood vessels visible beneath the skin. They appear most commonly on the ankles and legs and may look like a series of lines, tree branches, or spiderweb like shapes with a dark center. It is estimated that they affect nearly half of adult women in the U.S.
They are caused by a variety of factors, such as hormonal changes and genetics. Spider veins are not varicose veins. Often, a cluster of spider veins is "fed" by an underlying varicose vein. Many patients are bothered by the way they look. Others seek spider vein treatment for uncomfortable symptoms such as burning or itching.
Treatment:
If present, any underlying varicose vein disease and venous insufficiency must first be treated before successful treatment of Spider Veins can be done. Sclerotherapy remains the primary treatment for spider veins. Sclerotherapy involves injecting a solution into the vein causing it to close. The procedure is virtually pain free and patients are back into shorts and skirts.
Samira Mohamed, MD, MPH, FACOG, CHCQM is a Board Certified Gynecologist and Obstetrician and a Fellow of the American College of Obstetrics and Gynecology. She has a special focus on female sexual function and vaginal rejuvenation.
She has been in private practice in the Rio Grande Valley since 2008 and works with RGV Cosmetic Surgery and Vein Care specializing in boutique gynecology. She has completed advanced training in varicose vein disease with Dr. Clark and Dr. Rodriguez and is part of our varicose vein team.
You may visit with her at RGV Cosmetic Surgery and Vein Care by calling 956-687-VEIN (8346) to make an appointment, you can also visit their website: www.ValleyVein.com   MDN