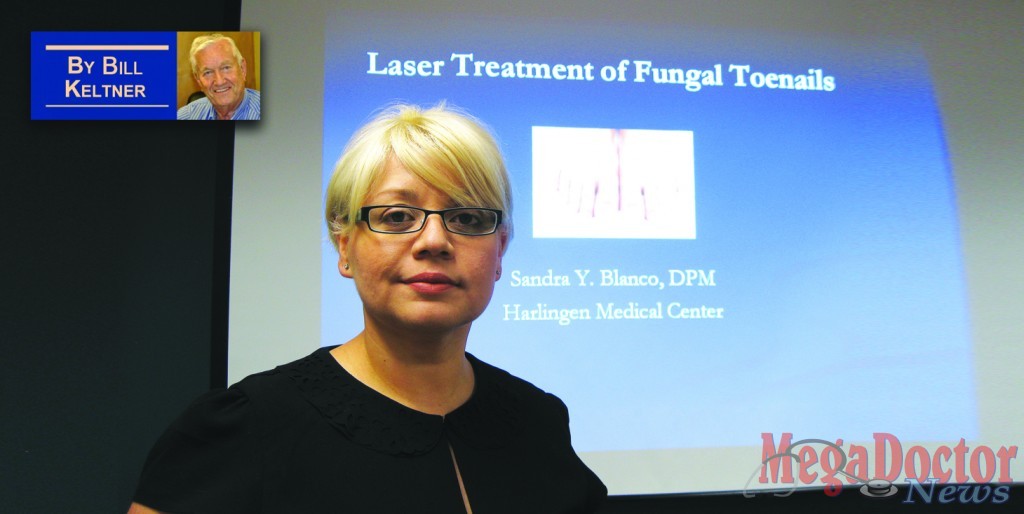 Mega Doctor News
- Advertisement -

As originally First Published by Mega Doctor News newsprint edition–
Harlingen Medical Center regularly schedules topics of interest in their Doc Talk Lecture series. As this is National Foot Care Month, the chosen topic of discussion was "Laser Treatment of Fungal Toenails."
One of the most sought after Podiatrists in the Rio Grande Valley was chosen to lead a program explaining various treatment options to patients. The HMC conference room was jam-packed as the subject was obviously of great interest to the attendees.
The speaker for the presentation was Dr. Sandra Blanco; the doctor is well qualified to speak on the subject as she earned a Doctorate of Podiatric Medicine from New York College of Medicine in New York, New York. She has also written about her research in prestigious medical journals. Her writings include "Osteocure for the Treatment of Osteochondral Defects of the First Metatarsal Head."
The noted podiatrist detailed the many risks that can lead to the medical condition known as Onychomycosis. The name of the disease itself is enough to scare the daylights out of anyone clinically diagnosed with it. But the doctor assured the condition can be successfully treated with a wide array of procedures and some new techniques.
Blanco first explained to the audience why the condition is so widespread in the Rio Grande Valley. "First of all, Onychomycosis is a disease of age," she said, then added: "Perspiring heavily and living in a humid, moist environment increases the risk. Persons with Athlete's Foot and peripheral vascular diseases are at increased risk for fungal infection."
The doctor stated that those patients with Diabetes, HIV, AIDS, and any of the immunosuppressive diseases are at risk. Disturbingly, the doctor said that melanomas could also be present under infected toenails. The only way to diagnose and target the problem is a visit to a certified podiatrist.
- Advertisement -

To be sure, after a visual examination, the podiatrist will probably send toenail clippings and scrapings to a laboratory for microscopic examination.
After a diagnosis of fungal toenails, there are three treatment options: (1) Systemic prescribed medication,       (2) Topical medication, including many over-the-counter medicines, and even Tea Tree Oil.
Blanco said that many get results from this product, and "We don't know for sure how–but it works for some."
And the latest (3): is Laser treatment. She said, "It is a minimally invasive, safe and effective procedure, usually done in the doctor's office," she said, adding, "We shine the beam directly across the nail bed, and it kills the pathogen.   The in-office procedure is safe, quick and painless. However, it may not be covered by your insurance–check them out first," she cautioned.
The doctor added a couple of thoughtful caveats to her lecture: "Don't cut your toenails too short. Don't walk around barefoot in public areas like swimming pools. Use antifungal creams or sprays after going to a public swimming pool or after getting a pedicure in a Mall or elsewhere. Finally, always check the sanitary and sterilization practices of your pedicurists–'Nuff said."
There are good treatment procedures for the annoying condition known as Fungal Toenails assures the doctor. For more information call the doctor at 956-504-1469 or visit her at Rio Grande Medicine, 5505 South Expressway 77, Suite 305, Harlingen, Texas. MDN