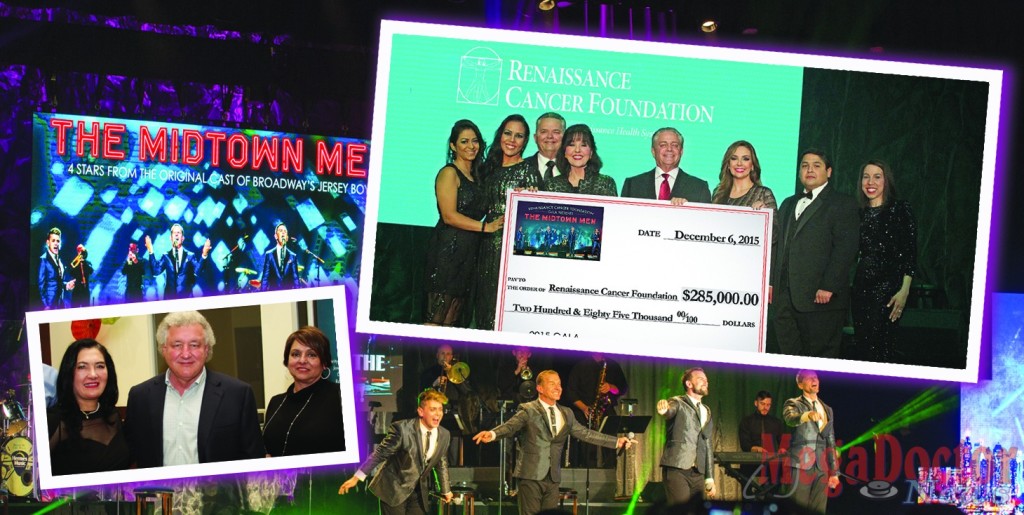 - Advertisement -

Mega Doctor News – 
By Roberto Hugo Gonzalez,
The Renaissance Cancer Foundation did it again but much bigger. This year the foundation team was excited to say that this year they raised $285,000. The announcement was made during the Holiday Gala on December 6th, 2015 at the Edinburg Conference Center at Renaissance.
Larry Safir, principal of DHR Cancer Foundation and who has not failed to introduce and recognize the people that have helped this raising event better every year said, "Doctor's Hospital at Renaissance, Lone Star National Bank and the Bert Ogden Auto Group." He continued "Adriana Isabel Rios, Cancer Foundation Director who did so much work in this project and lot of what you see here tonight we have to give a lot of credit to her and to Elizabeth Jondreau, Senior Nurse Navigator."
Robert C. "Bob" and Janet Vackar have been the sponsors of this event for the fourth consecutive year.
Safir also said, "We are so blessed to have them as sponsors." During the event, Janet said to like this time of the year because is the spirit of giving. "I am happy that the event to December. I think that giving back to the community is the most important thing." She also said, "You are so special to us, Alonzo and DHR of which I hear wonderful things all over the Valley. Stories about what the cancer center does for the patients and we could never turn you down."
Safir also mentioned that the other entity that has always been participating is Lone Star National Bank. It was Edna De Saro, SVP Marketing Director at Lone Star National Bank that said, "It's really simple, we love to give back to the communities where we live and serve. Having a foundation like DHR Cancer Foundation that touches the lives in our own backyard. Thank you for making this event so fun with an event like this one."
Mr. Safir pointed out that Marissa Castañeda, COO and Israel Rocha CEO for Doctors Hospital at Renaissance have been the cornerstone of this project for many years. He asked them why is so important for them to help the way they do it? "First and for most I want to thank everyone her in the audience." Rocha said, "I think that what is so special of this event is that everyone in the audience today represents a miracle. A miracle for a patient that has been inflicted with cancer and has struggled in life to survive this disease. Every body in this room is representative of healing ability through the foundation and through the work of Mr. Safir and the Cancer Foundation to bring needed resources to patients that otherwise will go without," he finalized.
- Advertisement -

Mr. Safir also credited the audience and thanked them for making this event happen and making it so special with their presence. "You made it happened, this is very special because in the past the most we have been able to rise is $212,000. Tonight is different, with your help we have raised $285,000 and the silent auction sales brought an addition $21,450.00, making it a total of $306,450.00," Mr. Safir said.
The Renaissance Cancer Foundation Gala hosted the gala to raise funds to aid cancer patients throughout the Rio Grande Valley. Since 2008, the Renaissance Cancer Foundation has dedicated its efforts to building community awareness while providing cancer education, emotional support, financial assistance and guidance for underserved patients. The Renaissance Cancer Foundation's goal is to provide patients with services to help them during their cancer journey.
The Foundation is dedicated to continually expanding programs and services to ensure it meets the health care and social needs of the communities served—today and in the future. In 2014, the Renaissance Cancer Foundation provided over $350,000 in support services and patient advocacy in the areas of patient navigation, financial counseling, monthly support groups, nutritional care packages, a beauty salon for patients who experience hair loss, and household and transportation expenses.
To celebrate the event, The Renaissance Cancer Foundation Gala introduced The Midtown Men that made a special performance for the first time in south Texas.
The evening consisted of complimentary hors d'oeuvres, drinks, a silent auction and performance by "The Midtown Men," a group comprised of original cast members from Broadway's Jersey Boys. The Rio Grande Valley guests enjoyed songs from the 60's, including the Beatles, the Beach Boys, Broadway, and more.
After sharing the stage for over a thousand performances, Tony® Award winner Christian Hoff, Michael Longoria, Daniel Reichard and Tony® Award nominee J. Robert Spencer decided to take their signature sound and chemistry to audiences everywhere, bringing to life their favorite 1960's hits.
The Renaissance Cancer Foundation is a 501 (c)(3) tax exempt non-profit organization whose purpose is to provide support for cancer patients in the Rio Grande Valley. MDN