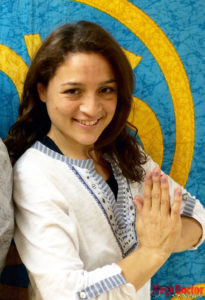 Mega Doctor News –
- Advertisement -

By Kiovanna,
I had a lot of ideas on what to write about for this month's issue of Mega Doctor News, like "How Yoga Supports Weight Loss," or "Easy Ways to Meditate and Feel Great!" As I sat in my yoga studio attempting to write on such insightful topics, the phone rang and the caller said, "I'm brand new to yoga, what classes do you recommend for beginners?"  I answered the question and went back to my writing. The phone rang again. This time the caller asked: "I'd like to try my first yoga class, what should I bring and what do I wear?"  A lightbulb flashed over my head. I realized that in Yoga as in life, we first learn to crawl before we walk, or turn into a pretzel.  I decided to write on how to get started with Yoga.
In Austin, New York, and some parts of Monterrey there are more yoga studios than there are Starbucks.  Yoga is relatively new to the Rio Grande Valley, so let's start with the basics and perhaps more of you reading this will feel encouraged to try your first Yoga class.
If you are a total beginner who is not looking to sweat profusely or feel any type of discomfort, look for a Restorative Yoga class.  Restorative Yoga uses foam blocks, cushions. blankets, belts, and sometimes chairs (i.e., yoga props), to support the practitioner to move into gentle yoga poses. The postures are held for long deep breaths so you can relax once you get there.  As the name suggests, the class is designed to restore the body to wholeness, and lovingly respects stiff joints, tight muscles, or past injuries.
Another option for beginners with normal range of motion is Yin Yoga, a practice designed to go deep into poses and stay for several minutes to access joints, connective tissues and fascia. Whereas restorative poses are more supported using props to allow relaxation, Yin poses invite gravity to intensify the pose as practitioners build mental endurance and physical stamina through the long holds.
Paul Grilley and Sarah Powers developed Yin Yoga in North America after being exposed to this style in 1989.  Yin Yoga brings balance to the current trend in Yoga which has grown more yang, focusing on muscular strength and faster movement.  Grilley says, ". . . most of the yoga books published before 1985 were advocating what we would call a 'yin' style of practice. The yang styles of yoga are what's new, not the yin style." (www.paulgrilley.com).
Traditional Yoga practiced for thousands of years before 1985 is known as Hatha Yoga. This style of Yoga strives to balance both yin & yang aspects. The word Ha-tha literally means Sun (the active or yang energy) and Moon (the passive or yin energy). Hatha Yoga is also a healthy style for new students. It's recommended to call the studio or gym where the Hatha class is offered to ask if it is appropriate for beginners.
- Advertisement -

Now that you know what type of class to look for as a beginner, let's focus on how to prepare yourself.  You'll feel better practicing yoga a few hours after a light meal. Avoid eating heavy meal before class. Wear breathable (ideally cotton) comfortable exercise clothes. Women usually wear leggings and tank tops or fitted t-shirts.  Men wear shorts or sweat pants, and t-shirts. Some students even wear medical scrubs! Yoga is not competitive, so don't worry about how you will look or compare to other students. Yoga invites you to leave any judgement or self-criticism outside the class!
Students take their shoes and socks off to practice, and use a Yoga or Pilates mat.  Drink water before or after class, not during class if you can help it. Turn off your cell phone. This helps you and your classmates focus on the breath, let go, and experience the more meditative benefits of yoga. Here's the best part, most yoga studios offer the first class for free, so nothing is stopping you from finding inner peace and seeing for yourself why yoga has stuck around for 7,000 years. Enjoy!
Kiovanna is the owner and founder of Corazón Yoga Studio in McAllen, Texas where she offers group, private, pre-natal, and corporate yoga and meditation classes, as well as chakra healing sessions. She has been teaching yoga for 17 years and has also been a practicing Reiki Master energy healer for 15 years. She has a Bachelors degree in Psychology from Stanford University and Doctor of Law degree from Columbia University.  Kiovanna is a guest writer for Mega Doctor News and Texas Border Business.