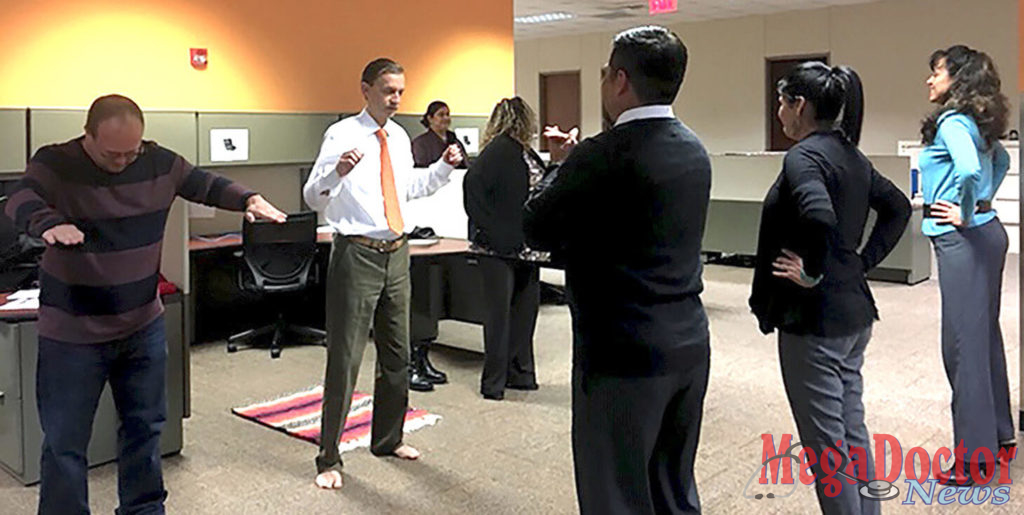 Mega Doctor NEWS
By Flor Saldivar
Harlingen, Texas – A friendly challenge between coworkers has grown into a daily exercise routine for employees at The University of Texas Rio Grande Valley School of Medicine's Clinical Education Building in Harlingen.
Each workday, at 9 a.m., 11 a.m., and 4 p.m., employees step away from their desks to participate in short exercise sessions led by Elma Vega, an administrative assistant in the UTRGV Department of Population Health and Biostatistics.
The workout sessions resulted from conversations Vega had with Candace Robledo, MD, an assistant professor of Population Health and Biostatistics.
"Dr. Robledo and I were always having conversations on improving our eating habits, exercising and doing something about sitting in our chairs all day," Vega said. "One day, she told me that she was going to start a plank challenge, on her own, in her office. So, I asked her to invite me when she started the challenge. We did our planks one day, and by the next, we had invited all the people in our suite to join in."
About the same time they began their exercise routine, The UT System released its Yo Ho Ho: Fall 2018 Challenge, a fitness competition to promote wellness for employees of its 14 academic and health science institutions.
Inspired by UT System's fitness challenge, Vega and Robledo decided to add more exercises to their repertoire.
"We kept up with the challenge while still planking in the office," Vega said. "We thought that exercising, even just 10 minutes, would be good for our health and would help us relieve some of the tension and stress from sitting at our desks all day."
One participant, Jay Morrow, DVM, MPH, assistant dean for Clinical and Translational Research and chair of Population Health at the UTRGV School of Medicine, said the short workouts have increased fun and productivity in the office, and include everyone.
"I couldn't help but join in from Day One," Morrow said. "It's great to mindfully step away from our computers three times daily, to loosen tensed shoulders and bodies. There are music and laughter, and everyone participates at their own pace."
"When we return to our desks, we're revitalized from the increased blood flow and oxygen. We all feel more productive after these sessions."
Vega said she enjoys seeing everyone's progress and hopes to expand the program to get more people to participate.
"It's really exciting to see each other's health improvements, and I am grateful for all the support that we have received from Dr. Candace Robledo and Dr. Morrow," Vega said. "I would love for more people to get involved."