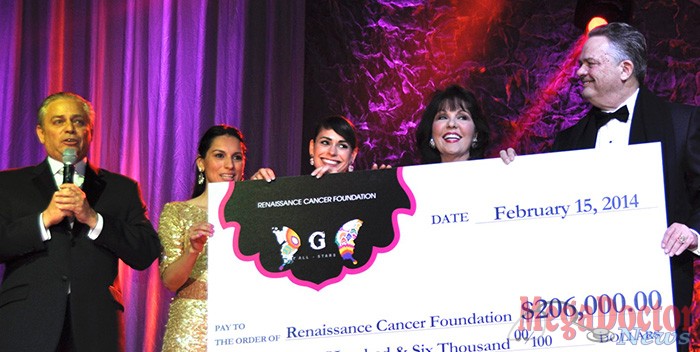 By Roberto Hugo Gonzalez
- Advertisement -

Edinburg-With months of preparation came a spectacular presentation of the Gypsy All-Stars on Saturday, February 15, 2014 when The Renaissance Cancer Foundation celebrated its annual gala 'Bamboleo Meets Bollywood' raising more than two hundred thousand dollars. The event took place at the Edinburg Conference Center at Renaissance.
The funds collected benefit The Renaissance Cancer Foundation a 501(c)(3) tax-exempt non-profit organization whose purpose is to provide support for cancer patients in the Rio Grande Valley.
As he took over the podium, Larry Safir said that Doctors Hospital at Renaissance makes a lot of things happen without blinking an aye. "They are the first people that ante up; they don't complain and they are always there," he said
Since 2008, the Renaissance Cancer Foundation has dedicated its efforts to building community awareness while providing cancer education, emotional support, financial assistance and guidance for underserved patients.
The Renaissance Cancer Foundation's goal is to provide patients with services to help them during their cancer journey.
Safir said, "I hope that everyone keeps in mind when you see the list of sponsors, when you make choices in this community, those choices come back ten fold to the people who really need it. The demand is greater than the resources, so tonight is very joyful because we are going to be able to help people with all your support of this evening."
Safir pointed out that in 2014 The Renaissance Cancer Foundation is going to have outreach services. "We are going to have social workers and medical assistants go out into the community, and we are going to help with house cleaning, deliver groceries. We are going to reconcile medicines and make sure that some of these people that are maybe forgotten or alone, they will have somebody they can talk to and look after them."
- Advertisement -

The Renaissance Cancer Foundation is now recognized in the marketplace for its great efforts to help and is continually expanding their programs and services to ensure meeting the health care and social needs of the communities they serve.
Safir also said, "In 2015 we hope to start medical trials and getting into research and target those illnesses that are over indexed in our population in the Rio Grande Valley."
It is important to say that The Renaissance Cancer Foundation primarily focuses on providing funding for chemotherapy treatment, medication, surgery, imaging studies, home and utility bills, transportation, lodging, nutritional supplements, and hair loss items.
In addition, the non-profit entity organizes community outreach programs for cancer prevention and early detection and offers support groups, nutritional services, patient navigation, and emotional support, all of which is free for cancer patients in the Rio Grande Valley.
"Tonight, I announce on behalf of Bob and Janet (Vackar), The Renaissance Cancer Foundation, Lone Star National Bank, and Doctors Hospital at Renaissance that our gross receipts are $206,000.00."
"We couldn't be more proud and we couldn't be happier so the music tonight is the medicine with the Gypsy All-Stars."
The Gypsy All-Stars presented a phenomenal performance, which included local talent as part of the show. The Gypsy All-Stars are a group of musicians from Aries and Montpellier in the south of France who perform in Spanish with an Andalusian accent.
The Gypsy All-Stars, who were born in France but brought up with Spanish culture, are largely responsible for bringing the sounds of progressive pop-oriented flamenco to a worldwide audience.
Since its inception, the Renaissance Cancer Foundation has provided thousands of dollars in charity care for cancer patients in this community. Patient criteria to qualify for support must have a cancer diagnosis, reside in the Rio Grande Valley, be uninsured or underinsured, and be within the Federal Income Poverty guidelines. The Renaissance Cancer Foundation is a non-profit organization in the Rio Grande Valley that helps cancer patients with their immediate needs.
The Renaissance Cancer Foundation is constantly working to raise funds, promote early cancer detection and prevention, as well as provide support for cancer patients and celebrating survivors, and organizes and hosts different types of events which are listed here:
5K Fun Run/ Walk
Zumba-thon
Holiday Gala
Hair Cut-A-Thon
Bra Decorating Contest
Pink Manicure Day
Victory Celebration for Cancer Patients Who Ended Radiation Treatment
Free Cancer Screenings
Free Cancer Education Seminars
Nutrition Assessments
Support Groups
Massage Therapy Services
Beauty Salon
Patient Navigation Services
Mega Doctor News and Texas Border Business are proud sponsors of this event.