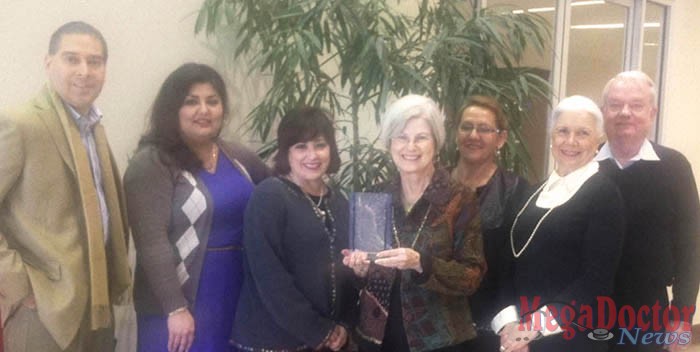 Mega Doctor News
- Advertisement -

February 2014, McAllen — After many weeks of careful planning, the Valley Symphony Orchestra Annual Gala – Phantom of the Symphony will take place on March 6, 2014 at the McAllen Convention Center Ballroom.  The GALA Committee, led by its most gracious leader, Mrs. Joyce Smith, has been diligently working behind the scenes planning out every detail from musical entertainment, floral decor, menu, invitations, GALA program and silent auction.  Joyce Smith, VSO Gala Committee Chair states, "This year's event is going to be spectacular and I can't wait to hear the first class music performance Dr. Dabrowski and the VSO musicians have in store for us all!"
GALA attendees can expect to enjoy a delectable full course dinner prepared by Centerplate Chefs with white glove service to deliver exquisite cuisine and a superior dining experience.  All guests will be greeted at the door with a glass of complimentary champagne and wine service throughout the evening.  Everyone is encouraged to partake in helping to raise much-needed funds for the symphony and the fantastic music programs it delivers to its Valley residents by bidding on unique items before dinner at the silent auction tables.  During this time, the Valley Keyboards Jazz Trio will provide ambience and entertainment during cocktail hour from 6:30 – 7:30 p.m.
GALA entertainment will feature a spectacular ensemble performance comprised of Valley Symphony Orchestra principal musicians led by Music Director/Conductor, Dr. Peter Dabrowski. Among the principal musicians performing that evening are:  Geoffrey Wong, Kathleen Hawkins and Lucas Darger, violin; Linda Sobin, viola; Benjamin Ponder, cello, Leila Sadlier, piano and David Cassady, bass.  Internationally acclaimed tenor, David Sadlier, will be the events, "Phantom" and perform a selection from Lloyd Weber's Music of the Night accompanied on piano by his wife, Leila.  The music program includes Johann Sebastian Bach's Piano Concerto in D-Major, Allegro and Nikolai Kapustin's Variations, Opus 41 performed by an outstanding concert pianist, Brendan Kinsella. To wrap up the musical program for the evening The University of Texas Pan American (UTPA) Mariachi Aztlan will deliver a special tribute performance to their originator, Dr. Dahlia Guerra.
The Valley Symphony Orchestra & Chorale (VSOC) is proud to announce Dr. Dahlia Guerra, as the 2014 VSO Cultural Leader of the Year for her unwavering support of classical music and the arts in the Rio Grande Valley.  Currently, Dr. Guerra is the Dean of the College of Arts & Humanities at UTPA. This momentous recognition has only been given to a handful of very important individuals of whom are; Neil and Virginia Norquest, Mr. Charles E. Thompson, Jr., Mr. Glenn Roney, Mrs. Janet Wallace and Mr. David Guerra.  The VSO is proud and honored to be able to recognize each as outstanding cultural leaders of its long history with music education, arts and cultural diversity in the Rio Grande Valley.  Don't miss out on the event of the year!
The Valley Symphony Orchestra & Chorale remains firmly rooted in and dedicated to the community it proudly represents.  For questions on how to participate as a sponsor this year, call Vivian Vargas, Marketing Director at (956) 661-1615 or log onto www.valleyorchestra.org for more information.