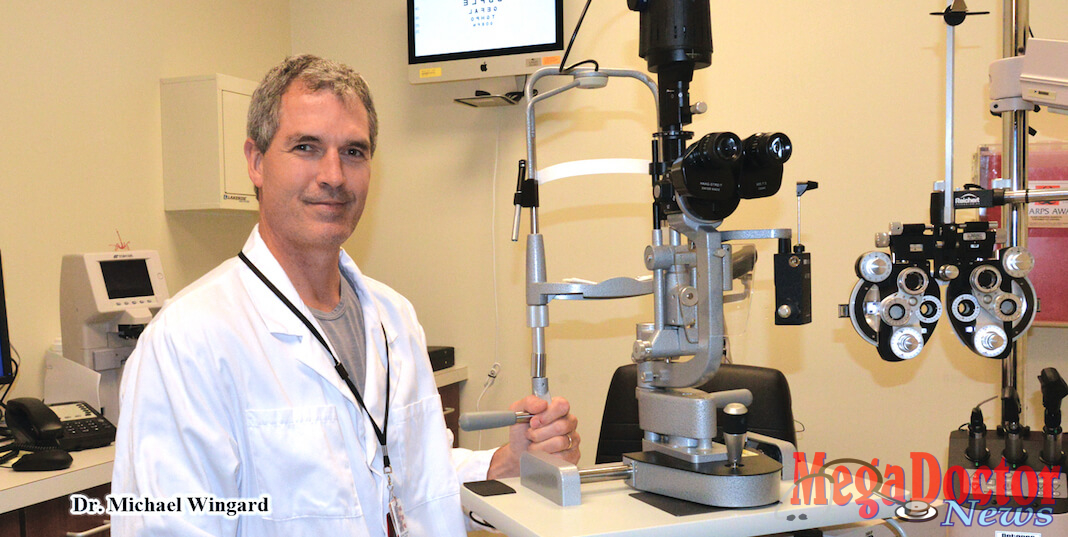 By Roberto Hugo Gonzalez
As originally published by Mega Doctor News in its newsprint edition June 2017
For quite some time Mega Doctor News had the idea to profile Dr. Michael Wingard, an optometrist. He came from a small rural community in Kansas about twenty-five years ago. When he was in high school, there was no internet, so the opportunities in his hometown were only around agriculture. He knew how to work the farm, but he was inspired by the local optometrist who was very popular and everyone liked.
For Dr. Wingard, it was not difficult to come to a decision about what he was going to select as a profession for his future. Today, more than two decades later, he is a well-known and respected professional as an eye doctor.
For the last 15 years, he worked at the Ophthalmic Consultants of Texas as a full-time practitioner, where he is now working part time.
He has a full-time job at the Veteran's Outpatient Clinic in McAllen. According to Dr. Wingard, this health care facility needed an optometrist, so now he serves Veterans. "I am the only optometrist here." He works with the latest equipment in eye care. He enjoys proudly serving the nation's bravest. "I love my new job."
In this issue, you will get to know Dr. Wingard.
- Advertisement -

On another note, the Texas Medical Association is making everyone aware of the prevalence of genital Human Papillomavirus infection rates among U.S. adult men and Human Papillomavirus Vaccination. Yes, you read correctly, among men!
The finding is, that in a study of the National Health and Nutrition Examination Survey (NHANES) 2013-2014, the overall genital HPV infection prevalence among men was 45.2%, which appears to be widespread among all age groups, with a low HPV vaccination rate of 10.7%.
What this means is that Male HPV vaccination may have a greater effect on HPV transmission and cancer prevention in men and women than previously estimated. Inside this issue, get to know more and guard yourself.
Weslaco – Knapp Medical Center in Weslaco has received "Silver Plus" and "Target: Stroke Honor Roll" awards for care of stroke patients from the American Heart Association and American Stroke Association.
The national awards program, Get With The Guidelines, is designed to help ensure that the care hospitals provide for patients with "brain attacks" is aligned with the latest scientific guidelines.
Brownsville – Valley Baptist Medical Center–Brownsville has earned a Center of Excellence in Robotic Surgery (COERS) designation from Surgical Review Corporation, a distinction that continues to demonstrate the hospital's commitment to positive patient outcomes and patient safety.
Edinburg – Doctors Hospital at Renaissance celebrated the National Cancer Survivors Day® is a unique celebration. It marked the 30th annual National Cancer Survivors Day®. Thousands of people in hundreds of communities across the globe celebrated on this day to honor cancer survivors and to show the world that life after a cancer diagnosis can be fruitful, rewarding, and even inspiring.
Harlingen – Harlingen Medical Center celebrated the opening of its new, multi-million-dollar, state-of-the-art Emergency Room with a Red Ribbon-Cutting Ceremony on Thursday, June 2017.
Edinburg – Great News: The University of Texas Rio Grande Valley School of Medicine is planning to open a pediatrics clinic soon, to help meet the needs of specialty pediatric care in the community.
The goal is to fill in gaps in access to specialty care for children for subspecialties like neurology or pulmonology.
There is much more in this issue, Enjoy! MDN
Related articles:
Dr. Michael Wingard Optometrist Serving the Nation's Bravest
Knapp Medical Center Wins Awards for Care of Stroke Patients
Valley Baptist Medical Center-Brownsville Earns Center of Excellence Designation
DHR Celebrated National Cancer Survivors Day on June 5, 2017