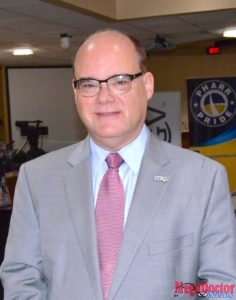 By Roberto Hugo Gonzalez
- Advertisement -

As originally published by Mega Doctor News in its newsprint edition June 2017
In the developed countries, there are many areas that need medical attention to ensure people get the care they require on time. Unfortunately, the lack of medical schools and the specialties facilities does not allow them to provide patients with the immediate care.
Fortunately for the Rio Grande Valley, things have been changing rapidly and dramatically. On July 1, 2017, Dr. John H. Krouse took over UTRGV School of Medicine (SOM) as its new vice president for Medical Affairs and dean of the School of Medicine.
Dean Krause comes from Temple University in Philadelphia Pennsylvania.
"It is a unique and I look forward to helping the Valley to realize their dreams, and working with the people in the Valley to have a medical school that will allow young men and women to be trained and to take care of the needs of the patients." He continued, "It's an exciting opportunity for me to be able to do that."
Dr. Krause has traveled twice to the Valley since he was selected. He has been working getting his office ready at the same time interviewing some candidates for the primary positions as well as looking for housing to relocate.
Is South Texas weather equal to where you come from? "It's a bit hotter from where I come from; it would be nice to have winters without snow," he replied.
- Advertisement -

He said that he wants to get a good feel for what the needs are and meet with all the stake holders. "Certainly, we want to make sure to take care of those who have reduced access to care and to improve the health of those folks." He continued, "We want to look at the prenatal care and the ability to have women get prenatal care before delivery."
One of the plans is to partner with the hospitals and institutions around specialty care and make it so people don't have to leave the Valley no matter what it is that they need have done.
"With the medical school faculty and with our partners can provide whatever is needed to take care of the people that live here."
He said that the school of medicine has 55 medical students per class and as they grow they will be able to graduate more students. He predicts that for the next few years it will be about 55 students graduating per year.