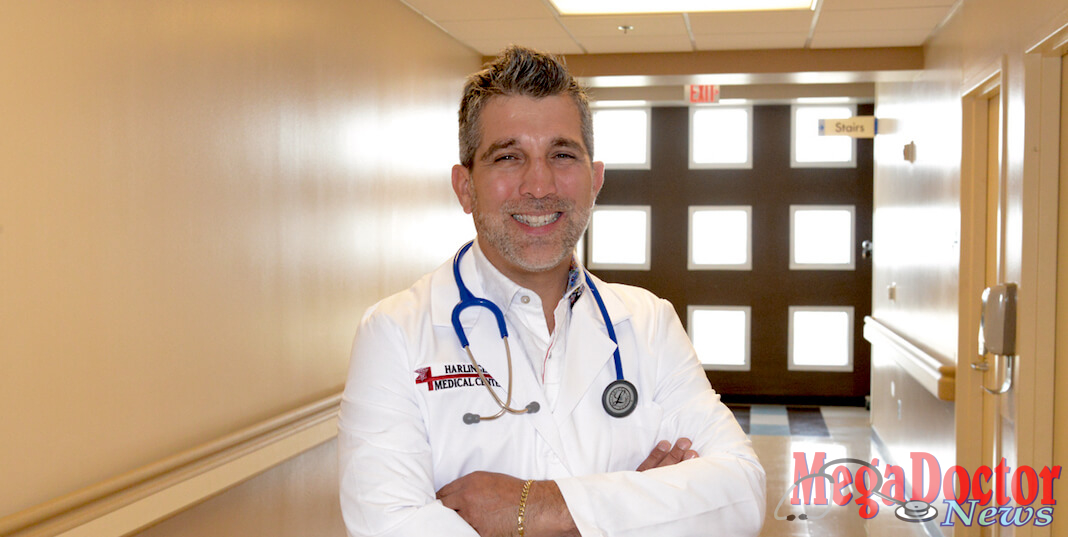 By Roberto Hugo Gonzalez
As originally published by Mega Doctor News in its newsprint edition July 2017
Dr. J. Joel Garza is a professional in the medical industry of the Rio Grande Valley. He provides saving life procedures that has been a blessing to many residents of South Texas.  He was raised in the Valley and graduated from PSJA High School, and then left to acquire higher education in the field of medicine. After his graduation from The University of Texas Medical Branch in Galveston, he did his Residency and a Fellowship at Scott & White Health in Temple, Texas. He decided to come back and serve the communities of the Valley as an Interventional Cardiologist.
There have been many stories about other natives that leave the area for a higher education, after graduation, they never come back. In his case, Dr. Garza always had the intention of coming back. Since he also married a Valley girl from Raymondville, it would have been complicated because, for him and his wife, Xenia, family is important.
Get to know more about Dr. Garza and his work to help his patients live a healthier life.
For many years, different leaders have advocated for a medical school. One of those leaders was Texas State Senator Juan "Chuy" Hinojosa among many others. Today, the school of medicine is a reality. The monumental effort paid off, and now the formation of young doctors is in full steam. It is not easy to make a doctor. Many years of studies and training is the ingredient. But so far, with the creation of the medical school, the dream is coming true.
There is no secret that we need more doctors, and with different specialties. I know that the infrastructure already in place will give the results intended. Still, there is much to be done. But we are in a different situation, and I paraphrase, we are in a unique, special and advantageous position that nothing is stopping us.
In this issue, we bring you important developments related to the formation of more physicians. Just to give you an idea, The UTRGV School of Medicine (SOM) welcomed its 56 new medical residents during orientation June 22-23 at the Edinburg Medical Education Building.
It also welcomed the inaugural cohort of medical residents for its Family Practice Residency Program at Knapp Medical Center. Consequently, a preview and ribbon-cutting were held in Mercedes in July for a new Knapp Medical Center / UTRGV Family Practice Residency Program.
The historic new program for the Mid-Valley is in a new 13,800-square-foot building on the western edge of Mercedes, in the northwest corner of Expressway 83 and at 2810 W. Expressway 83. All I can say is congratulations!
What a pleasant surprise: Putting pen to paper – it's a motor skill most of us use every day. But what happens when hand tremors from Parkinson's disease strip us of that ability? Something as simple as signing your name becomes a challenge – or an impossibility.
To help find a solution, a team of University mechanical engineering students, guided by their professor, Dr. Karen Lozano, went to work on a design that could provide some relief.  The project came in response to a plea from local writer/columnist Chris Ardis, who wrote to Lozano asking for help in combating her mother's deteriorating penmanship due to Parkinson's disease.
It's a great story about young professionals that you must read and enjoy!
Related Articles:
Interventional Cardiologist Educates Patients to Live Better Lives
School of Medicine and Knapp Medical Center Welcome First Family Practice Residents
Preview Held for New Knapp / UTRGV Family Practice Residency Program in Mercedes
Student Engineering Team Designs Device to Help Patients with Parkinson's Disease