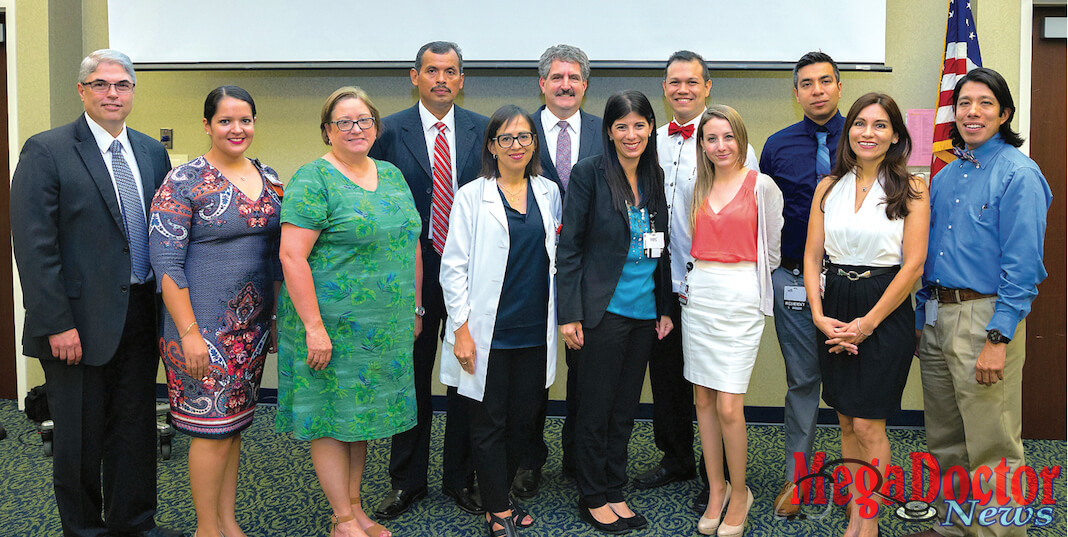 By Jennifer L. Berghom
Mega Doctor News
Weslaco, Texas –– The University of Texas Rio Grande Valley welcomed the inaugural cohort of medical residents for its Family Practice Residency Program with Knapp Medical Center.
The medical residents are:
Eddy Berges, MD
Eliana Costantino Burgazzi, MD
Carolina Gomez de Ziegler, MD
Diego Moreno, MD
Miguel A. Sanchez Rivas, MD
Marita del Pilar Sanchez Sierra Marino, MD
In addition to serving rotations at the hospital, the residents also will practice at the Knapp Medical Center/UTRGV Family Practice Residency Clinic, expected to open in late July at Expressway 83 and Mile 2 in Mercedes. They also will go to nearby colonias to provide healthcare for residents.
"This is more than just the start of a residency class, and more than just the start of a new residency program. It is the start of what I think is going to be a terrific partnership between UTRGV School of Medicine and Knapp Medical Center," said UTRGV School of Medicine Interim Dean Dr. Steven A. Lieberman.
Rene Lopez, CEO of Knapp Medical Center, said he is grateful for the opportunity to join the UTRGV School of Medicine in providing healthcare to the Mid Valley.
"The partnership with UTRGV has given us the opportunity not only to improve our medical care, as well as to facilitate the education of our future physicians, but also to improve healthcare in our community and the surrounding vicinity," Lopez said.
The group is unique in that they all have been practicing medicine already for years, said Dr. Miguel Tello, incoming chief of staff for Knapp Medical Center, associate director of the Knapp Family Practice Residency Program and associate professor in the UTRGV School of Medicine Department of Family Medicine.
"We needed a seasoned group of physicians that would be able to handle the stress of being a first-year class. Not to say they don't need assistance from us, but it's nice to have people who have been in the field for some time," Tello said. "Their varied experience and backgrounds really add to the class as a whole."
The residents said they are excited to take on the opportunities and challenges of being the program's first cohort and are eager to serve the Mid Valley community.
"The best part of family medicine is that you get to treat the whole family and, basically, become part of their families," said Dr. Eddy Berges, who practiced medicine in the Dominican Republic and Puerto Rico before coming to the Rio Grande Valley.
He and fellow residents said they enjoy family medicine because of the wide range of services, including preventive health, they can provide to people of all ages.
"I think it's a very complete specialty where you can take care of everything for a person, for her environment, her family," said Dr. Carolina Gomez de Ziegler, who practiced medicine in Venezuela before coming to the Valley.
The physicians began their three-year UTRGV-Knapp residency at the beginning of July 2017.