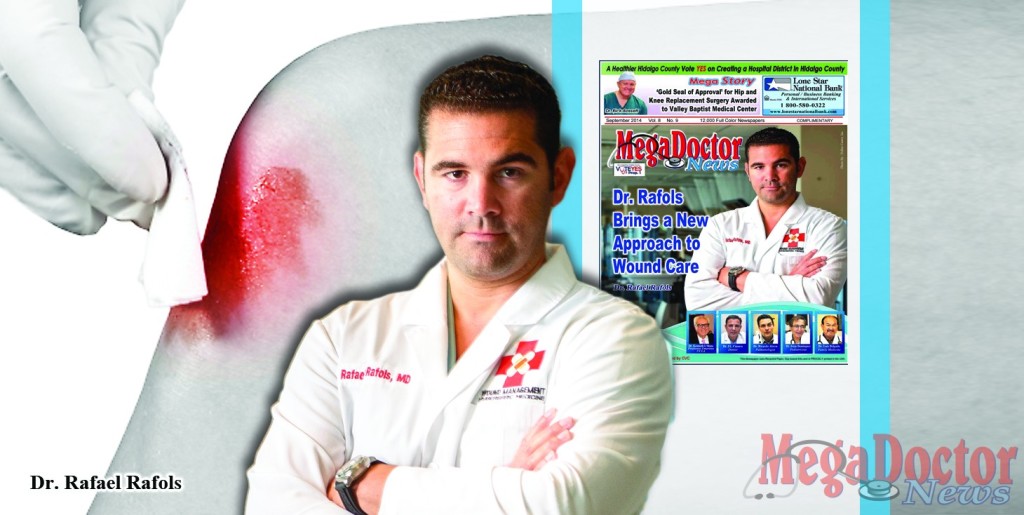 Mega Doctor News – 
By Roberto Hugo Gonzalez
Dr. Rafael Rafols is a wound specialist physician, specializing in difficult non-healing wounds and hyperbaric oxygen therapies as well as other advanced wound care modalities. He is a product of the region; he did his residency at the McAllen Family Medicine Residency Program based at the McAllen Medical Center.
He was born in Mayaguez West, Puerto Rico to parents Rafael and Ana Rafols. His dad is a psychiatrist with the Veteran's Affairs in McAllen.
Dr. Rafols moved to the Rio Grande Valley when his family decided to reside in McAllen. He said, "My parents moved here in 1995 when my dad got a job with the Veteran's Hospital, and I saw the Valley and I liked it. I knew I had to come back."
Before becoming a medical doctor, he attended high school in Alexandria, Virginia. Afterward he earned his undergrad in pre-med at Purdue University in Indiana.
Dr. Rafols received his medical degree from the Universidad de Monterrey in Monterrey, Mexico where he spent five years. He attended the 5th Pathway Program at the Ponce School of Medicine in Ponce, Puerto Rico. He conducted his residency at the McAllen Family Medicine Residency Program in McAllen, Texas.
Dr. Rafols told Mega Doctor News that he has been providing wound care services exclusively for the past three years. He said, "I'm certified in my primary specialty as well as in wound care."
In fact, Dr. Rafols is a Fellow of the Academy of Clinical Wound Specialists, and a Certified Wound Specialist Physician by the American Board of Wound Management.
Additionally, he is board certified by the American Board of Family Medicine, and is an active member of the Undersea and Hyperbaric Medicine Society as well.
Dr. Rafols loves what he does. He said there was a definite need for somebody who's totally dedicated to the field like he is today. "There was definitely a need and by treating my patients, I saw all the diabetes, and the need for all the foot ulcer services; that need made me move towards this field of wound care."
Dr. Rafols spends all his time attending his patients, day in and day out during long hours that have given him the opportunity to accumulate experience in this field.
He is excited concerning several new technologies; "There's always new treatments on the horizon such as stem cell therapy, hyperbaric, possibly hyperbaric for other diseases like Parkinson's and traumatic brain injury."
He explained that hyperbaric medicine, also known as hyperbaric oxygen therapy (HBOT), is the medical use of oxygen at a level higher than atmospheric pressure. He said, "The equipment required consists of a pressure chamber as a means of delivering 100% oxygen."
Trained personnel in Dr. Rafols' office monitor the patient and may decide to adjust the schedule as required to perform this operation on a predetermined schedule.
As far as the time that it takes to perform the procedure, they could be anywhere from 60 to 90 minutes and the number of treatments can be anywhere from 15 to 50 treatments. Dr. Rafols said that it just depends on the diagnostic.
Dr. Rafols said that his challenge is to think outside the box. He stated, "I am board certified but I also believe in a holistic approach; the physical and mental wellbeing is also a very important part of the equation."
He also pointed out that the main challenge for him was, "To one day step out of the box and take my own path in medicine and my approach is centered, patient-driven. Whatever the patient needs, I put the patient first."
What worries him the most about his patients is diabetes. He said, "The fact that when they come to me their wound's already have progressed and my responsibility is to understand their diagnosis to better help them and to make sure the family understands the situation."
Dr. Rafols doesn't want to change anything because he really and truly loves what he does. In addition he said, "It makes me feel good. It gives me genuine satisfaction when I see a wound heal or improve and I really take my time to listen to the patient and their family. I put their needs first before acting on a wound. I really listen to their expectations first."
Mega Doctor News published this article on September 2014, to continue reading the rest of the story follow the link that will take you directly to the complete to the article: https://j.mp/drrafols MDN