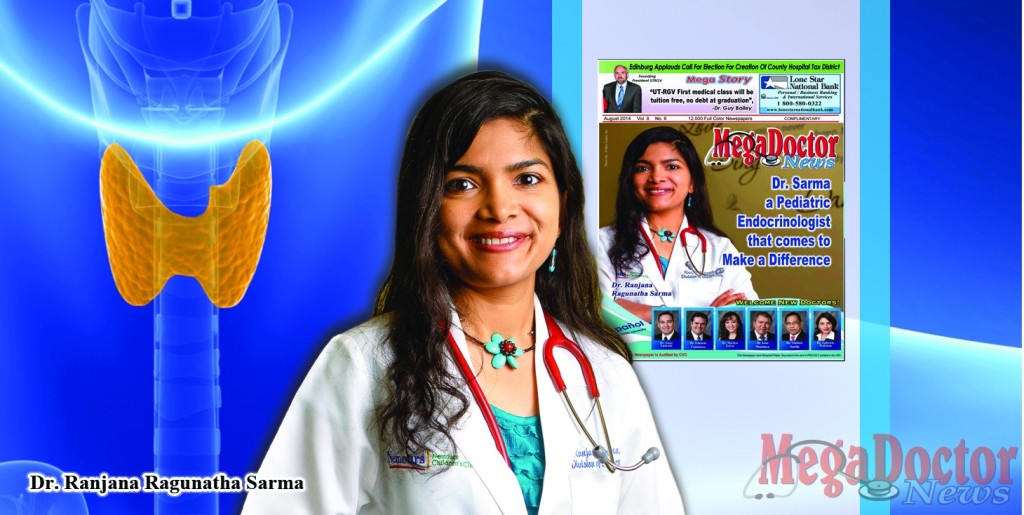 - Advertisement -

Mega Doctor News – 
By Roberto Hugo Gonzalez
In my lifetime, Dr. Ranjana Ragunatha Sarma is the second person that I meet that married through an arranged marriage, a tradition very common throughout the world until the 18th century. Even though this tradition was also popular in neighboring Mexico, until today I haven't met one single person where someone else arranged the marriage and becomes final. She says that the parents in her country still use the tradition.
Dr. Sarma is the first and only Pediatric Endocrinologist that sets practice in the Valley under the name of Genesis Pediatric Endocrinology.
Here in America, during the 21st Century that tradition is no longer used, but based on the success of the arranged marriages in South Asia this could very well be part of the solution of the rampant mismatched couples in this country.
As is the case of Dr. Sarma born in Bombay India her parents arranged her marriage. Dr. Sarma recently arrived to South Texas; she is the first and only Pediatric Endocrinologist that sets a practice in the Valley. She is married to Mr. Shriram Krishnan born in Chennai, India.
Her husband Shriram is a Strategy Consultant. He has 3 degrees – a bachelor of engineering, and 2 masters degrees from the United States. He holds a master of electrical engineering and then he completed an MBA at the case Western Reserve University in Cleveland.
- Advertisement -

He has been working for a top tier global strategy consulting company for the last seven years before deciding to run Genesis Pediatric Endocrinology with his wife as a team.
Harikrishnan, Shriram's father is an engineer and MBA and his mother Nandini is a medical doctor. Both are home in India. Shriram has a younger brother who just finished his master of engineering from Georgia Tech in Atlanta and is working for Qualcom in Boulder Colorado.
How did you two meet? "That is an interesting question," she immediately answered. "We still follow the arranged system of marriage in India. Our parents actually introduced us to each other."
She pointed out that their parents found and matched their profiles in a database through the Internet. "This is a database where all the profiles for different boys and girls are," she said.
According to her, once the profiles match, the parents meet first among themselves and then the ceremony of introduction of both prospects. "That's how we met, and then we liked each other and then …"
Any children? "Not yet."
How long did the process of marriage arrangement take? "We started talking in July of 2011 and then we finally got married in January of 2012. It took at least six months for us to meet, get to know to each other and finally agree to a marriage. The wedding was in India. Actually, it was a three-day wedding," she told Mega Doctor News.
Dr. Sarma said that in India the marriage arrangements are very common and a high percentage of marriages are finalized with high success. "But it's not that strict anymore. It's a more lenient system in the sense that if the boy and girl don't like each other they can say no."
But when the boy or girl is not compatible with each other, what happens? "There's still a way out even before they get married but I would say the majority, about 80 to 85 percent still go that route, fascinating system," she said.
Dr. Sarma is a young doctor, but at her age she is brilliant and passionately dedicated to her field. She pointed out that in India, education is a big thing. "They always want us to get at least a masters degree. There's no compromise with that," she said.
She told Mega Doctor News that her father instilled in her honesty, integrity, hard work and ability. "That's what I mainly got from my dad that I still value."
What about your mother? "I think from her I got the passion and the eagerness to learn and keep learning observation skills which I think are very important for a physician and determination, never to give up."
Dr. Sarma comes to the Rio Grande Valley with excellent credentials; she graduated from Trivandrum, Medical College University of Keralla India in February of 2007.
Mega Doctor News published this article on August 2014, to continue reading the rest of the story follow the link that will take you directly to the complete to the article: https://j.mp/drsarma MDN