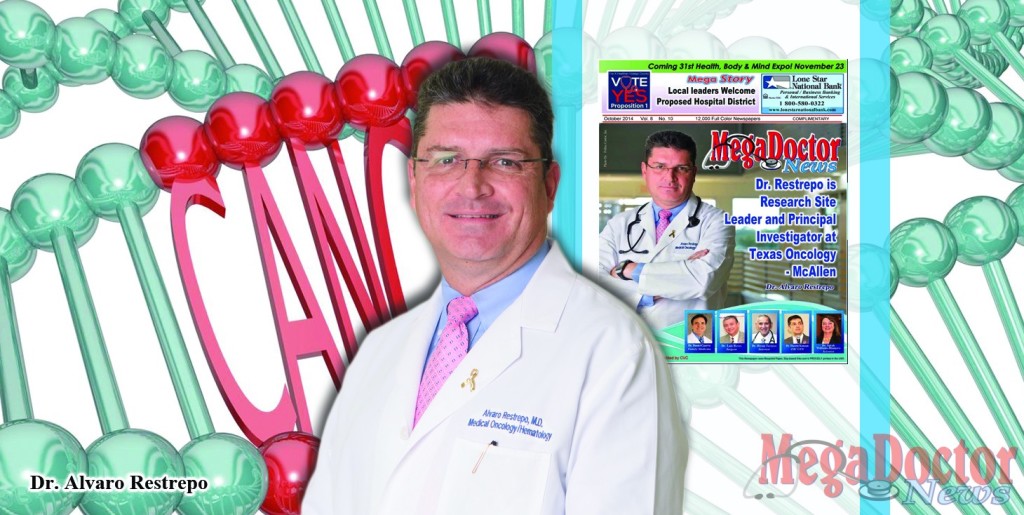 Mega Doctor News – 
By Roberto Hugo Gonzalez
During his long professional career, Dr. Alvaro Restrepo has taken advantage of scientific medical research in order to fight cancer side by side with his patients. Dr. Restrepo explained, "Research is very important and is present in all aspects of the medical decisions made on a daily basis."
He explained that everything we do today is based on yesterday's research, and tomorrow's medical treatments will be based on today's clinical trials.
He indicated that research is a careful study that is done to find and report new knowledge about something. "In Oncology, clinical trials are research studies that examine how patients respond to different medical approaches for various types of cancers."
"Studies address scientific challenges and identify better ways to treat, diagnose, and prevent cancer-related diseases." Patients who participate in clinical trials are volunteers who provide a tremendous service to advance cancer research.
According to Dr. Restrepo, there are several types of clinical trials that help physicians understand and treat their patients more effectively.
- Advertisement -

He added that prevention trials involve people who want to prevent cancer or cancer recurrence. Screening trials examine individuals who do not have symptoms of cancer and identify best methods to detect the disease; and diagnostic trials are conducted to determine how to identify cancer using new tests (X-rays, blood tests, genetic alterations, etc.)
Dr. Restrepo went on to say that treatment trials are designed to answer questions about new treatments, such as drugs (chemotherapeutic agents), surgical procedures, vaccines, or radiation therapy. These trials are conducted with patients diagnosed with cancer.
Clinical trials involving new drug therapies, combinations, or interactions are conducted in four phases, and some lead to breakthrough drugs or therapies.
Phase I trials usually involve a small number of participants (approximately 15-50) and are designed to determine the dosage safety of a drug, the delivery method and side effects. Once researchers have determined the appropriate dose amount, the therapy or technique moves on to a phase II trial.
Phase II trials generally test for response and include a slightly larger group of participants (approximately 25-100) usually with the same type of cancer. The trials examine the effectiveness of the treatment and side effects.
Phase III trials compare a new drug or intervention with current available treatments. Patients are usually randomly assigned to the current treatment group or the new treatment group. Studies are moved to this stage only after showing promise in the earlier phases, and these trials include larger numbers of patients (several hundred to several thousand).
He said that the Food and Drug Administration (FDA) is involved in every phase of research and must give final approval before a drug can be released for general physician and patient use. After a treatment has passed Phase III it is submitted for approval by the FDA. Once a treatment is FDA-approved, it is made available to the general population.
Dr. Restrepo said it can take on average 12 years and over US$350 million to get a new drug from the laboratory to the pharmacy shelf. "Only 1 in 1000 of the compounds that enter laboratory testing will ever make it to human testing."
The Texas Oncology – McAllen research program was established 20 years ago in 1994. "We have participated in approximately 125 Phase II and Phase III studies with the enrollment of more than 550 patients from the Rio Grande Valley area." He pointed out that half of the patients in the local research studies have had breast cancer.
Dr. Billie Marek, medical director of Texas Oncology McAllen has been the research site leader and principal investigator of most of these studies.
Due to his excellent leadership, hard work, and dedication the research program in McAllen has persisted over time. Dr. Marek has now stepped down from the research program leadership and has endowed the leadership to Dr. Alvaro Restrepo.
It is important to mention that Texas Oncology-McAllen research is part of a larger research network US Oncology Research. Dr. Restrepo said that since 1999, US Oncology Research has been conducting Phase I-IV clinical trials across a large number of indications in more than 370 sites of care and 100 radiation oncology centers in 18 states. "More than 59,000 patients have enrolled in over 1300 clinical trials."
Mega Doctor News published this article on October 2014, to continue reading the rest of the story follow the link that will take you directly to the complete to the article: https://j.mp/drrestrepo MDN